COLUMBUS, Ohio — Labor Day and the unions the holiday represents have a long history in the state of Ohio. The state first recognized the holiday several years before it ever became a federal holiday in the late 1800s.
While many people use the day as a final sendoff to the summer season with BBQs and parades, union leaders use the day to celebrate the progress made and the work that still needs to be done.
"Workers have been left behind and are now like, 'Hey we deserve a living wage,'" Fluharty said during the Newark Labor Day Parade.
According to data from the U.S. Bureau of Labor Statistics, union membership in Ohio was at 21.3% in 1989. That percentage would steadily drop to a low of 11.9% in 2019 before trending upwards after the pandemic. Fluharty said it's young people driving the recent increase in union participation.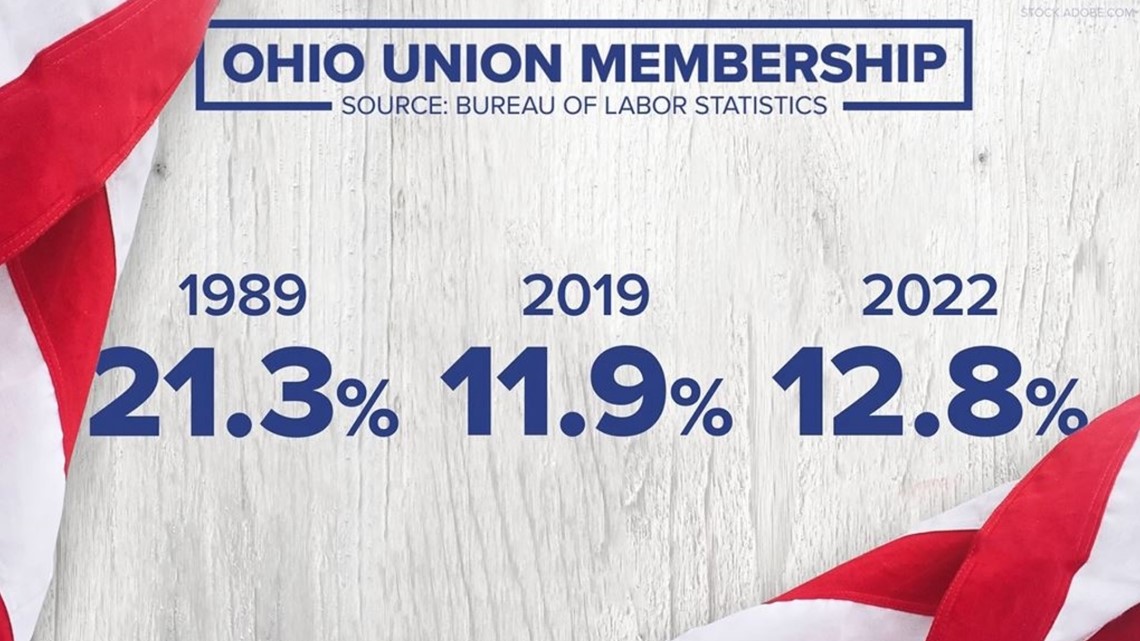 "They are finally saying 'We've had enough. It's time for us to organize, be able to have living wages, have a place to live, have affordable health care and retire with dignity and respect.'"
Nationally, 323,000 workers have gone on strike this year in a push for better pay and benefits. UPS workers are voting on a contract. A strike also faces 150,000 autoworkers as the UAW goes to negotiate another contract.
The Ohio AFL-CIO is an umbrella organization covering all unions in the state of Ohio. Tim Burga leads that organization.
"As a third-generation steel worker and the grandson of a coal miner, I saw how unions gave my family the opportunity to work our way out of poverty and into the middle class," he said.
Burga said while topics of negotiations vary from union to union, a big focus in recent years has been the cost of health care.
"The cost of health care has gone through the roof and employers simply are looking to pass it on to the workforce," he said.
One ongoing strike people don't think affects Ohio is the strike of the Writer's Guild and SAG-AFTRA. That strike has paused production on television shows and new movies. This is as organizations like Film Columbus work to make the state more appealing to Hollywood for filming.
"We had a big Disney film scout here a couple months ago, but unfortunately that's not happening now even after receiving the tax incentive. It's really, really unfortunate. Some of those SAG-AFTRA members here in town aren't working," said John Daugherty with Film Columbus.
He said once the strike wraps up, they will push forward with plans to make Columbus and the state an appealing place to film movies in a similar way that Georgia has done.
Labor Day was first recognized as a federal holiday after President Grover Cleveland signed legislation in 1894. Ohio first recognized the holiday in 1890.