COLUMBUS — Records obtained by 10 Investigates show that the Delaware County Sheriff's Department has provided house checks and extra patrols at the home of a Columbus police officer who was involved in an officer-involved fatal shooting of an alleged prostitute.
The records show the department has responded to Officer Andrew Mitchell's home at least seven times since August 31.
Mitchell was relieved of his duties and his gun and badge taken this week, but he remains a part of the force, the department confirmed.
Mitchell, who is accused of fatally shooting Donna Castleberry during an alleged prostitution sting on August 23, was already under a criminal probe by the Columbus Police Department at the time of the shooting stemming from a complaint the department received in early August. The department said that Castleberry pulled a knife and stabbed Mitchell, who is a 30-year veteran of the force.
On August 31, dispatch records show Mitchell's wife called the Delaware County Sheriff's Department to say her "husband called her to advise he was told by his office - there's a group of people heading to his house to rally."
The dispatch log shows that the Delaware County Sheriff's Department responded and that Columbus Police were sending SWAT to his Delaware County address. The dispatch logs show that Andrew told his wife to stay at work but it doesn't appear that any protestors showed up.
10 Investigates has also learned from sources - and the FBI confirms - that law enforcement responded to the home of Officer Andrew Mitchell Wednesday night where a search warrant was served. The results of what was seized is not known.
A person who asked not to be identified said that federal authorities and at least one sheriff's deputy were present Wednesday night and left tire tracks in a nearby easement.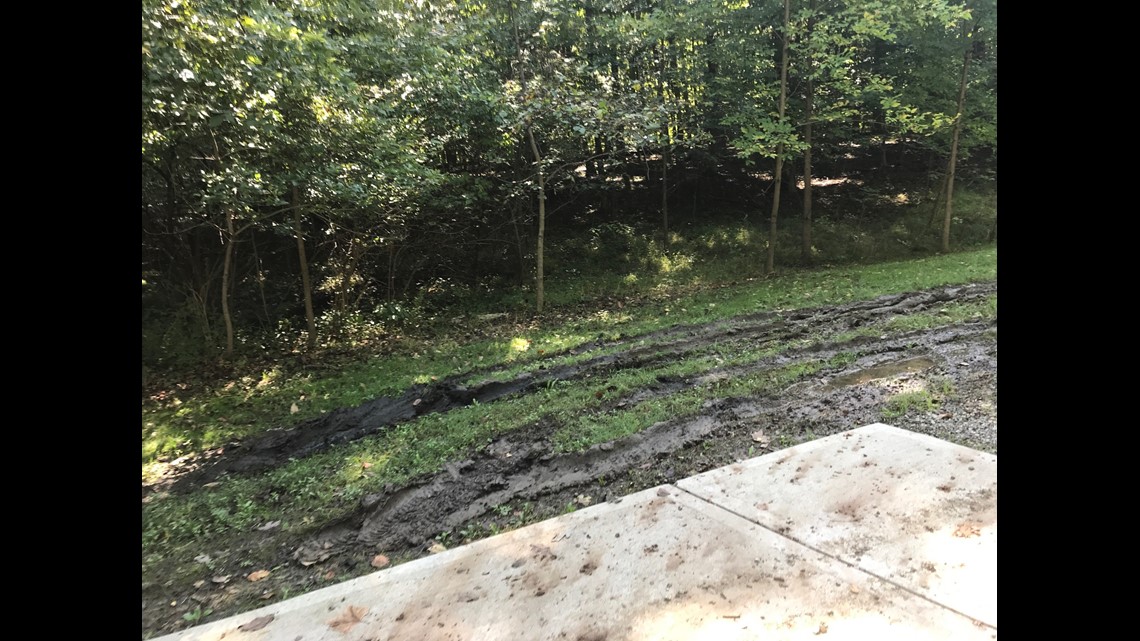 The security checks and search warrant come amid an FBI led probe into the activities of the Columbus Police Department's vice unit. The unit, which investigates prostitutes, alcohol and drug infractions and illegal gambling operations, has been placed on an indefinite pause while this probe is underway.
The pause was initially intended to last 28 days after two major incidents — the arrest of Stormy Daniels and subsequent controversy surrounding citations inside Columbus strip clubs, and the officer-involved shooting between Mitchell and Castleberry - prompted the department to pause the operations inside vice.
10 Investigates has learned that the FBI probe is "bigger than one person" according to a CPD spokeswoman.
10 Investigates has also learned that there have been citizen complaints against other vice officers.