COLUMBUS, Ohio — Little Amal, a 12-foot puppet of a 10-year-old Syrian refugee girl, will be walking through Columbus as part of her 6,000-mile journey through the United States this fall.
Her journey spans through more than 35 U.S. cities and towns over a two-month period of time, according to the Columbus Association for Performing Arts. She arrives in Columbus on Sept. 22.
Artists and institutions from across the country plan to greet her and add their unique color to the rich tapestry of America's story.
Central Ohioans will be able to greet Amal and participate in her journey through Columbus.
Activities will kick off at 5 p.m. in Genoa Park in downtown Columbus. Visitors will be able to make welcome signs and love notes for her. There will also be food trucks on-site and parking available for free at the National Veterans Memorial and Museum.
Amal will begin her journey at 6 p.m. near the U.S. Supreme Court Building and continue across Broad Street bridge into Genoa Park. CAPA said in a release that local artists and performers will join her on her walk.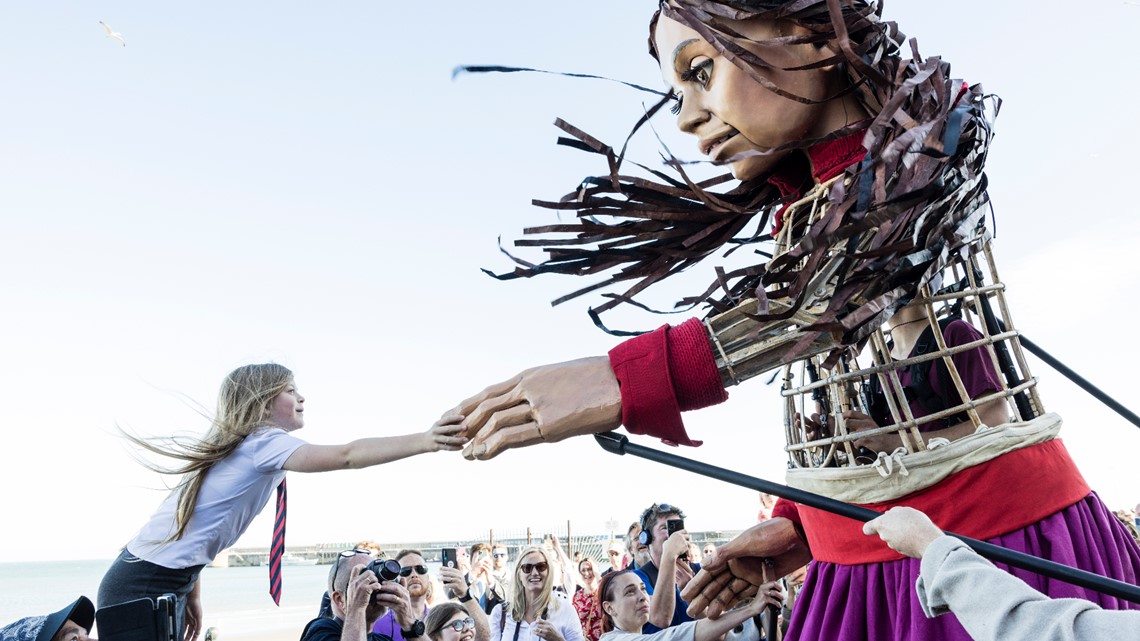 According to CAPA, Little Amal and her journey build an awareness and understanding of the challenges of displaced individuals and families.
"Art plays many roles in a society. One of those roles is to bring people together for shared experiences and to create empathy for one another," CAPA President and CEO Chad Whittington said. "CAPA takes seriously our role to remind all of us of our shared humanity. This project recognizes the importance and value of our new American communities. We are honored and excited to be presenting Amal Walks Across America -- with our local, national, and international partners -- in Columbus."
Data from the City of Columbus' New American Initiative shows that the city is home to more than 155,000 residents who were born in Bhutan, Somalia, the Democratic Republic of Congo, India, Mexico and others.
"Anyone who has entered a foreign world knows the power of a warm welcome. We're thankful to our hundreds of cultural partners who have thoughtfully organized events of welcome for Amal, allowing this young girl to learn about her new home and make new friends along the way," said Nizar Zuabi, artistic director for The Walk Productions. "We invite Americans from every corner of the country to join us in not only welcoming Amal, but also empathizing with the millions of other migrants who have bravely entered this country in search of a better future."
Little Amal has traveled across 13 countries meeting more than a million people and has been watched by tens of millions more online. She will journey 6,000 miles across the U.S. in one of the largest free public festivals ever created.