Noon Forecast Update - Jeff Booth: Some light snow showers will be possible at times this afternoon.
It'll be seasonable & winds will pick up later today as well. Tonight clouds are decreasing and it'll be downright frigid.
We'll watch sun take hold through Friday but it'll be mighty cold with highs in the low to mid-20s.
10 a.m. Update: The Winter Weather Advisories issued in parts of central Ohio have expired.
8 a.m. Weather Update - Jeff Booth:
Another round of wintry weather has moved into Central Ohio.
This batch is bringing rain and a mix mainly south of I-70 with more snow north of it. This will persist through the late morning hours before tapering off as we head towards and past noon. Then a few flurries and passing snow showers linger through the afternoon but the bulk of the snow today will fall in the morning hours.
Additional snow totals are expected but nothing too heavy. A fresh coating to an inch or so will be possible with this next batch and there could be a little more up in areas that are well north of the city where only snow will fall.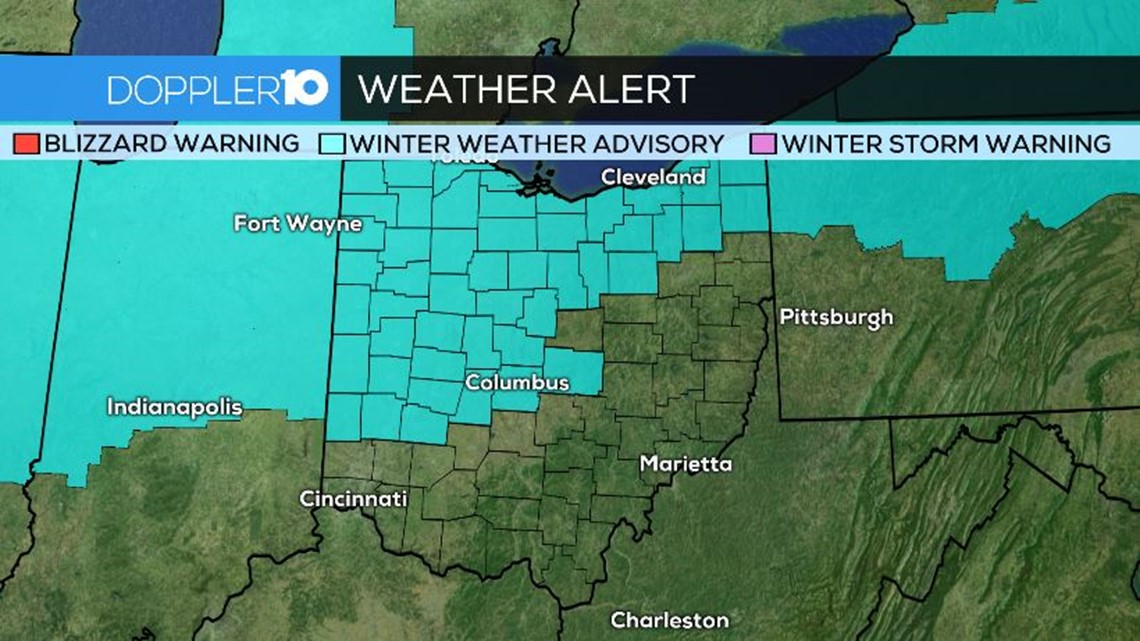 We continue to see a flood threat in Southern & Southeastern Ohio. While any additional showers will be light compared to what fell Wednesday night the ground is very saturated. That means anything that does fall will worsen the flood threat.
Out behind all of this, we'll see some big changes. Winds will pick up through the afternoon and cold air will move in quickly through the evening hours.
By Friday morning, temperatures will be in the high single digits to the mid-teens across the area. With the winds, it'll feel colder than that. A few spots seeing wind chill values near and possibly below zero on Friday morning.