COLUMBUS, Ohio — Wind Chill Advisories are all what is left from the winter storm that swept through Central Ohio earlier this weekend.
After several inches of snow fell across the state, below zero temperatures and dangerously cold wind chills plagued the area we'll slowly start to warm up.
Still very cold out for this Christmas Day, though. Highs will hit the mid teens and it will feel as cold as -15 below at times.
This will go down as one of our coldest Christmas Days in several years but at least we got our white Christmas!
The snow ended early Friday morning, but it'll be blowing around through this weekend thanks to the strong winds and dangerously cold temperatures.
The main threat has passed but temperatures will still be very cold through tonight and Christmas Day.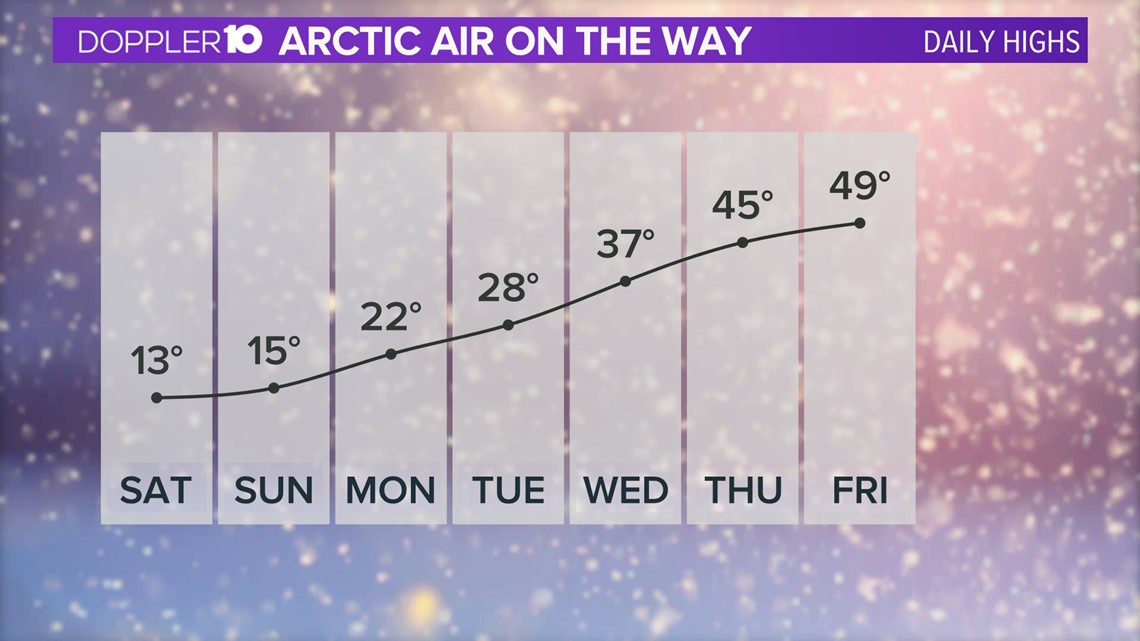 Sub-zero wind chills continue but they won't be quite as severe, the coldest wind chills will be in the single digits below zero.
Conditions won't be quite as dangerous as they have been but it is still recommended that you limit the amount of time you spend outside when you can.
Timing out the cold temps
SATURDAY & SUNDAY: Single-digit lows -> strong winds
Christmas Eve morning was bitterly cold but temperatures have been trending up and so have those wind chills.
This is because wind speeds have been backing down and a warmer air mass is moving in.
This evening will still be cold, with temperatures in the teens with wind chills below zero, but we are warmer than this morning.
Jumping ahead, overnight temperatures drop into the single digits and wind chills dip again. Christmas Day will warm us back up into the teens with a chance for a little bit of sun later in the day.
This will likely be one of the coldest Christmas Days we have had in years.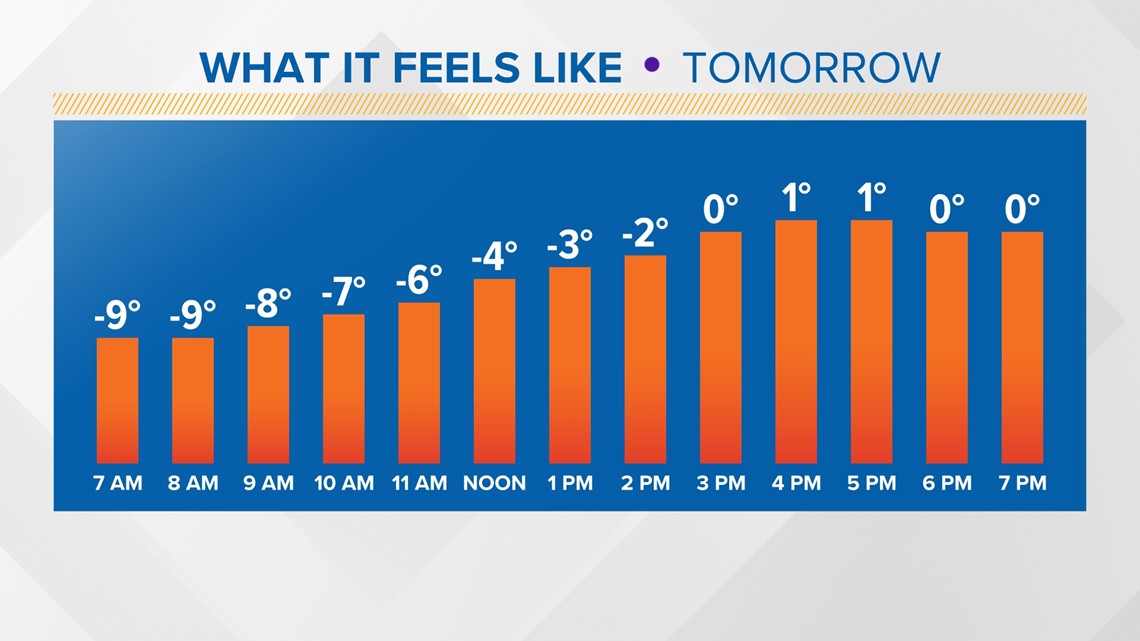 AEP provided a list of tips to help families prepare for severe weather:
Assemble or refresh an emergency kit that includes (at minimum) non-perishable food, water, a flashlight, batteries, a battery-powered radio, a first aid kit, any necessary medications, fully charged portable chargers, blankets, extra cash and maps of your area.
Develop an emergency preparedness plan for you and your family. Decide now what you'll do if there's an extended power outage, factoring in any planned holiday travel. Also, contact family, friends and neighbors who are elderly or have a medical condition — and don't forget to include your pets in your planning.
Stay away from any downed wires and report any hazards through the AEP Ohio mobile app, call 911 and AEP Ohio at (800) 672-2231.
Do not attempt to remove tree limbs or debris within 10 feet of a power line.
Limbs, leaves and other objects moved by the wind and ice build-up could hide downed wires. Investigate your surroundings before trying to clean up any debris.
Notify AEP Ohio if you're using a generator. This protects you and our lineworkers as they work to restore power.
Never operate lanterns, heaters or fuel-fired stoves without proper ventilation.
Unplug major appliances to protect them when power is restored.
Refuel heaters, lamps and generators outside and away from any flames or sparks. Wipe up spilled fuel immediately.
Never burn charcoal indoors — it releases poisonous carbon monoxide.
For the health and safety of AEP Ohio crews, please stay at least 6 feet away from our employees, vehicles and equipment.
Stay with the Doppler 10 weather team and 10TV all week for updates on the cold and snow.