COLUMBUS, Ohio — Astronomical Spring is here! At 5:24 p.m. on Monday, we officially entered spring.
You may have heard of Meteorological Spring, which happened on March 1, but there is a difference. Meteorological Spring is based on the annual temperature cycle and is used for weather records.
The Spring Equinox or Vernal Equinox is the astronomical beginning of the spring season in the Northern Hemisphere and the autumn season in the Southern Hemisphere.
In the Northern Hemisphere the Spring Equinox occurs when the sun crosses the celestial equator going south to north. It's referred to as the "celestial" equator because it's an imaginary line in the sky above the Earth's equator.
During the Spring Equinox, the Northern Hemisphere and Southern Hemisphere receive roughly equal amounts of sunlight; 12 hours of daylight and 12 hours of nighttime.
But what does this mean for central Ohio?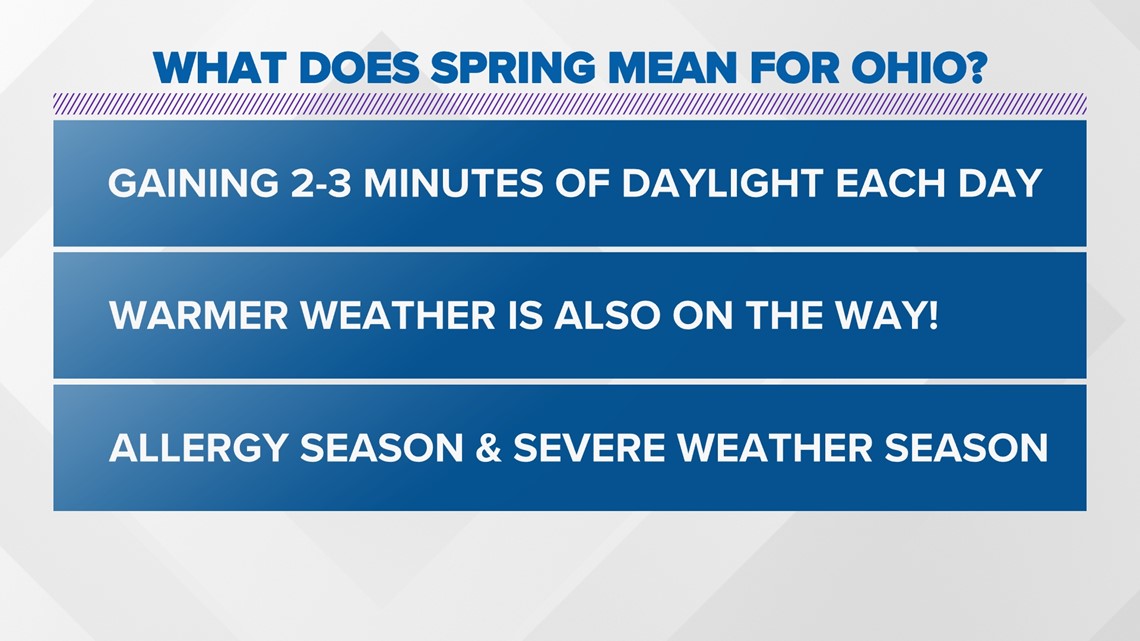 More daylight, less cloudy skies, and significantly warmer weather!
Not that we haven't had some of these days already, they will be much more consistent and frequent compared to the winter months.
We will continue to gain two to three minutes of daylight until we reach the longest day of the year, or the summer solstice.
The downfall to all of this is that we are inching closer and closer to severe weather season, which peaks in the late spring and early summer months.
We will also be looking at more allergies as allergy season will continue to fire up as we escape the freezing temperatures leftover from winter.