COLUMBUS, Ohio — It is very common to see a plow truck treating the roadways on a cold, snowy day.
Even in the spring months and March and April, it isn't that uncommon to see snow, and enough that you might see some salt thrown on the roadways as we slowly inch further away from the winter months.
But have you ever wondered where all that salt ends up? It has to go somewhere and most of the time it ends up right into our waterways, said Jenna Roller-Knapp who is an Environmental Scientist and a part of a local volunteer organization called "FLOW" or Friends of the Lower Olentangy Watershed.
"There is a lot of excess salt put not only on the roads but people's private properties and we forget that runs off into the streams and can affect water quality for our ecosystems," said Roller-Knapp.
Salt treatments are very effective at cleaning up our roadways, but there is a price. Salt usage has also gone up drastically over the years.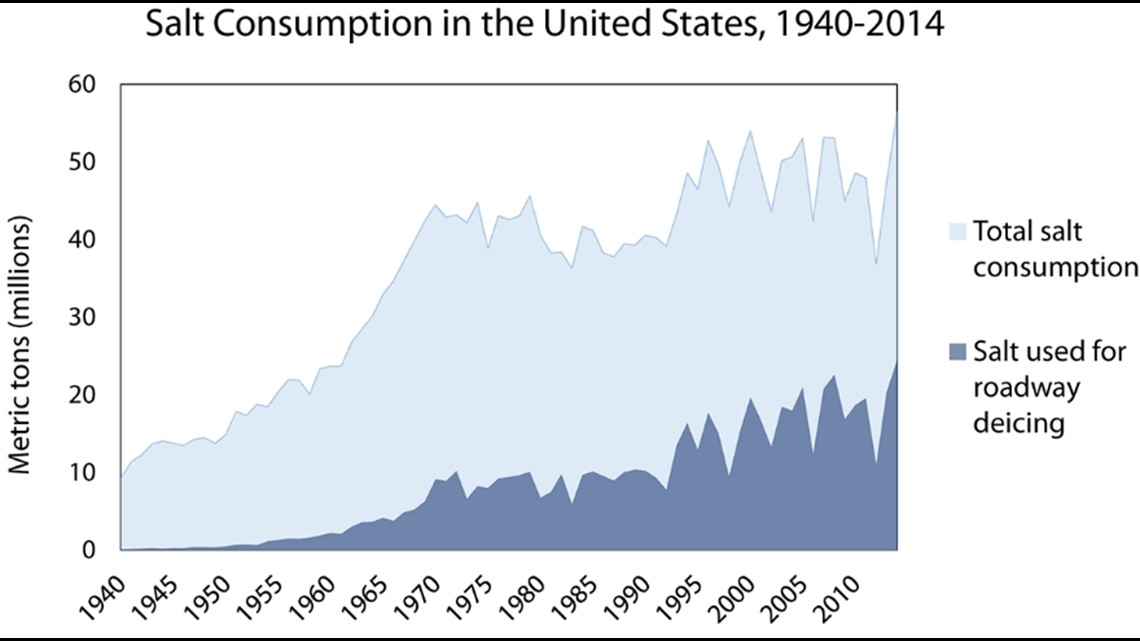 Ohio is also one of the top three producing states in rock salt, per the U.S. Geological Survey. With the amount of salt being used, it eventually gets washed away and ends up in our ground water. There has also been a significant increase in salt consumption since 2000.
"The salt that accumulates in the stream or lake, these ponds and waterbodies where it's running off it doesn't really break down it stays there so year after year we're seeing more salt in these systems causing stress to the organisms that live in there, changing the conditions that they have to adapt to."
This does not only impact our local environment but can also have implications on the water we use inside our home, said Roller-Knapp.
Salt monitoring in our waterways is relatively new in Ohio. States in the Upper Midwest deal with winter weather more than us and often use more salt, so there has been more research and noticeable impacts in local waterways.
This has led to more research and interest in salt levels here in Ohio.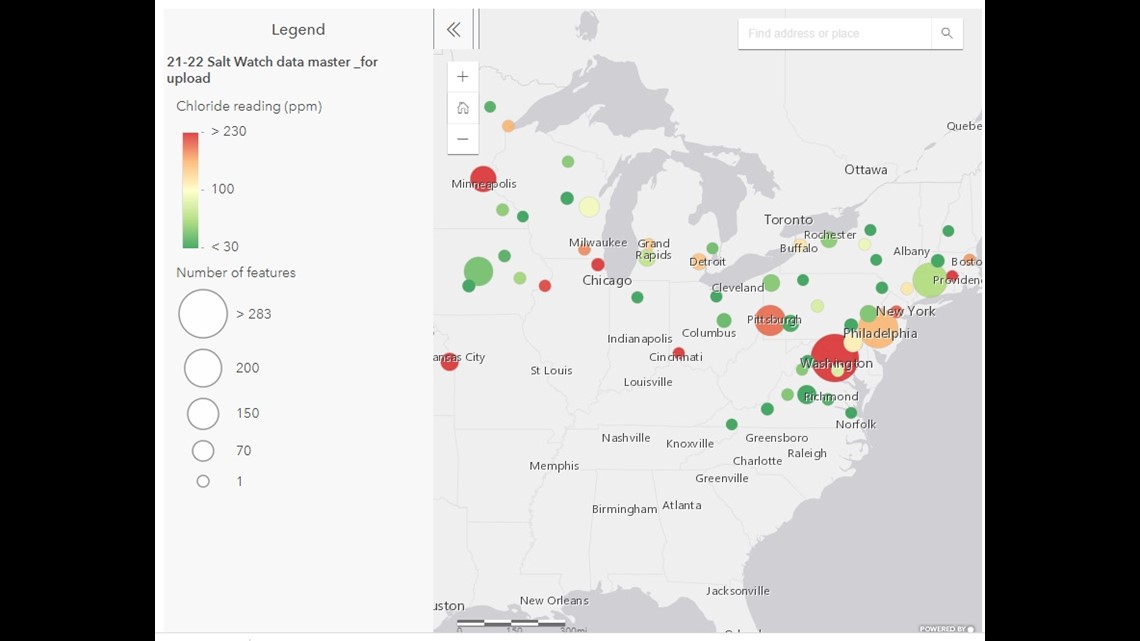 Areas that are highlighted in red are showing chronic levels of salt levels while areas in green are indicating good water quality. Chloride concentrations appear to be a larger issue in cities where roads and populations are denser.
"Our highest level that we detected was a 150 parts per million and even at that level there are signs that can inhibit plant growth, stress aquatic life to reproduce and reduce the diversity of organisms that can tolerate that."
Roller-Knapp said that while this is becoming a more and more popular program, there is a need for more awareness and monitoring of salt levels around Columbus to address the issues on water quality.
While it may be impossible to completely eliminate the use of salt there are ways you can help the environment.
1.) Shovel right after the snow to reduce the need for salt and always shovel before you salt.
2.) Reduce and reuse salt: Read the label and do not use more than required, and after the snow melts you can sweep it up and reuse it.
3.) Speak up and educate those around you. If you see an uncovered, unprotected pile of salt, contact your township.