COLUMBUS, Ohio — This Memorial Day weekend will mark the four-year anniversary of the tornado outbreak that spawned nearly two dozen tornadoes across Ohio.
It was this event that also produced three EF3 tornadoes and one EF4 tornado in northern Montgomery County with max winds of 170 mph. The mark that this storm left on the community is still present from the leveled apartment complexes to the shredded and displaced trees nearly four years later.
While we have not seen an event like this since then, it is a reminder that even in Ohio we see strong, violent tornadoes.
This year, however, has been an extremely active start to the severe weather season. The number of tornadoes produced has broken records held since the 50s for the first quarter of the year.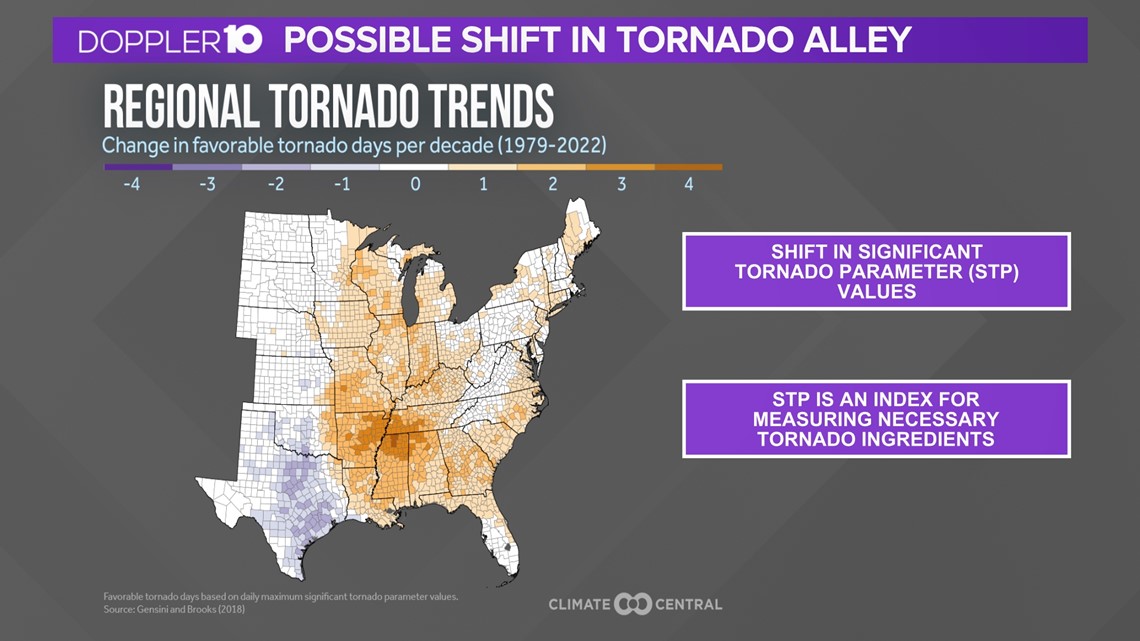 That has also been reflected here in Ohio with 23 confirmed tornadoes, which is one more than our annual average. Tornado Alley hasn't been the only place seeing tornadoes, either.
When you hear the term "Tornado Alley" you probably think of places like Texas, Oklahoma, Kansas and Nebraska. This is a loosely defined location based on tornado frequency from the early 1950s coined by two U.S. Air Force meteorologists.
A study from 2018 revealed that tornado frequency might be shifting across the United States. Decreasing tornado frequency trends were noted in portions of Texas, Oklahoma and northeast Colorado. Increasing trends were then noted in portions of Mississippi, Alabama, Arkansas, Missouri, Illinois, Indiana, Tennessee and Kentucky.
While Ohio was not noted as an area with significant trend increases for tornado activity, an additional day of severe weather or tornado-favorable days is another day of potentially life-threatening weather.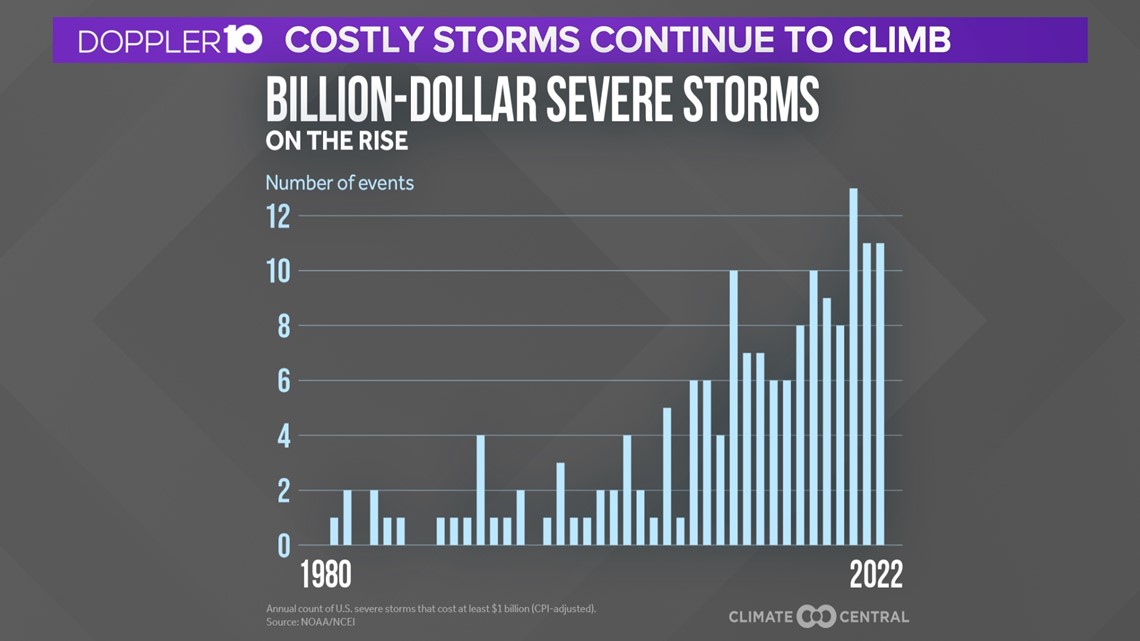 Dr. Harold Brooks, senior research scientist at NOAA Laboratory in Norman, Oklahoma, was a part of this study and he said that we are not seeing much of a change in our tornado count year to year, but we are seeing a shift in tornado frequency on severe weather days.
"We have fewer days now where we did 50 years ago with at least one F1 [tornado] or stronger tornado occurring on it. We have a lot more days that have a lot more tornadoes," said Brooks.
Jeff Trapp, professor and head of the University of Illinois' Atmospheric Sciences, said that there has been a decline in the number of days with tornado activity across the U.S. in the past 50 years, but we have also seen more tornadoes on severe weather days.
"We are seeing warmer temperatures, especially in the winter and spring months with more moisture in those months too," said Geddy Davis, program coordinator for Weather & Climate Services at The Ohio State University.
He said that our climate change is being primarily driven by warmer temperatures, moisture and precipitation.
Warmer and wetter weather supports more favorable conditions for thunderstorms, especially in the spring months.
While some of the science is pointing towards more tornado outbreak days and a shift in tornado frequency across the U.S., there has been a large advancement in tornado detection that was once not possible.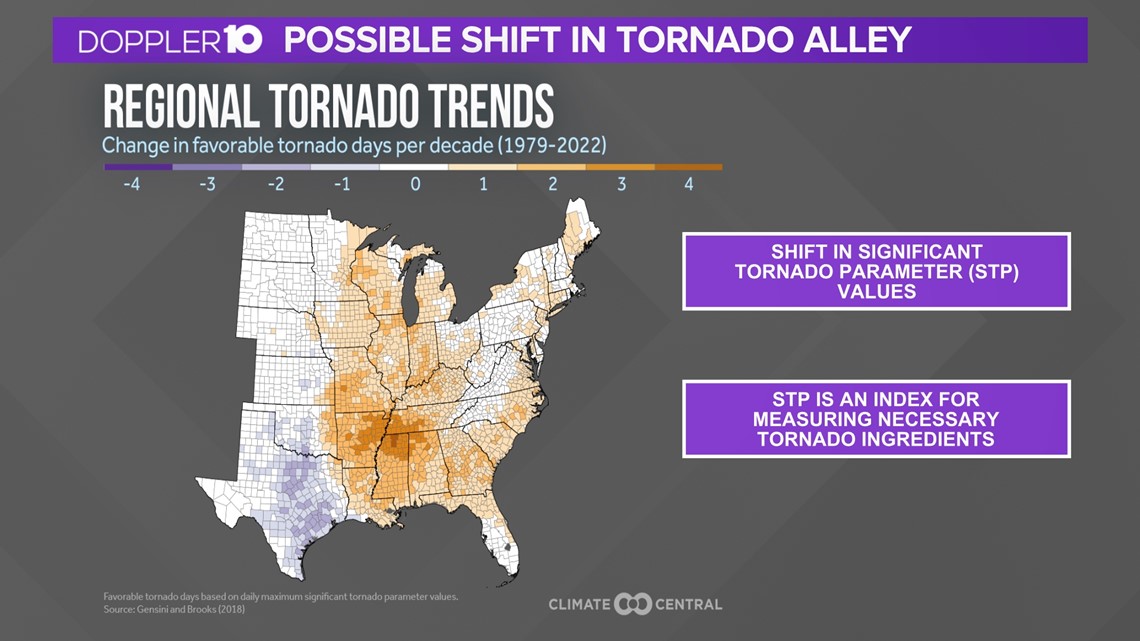 "There is a ton of validity that comes with doppler radar advances, dual pole, helping us to detect tornado signatures better," said Davis.
More people are looking for tornadoes and our technology allows us to detect some of the smaller-scale tornadoes that may otherwise get lumped into traditional severe thunderstorm damage in areas that are not well populated.
If you look at the data of tornado ratings and frequency, there has been a significant increase in the detection of weaker tornadoes (EF0/EF1), but a relatively steady occurrence of EF2 or higher tornadoes.
Even with advancements in technologies used to detect storms the fact is we cannot control these natural disasters, so it is best to be prepared for them.
Dr. Ian Giammanco, Lead Research Meteorologist for the Insurance Institute for Business & Home Safety (IBHS), said that building codes for infrastructure need to be adopted on their update cycles to help better protect these communities that may be subject to face more severe weather in the future.
"We are going to have to adapt and some of these things are the first steps in true climate adaptation that we are going to have to make," said Giammanco.
Additional storm shelters could also be an outlet to ensure that communities are well-equipped during severe weather.
Dr. Stephen Strader, associate professor of Geography & Environment at Villanova University said what is driving our disasters isn't necessarily always climate but is more likely to be our societal changes.
"Climate change is not a cause, most of the time it is a contributor. It is a multiplier factor. It is something that enhances and makes the impacts worse or more frequent," said Strader.
Most cities and regions have grown and expanded over time, and this puts more in the path of tornadoes. He refers to this as the "Expanding Bull's Eye Effect."
While we cannot stop these disasters, it is even more reason to be prepared any time there is severe weather.
"We need to have multiple different ways to receive information because all of our different sources of information can fail in different ways," said Brooks.