The heat continues to roll through central Ohio and it looks like we could break a couple records these next couple days. Yesterday we ended up tying our record high for the day--92 set back in 1953.
This morning we came close to a record; the highest minimum temperature for the day, which is 68 set back in 1881. This morning our lowest unofficial temperature was 67.

This afternoon is more promising for record-breaking potential. Temperatures will be back in the low 90's, with a high around 93 for Columbus. This would put us at 29 90 degree days for the year. While we see 90 degree days a fair amount through the summer months we don't see them very often this late in the season. You can actually count the number of times we've had 90 degree(or warmer) days in the month of October on one hand.
The answer is 4. Only 4 times where we have had highs of 90 degrees or higher in the month of October here in Columbus. Records dating back to 1878 have recorded a 90 degree day in 1897, 1951 and twice in 2007.
Today's record high is 89 degrees set back in 1952. Not only are we expected to surpass today's daily maximum high, but also the all-time warmest October day on record. The record is 91 degrees set back in October 2007. That year is also the only other time we have had back-to-back days with highs of 90 or higher in the month of October.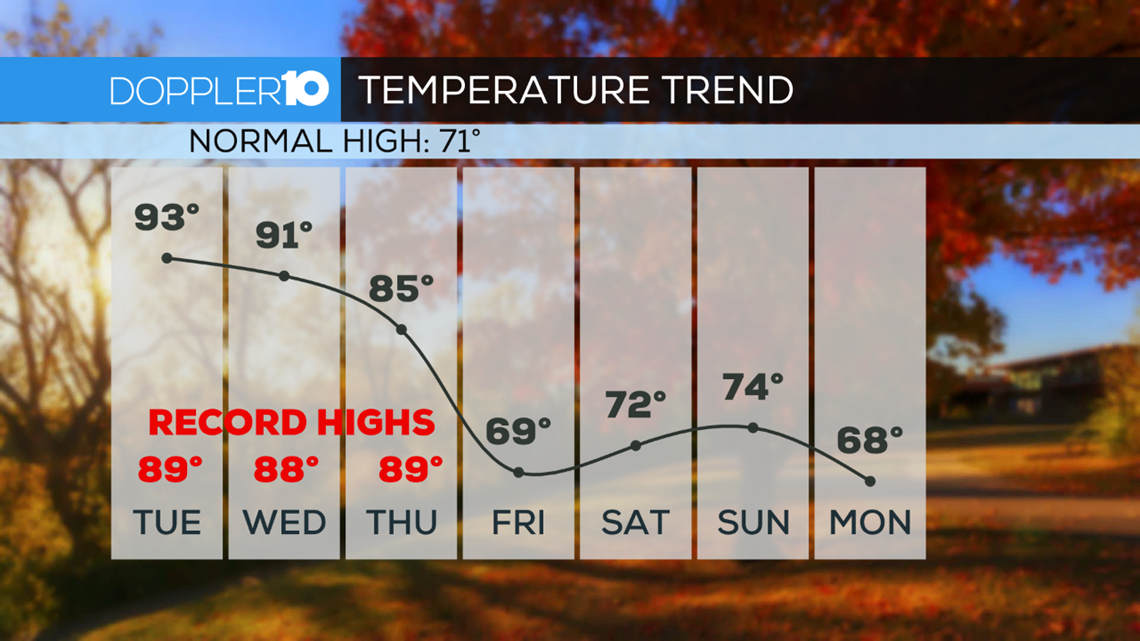 After today we could then set another record, with a high of 91 on Wednesday. The current record is 88 set back in 1919. The projected heat wave comes to an end on Thursday, but it's still expected to be a warm day--highs in the mid 80's.
After we get through these next couple days, get ready to enjoy some actual fall weather as we head into the weekend. Hard to believe I know, but we'll have morning temperatures in the 50's on Friday!
Hang in there and stay cool!