Winter Weather Advisories have expired for Western Ohio and much of Central Ohio this morning. Advisories linger in Eastern and Northeastern Ohio where snow still lingers. These advisories will expire early on Wednesday.
Winter weather advisories are lifting from the region and snow is continuing to taper off across Central Ohio.
Accumulating snow continues in Northeast Ohio as lake effect snow continues to bring heavy snowfall throughout the snowbelt regions.
Winds are going to pick up today, with gusts up to 30 miles per hour at times. Given that temperatures are going to be limited to the low 30's, wind chill values will be in the teens at times this afternoon and tonight.
A few flurries will be possible tonight, but little or no additional accumulation is expected.
-------------PREVIOUS DISCUSSION------------
While the heaviest snow has moved out of much of the area we're still looking at the potential for another half-inch to inch or so in some spots.
Highs are going to hover near freezing all day and with the winds it'll feel like we're in the 20s. With highs near freezing though we'll continue to see the potential for slick spots, especially along backroads and secondary streets.
Snow totals so far are mainly in the 1-3" range around Central Ohio but some isolated spots have gotten up to an inch more.
Overnight, temperatures fell into the upper twenties with wind chills in the teens.
Snow showers picked up into the night and continued to accumulate across the state Tuesday morning. For those hitting the roads during the morning commute, be careful and take it slow as the roads will likely be slick.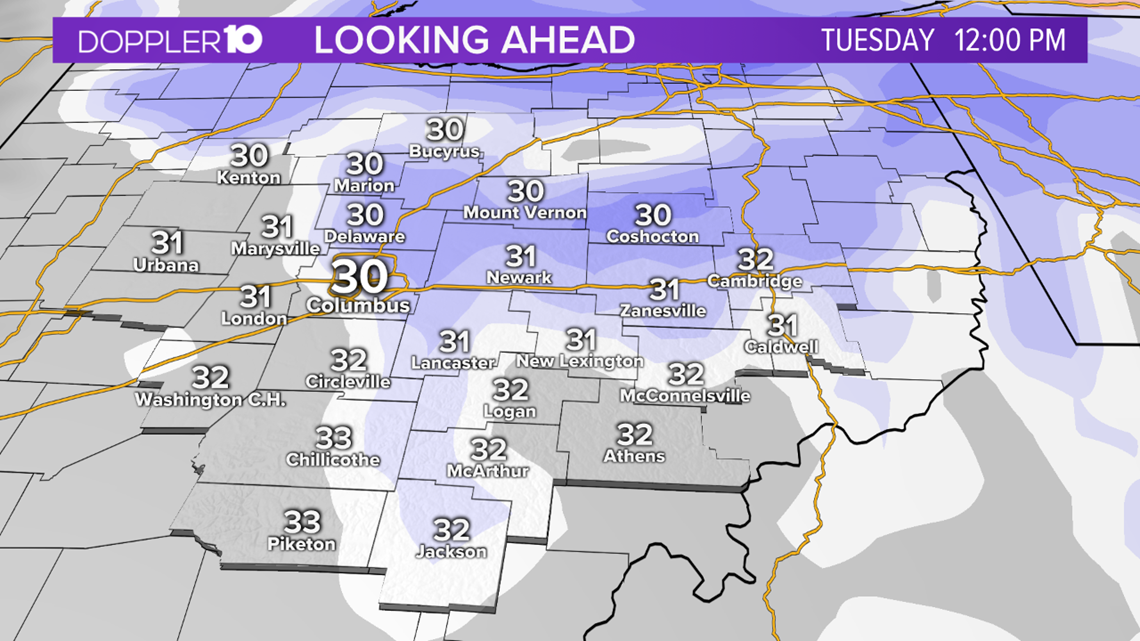 Snow showers will continue to move through Tuesday morning, with winds picking back up out of the west. Highs will only be in the low 30s and with the winds, it will only feel like it's in the teens all day.
Some bands of lake-effect snow will be possible during this time, with heavier amounts of snow for those north near the snowbelts.
Snow will taper off during the evening hours on Tuesday, with most of the accumulating snow done by sunset. This will set up for more slick conditions during the evening commute, so be careful out of the roads.
As the snow wraps up, temperatures will continue to fall into the 20s Tuesday night. Winds will stay breezy, with more wind chill values in the teens by Wednesday morning.
Most of the snow will be to our north and lesser amounts will be to our south.

Here's the breakdown for the state:
-Widespread 4-6" of snow with pockets of 6-8"+ for those in and around the snowbelt regions.
-These areas will likely see snow accumulate after Monday afternoon, with snow lingering late into Tuesday night.
-Those along I-70 will be in the 2-4" range. Those that are along and north of Delaware county will be close to the 3-5" range.
-Areas a county south of I-70 are still in the 2-4" range.
-Columbus is in the 2-4" range.
-Depending on where these snow bands set up on Tuesday, some areas within central Ohio could get hit with an additional 1-2" of snow, but that will be highly isolated and not widespread.
-This is where the least of the snowfall will be located, but it will still yield light accumulations across the region.
-Anywhere from 1-3" will be possible, with the higher end of the totals being found close north towards I-70.
-The lower totals will be along and south of the Ohio River.
Reminder: This is a look at the current forecast for this event and there will be updates on this blog daily with forecast tweaks given the latest weather model guidance.