TEXAS, USA — Saturday's flood warnings have expired and weekend storms have left San Antonio, but flooding remains a danger on local roads. As of 6:40 p.m., 40 were still closed in the county due to high water. Those can be seen below.
Additional rainfall is possible as Saturday afternoon goes on, but the clouds are generally expected to break up ahead of a sunny finale to the weekend. Flash flooding remains a threat as of now. If you're on the road, don't drive into water. Turn around, don't drown.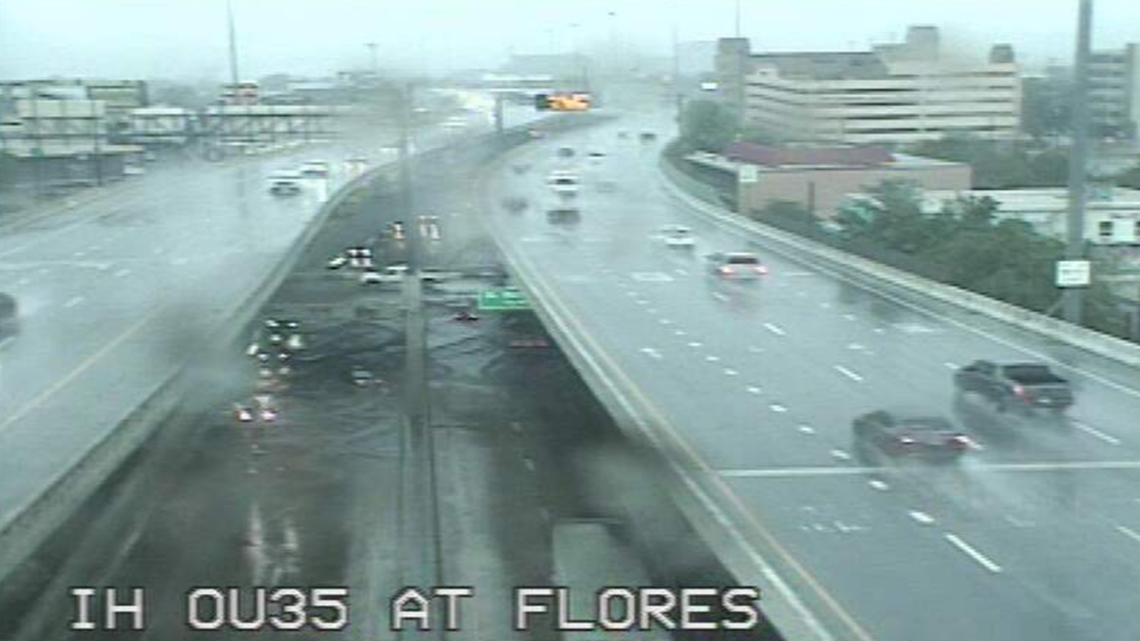 Here's a look at one of our traffic cameras taken around 1:15 p.m. revealing high water north of downtown San Antonio. Remember, turn around, don't drown.
And #kens5eyewitness Brandon Rosier send us this video of a stranded motorist and her dog being rescued by TxDOT crews:
Take a look at more photos, videos sent in by #kens5eyewitness viewers showing the rain conditions throughout the San Antonio area:
VIDEOS, PHOTOS: Flash Flood Warning in place for San Antonio, surrounding areas
Weekend Outlook
There is a marginal for severe storms Saturday, with the main threats being large hail and isolated tornadoes.
"The risk for severe weather over the weekend is a one out of five risk, meaning the threat will be much lower compared to what we had Wednesday night, but it should still be taken seriously," KENS 5 meteorologist Andrew Wilson said.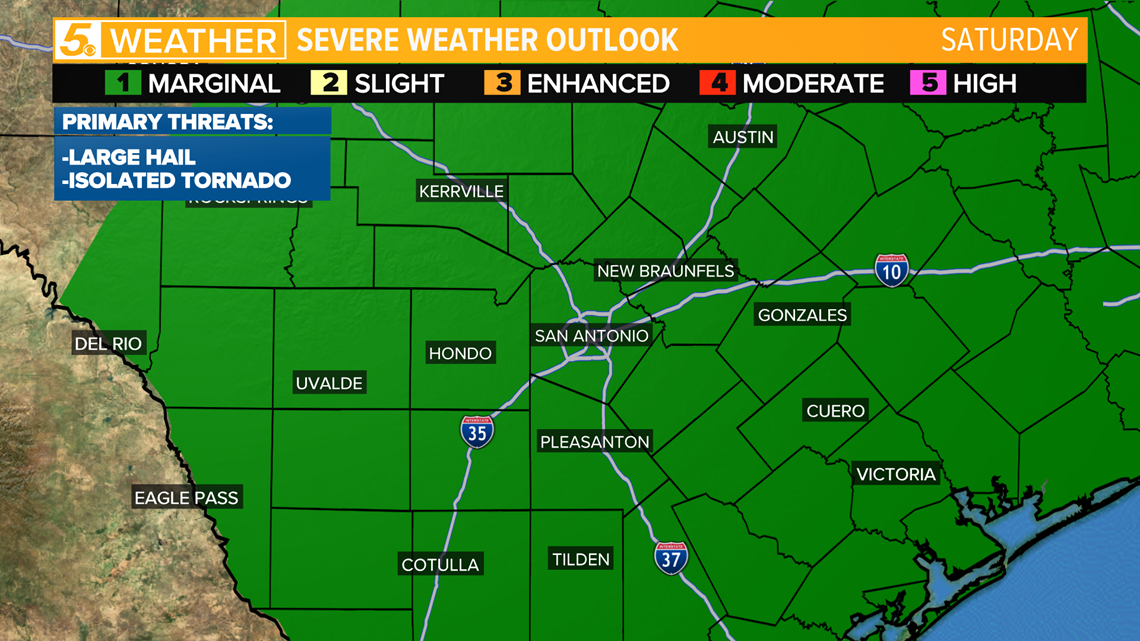 Flash flooding is forecast to be the main risk with the storms over the weekend with multiple waves of heavy rain passing through, putting down high amounts of rainfall in short periods of time.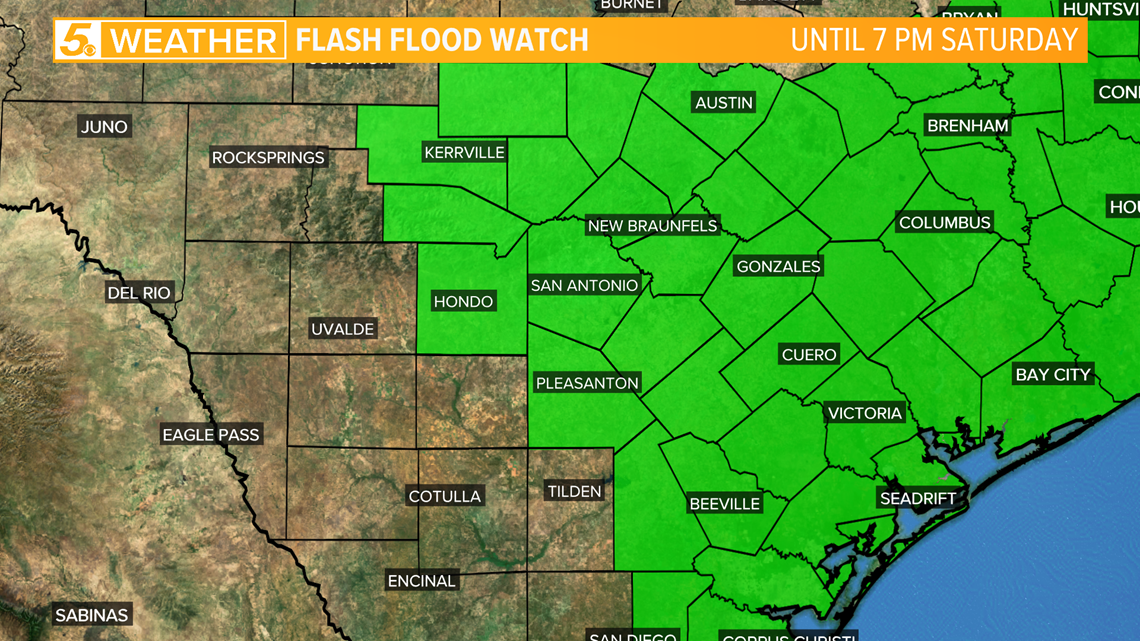 Weekend Timeline
Shower activity will pick-up throughout the day on Saturday with increased shower and thunderstorm activity into the early afternoon.
This is also when we will have the chance for strong storms.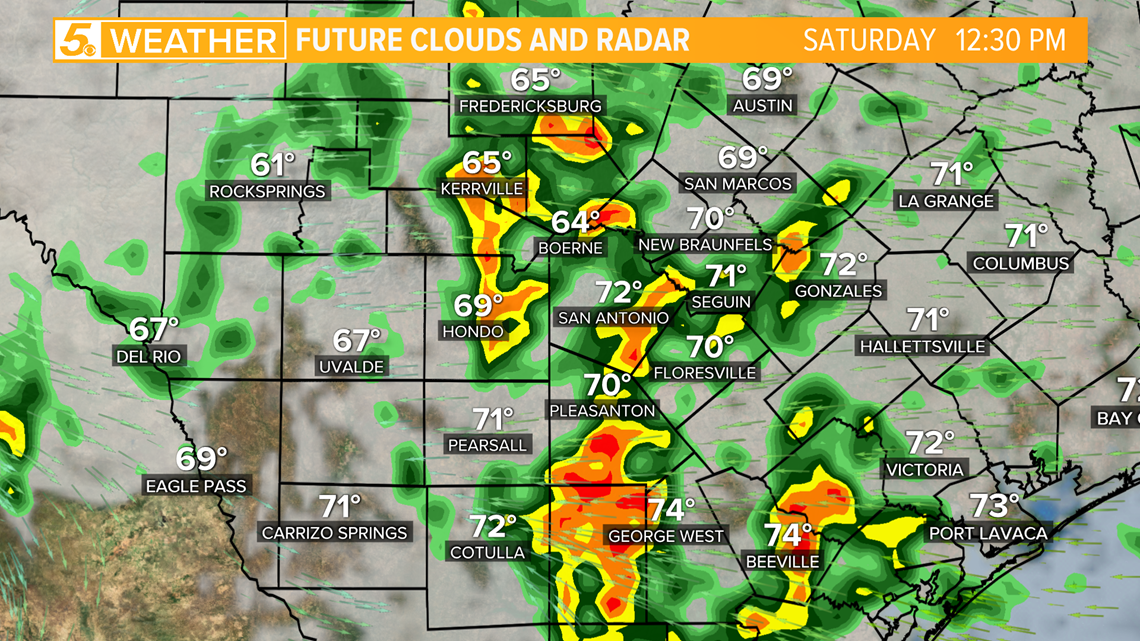 By 2:30 p.m., a bulk of the heavy showers and storms will move over the Coastal Plains region, which is also where some of the higher rainfall totals are expected.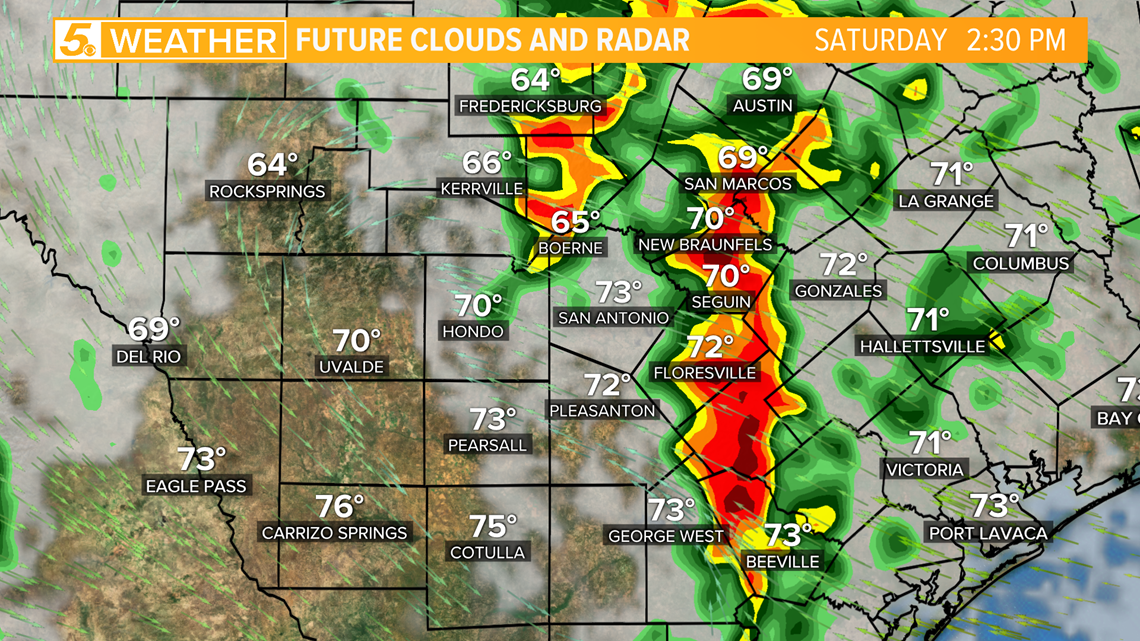 As we move into Saturday evening, most of the storms will start to move out of the region and drier conditions will move in by Sunday morning.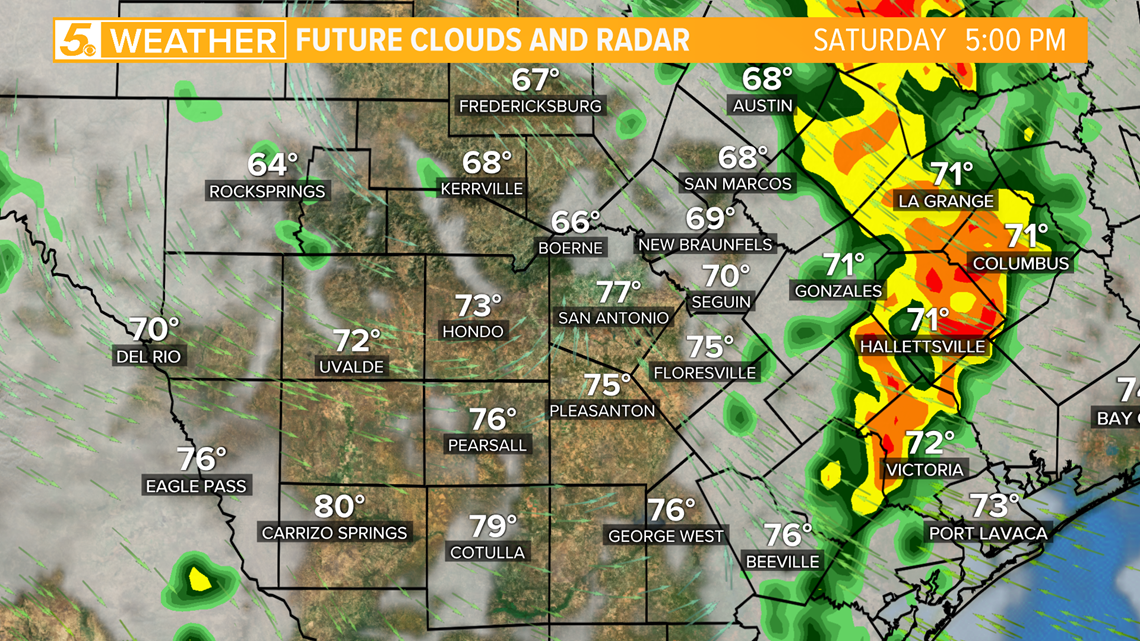 Expect rain totals east of I-35 to be anywhere from 2.5" to 6" and those west of I-35 may see anywhere from 1.5" to 3" of rain.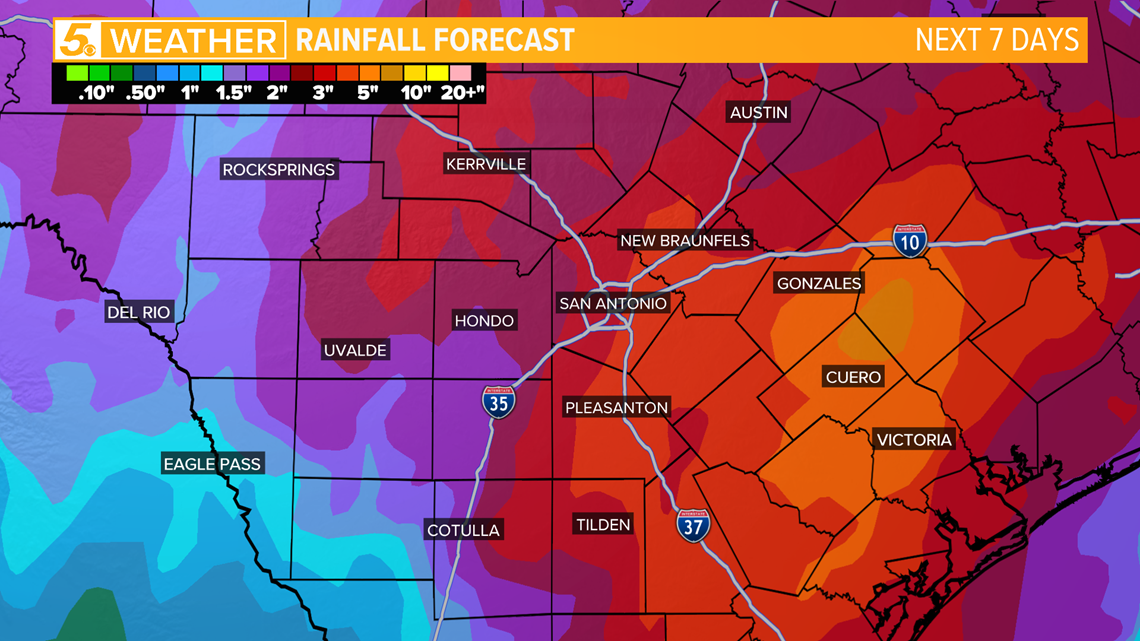 Remember to avoid flooded areas and never try to drive through flood waters.
This is a developing weather event. Refresh the page for the latest updates.
SEVERE WEATHER 101
When severe weather threatens the area, it is important to know what risks a storm can bring and what you should do to stay safe.
One of the most important things to know is where you are located on a map, so when a watch or warning is put into place, you can identify if you are at risk. When the National Weather Service puts out warnings, they are county-based and sometimes include cities as well. It is important to know where you live in the county and that you can identify it on a map.
It is also important to know the difference between a watch and a warning. A watch means that conditions are favorable for something to happen, but a warning means that something has developed and it is important to take action.
So, what would cause a thunderstorm to be qualified as a "severe" thunderstorm?
Hail that is one inch large is also considered to be about the size of a quarter.
Another ingredient that would lead to a storm becoming severe is if winds are 58 mph or greater.
Winds at this strength could cause damage to roofs and could even cause trees to be knocked down.
Finally, if a tornado is present inside a thunderstorm it would qualify the storm as becoming severe.
In this instance, a tornado warning would be issued.
A tornado watch can be issued for an area if strong storms are expected, and if the storms bring the risk for tornadoes, but not all storms include the threat for tornadoes. The ingredients in the atmosphere for a tornado to form are not always there when storms are present.
If the area you are in is ever under a tornado warning, it is important to know where you should go inside your home.
Head to the lowest, interior room of your home. The basement would be best, but if you don't have one, head to the first floor of the home and get away from exterior walls, or walls that lead to the outside of the home.
It is also important to stay away from glass. The more walls you can put between you and the outside, the better.
While lightning can be frequent in storms and very dangerous, it does not lead to a storm being qualified as severe.
Remember, when thunder roars, go indoors.
Storms can also lead to flooding. Flooding may not cause a storm to be labeled as being severe, but it is the deadliest kind of weather.
South Texas is known to have major flood events every few years, so it is important to use caution and to always stay out of floodwaters. Remember, turn around, don't drown.
Entering flood water is very dangerous as you can be swept off of your feet and you don't know what could be in the water that could hurt you.
The best thing you can do to be ready for severe weather is know what you will do in the event it strikes where you live.
Make sure your family has a severe weather action plan.
Have a place everyone goes inside your home and keep supplies there, such as food, medication, batteries, and flashlights.
Follow the KENS 5 Weather Team
Don't forget you can download the KENS 5 app for the latest news and weather information each day while you are on the go.