COLUMBUS, Ohio — After a strong low pressure system moved through parts of Ohio on Monday, the National Weather Service confirmed that four tornadoes touched down in the state.
Monday's storms prompted several tornado and severe thunderstorm warnings with wind gusts between 45 and 60 mph reported.
New Carlisle and Middletown each had an EF1 tornado touch down, meaning that winds were between 86 and 110 mph.
Etna and Orient both had a tornado that measured EF0 with wind speeds between 65 and 85 miles per hour.
While the tornado that landed in Pickaway County just after 4 p.m. was an EF0, its maximum estimated winds got up to 85 mph. During its two minutes on the ground, the tornado ripped through Fox Lair Mobile Home Park where many residents are now working to save what's left of their homes.
At least two homes in a mobile home community in Pickaway County flipped due to strong winds.
In Etna, the tornado reached an estimated maximum wind speed of 75 mph. It touched down just after 4:40 p.m. along Watkins Road SW and was only on the ground for a brief period of time.
NWS reports that most of the damage in Licking County was done to trees.
The tornado in Middletown first touched down around 2:35 p.m. near the intersection of Jacksonburg Road and Oxford Middletown Road where several houses in the area reported minor damage.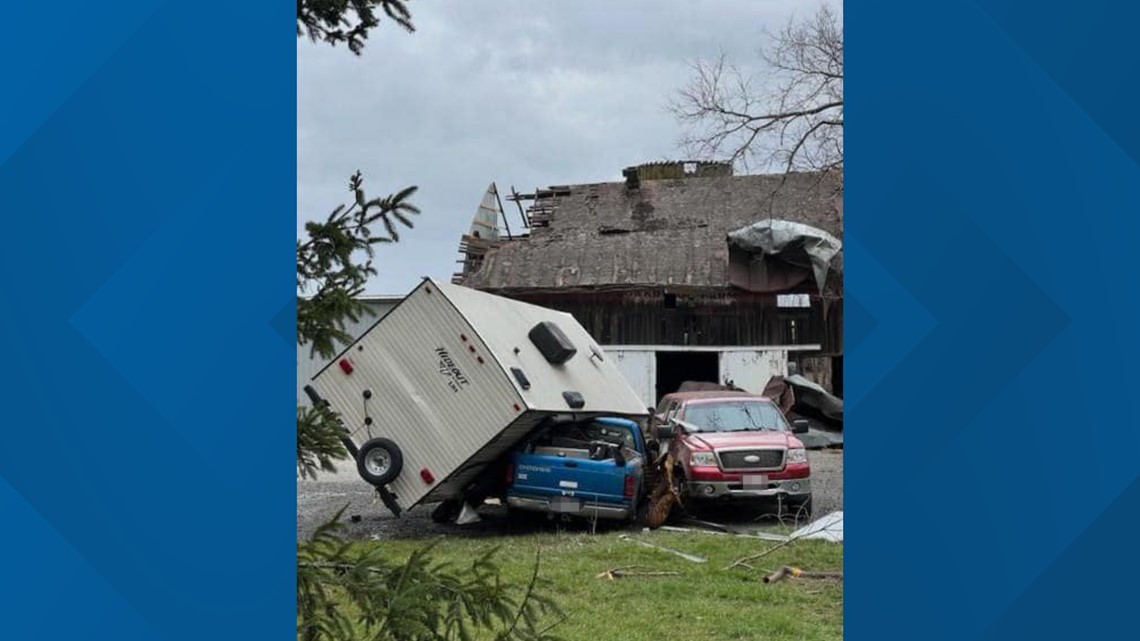 According to NWS, the heaviest damage occurred on Elk Creek Road where a house had its roof removed. NWS reports that this could have been when the tornado was at its maximum intensity with wind speeds of 110 mph.
In New Carlisle, a tornado is estimated to have touched down at 3:19 p.m. at a residence on Ayres Pike. The siding of the house was ripped off and a softwood tree was uprooted, according to NWS.
The tornado continued to travel through fields until it reached another property where it destroyed a barn completely. Additional homes were impacted by the tornado, each receiving minor damage.
At its strongest, the tornado in Clark County reached maximum wind speeds of 90 to 95 mph.