OHIO, USA — Ohio's distracted driving law is making a difference, according to officials at the Ohio Traffic Safety Council.
This data was pulled from users who opt into having their phone identity tracked.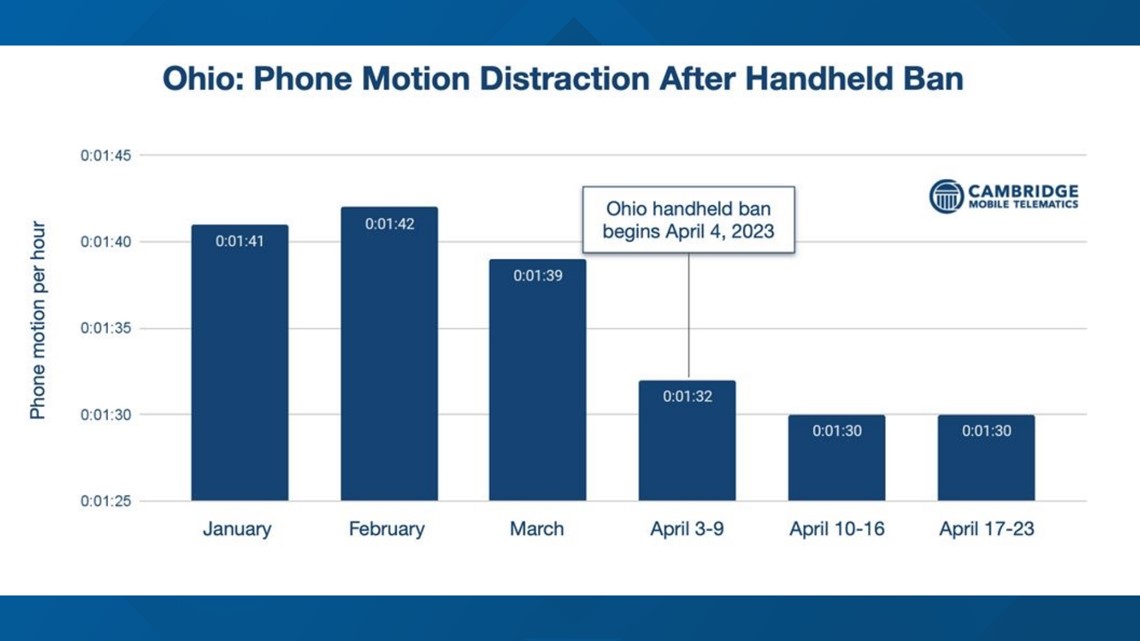 On top of this data, numbers from the Ohio State Highway Patrol distracted driving dashboard show troopers pulled over about 200 fewer drivers in April for distracted driving violations compared to March. Troopers say they have been keeping a close eye out for drivers holding their phones.
Right now drivers who are cited for distracted driving get a six-month grace period, but after that fines will be given.
The law allows people to be stopped by police solely for holding or using a cellphone while driving. It specifically will prohibit drivers from "using, holding, or physically supporting" a cellphone.
"This bill is about a lot more than pulling people over and handing out tickets," DeWine said. "It's about changing the culture around distracted driving, and normalizing the fact that distracted driving is just as dangerous as drunk driving."
The legislature comes with some exceptions, such as if they are stopped at a red light, using a speakerphone function without holding the phone, or holding phones to their ears for calls but not using texting or typing functions.
From 2013 to 2019, more than 91,000 distracted driving crashes occurred the in state, according to the Ohio State Highway Patrol. The crashes resulted in 47,000 injuries and 305 deaths.
10TV Sports Anchor Dom Tiberi was in attendance at the bill signing and has recently been recognized for his efforts to put an end to distracted driving.
"We have an epidemic in our country, and it is called distracted driving. There is nothing we can do to bring our daughter Maria back, but our mission is to keep other families from going through this nightmare," Dom said. "My wife Terri and I are so proud of our 10TV family for what we all have created with Maria's Message. It is truly a Message of Love."