Sponsored story by: The Ohio State University Veterinary Medical Center
Obesity is the most common nutritional disorder among dogs and affects 56 percent of all household pets. It is for this reason that Clinical investigators at The Ohio State University Veterinary Medical Center (VMC) are recruiting obese dogs for a 24-week clinical trial called the SLIM study, to investigate the use of a novel treatment to increase the rate of weight loss in obese dogs.
The treatment, called fecal microbiota transplant (FMT), was formulated using fecal samples from lean, healthy donor dogs. It was carefully processed and packaged into tasteless capsules to be given by mouth to study participants.
While the SLIM study might be considered unusual, preliminary FMT studies conducted in people and mice have shown that FMT can improve the rate of weight loss, says Dr. Valerie Parker, Associate Professor – Clinical in Small Animal Internal Medicine & Nutrition at the VMC, who is working alongside two other Small Animal Internal Medicine researchers, Dr. Jenessa Winston, Assistant Professor, and Dr. Hannah Klein, Companion Animal Fecal Bank Fellow.
"We know that conventional dietary measures can be successful, but our study will explore whether FMT can accelerate weight loss in dogs by changing their gut flora to impact their obesity," says Dr. Parker.
"Beyond the results of weight loss," Dr. Parker adds, "we're also looking at other markers of metabolic syndrome, insulin resistance and lipid disorders, and we're investigating FMT to understand what happens with other hormonal regulation systems that influence obesity."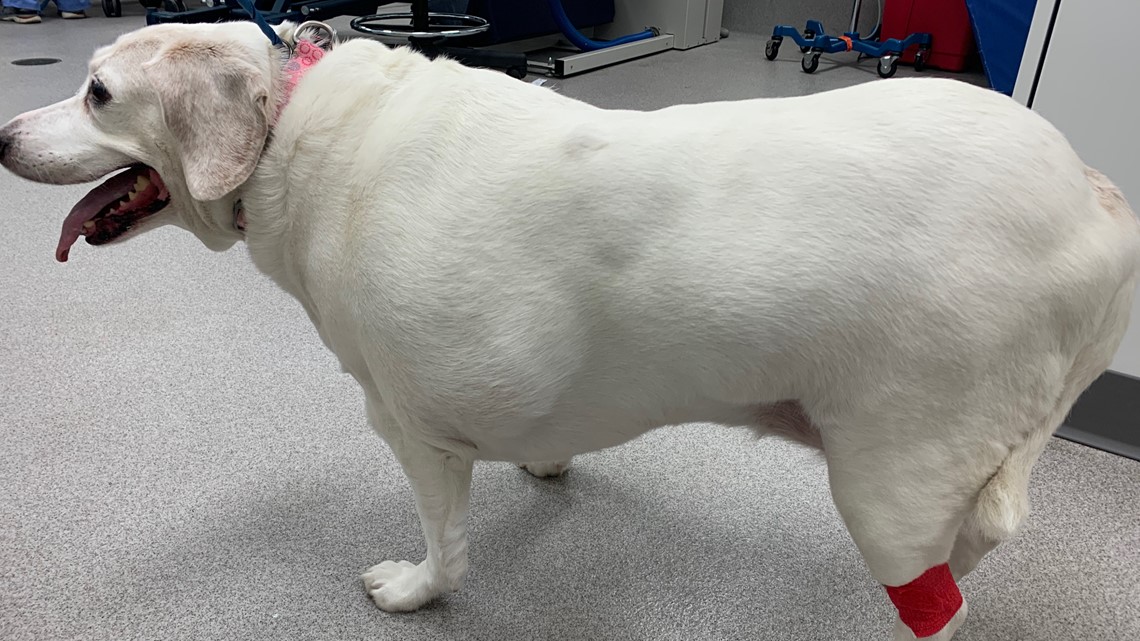 Dr. Klein notes that Ohio State is the first to conduct a clinical trial using FMT with obese dogs. "Our study calls for 30 dogs, large and small," she says. "One-third will receive a conventional diet, one-third will receive a placebo and one-third will receive the FMT. We want to see if there is a difference between the FMT dogs and the other two groups."
If FMT shows a positive effect, she says, the VMC team will be able to conduct a longer study with a greater number of clinical trial participants.
Dr. Parker says that one of the best things about the SLIM study is that all the dogs are being put on an effective obesity management plan. "Every dog in the study, no matter what group, will benefit because of dietary management."
She adds that participation in the 24-week study includes weekly weight checks, physical examinations and bloodwork that will be performed throughout the study, and a fitness monitor to be worn on the dog's collar.
Additionally, owners will receive the following benefits for their dog:
Complete blood, urine and fecal lab work;
Free nutrition consultation; and
Free therapeutic weight loss food for six months.
"The benefits are tremendous for dogs and owners," says Dr. Winston. "The owners have to be willing to follow a strict dietary food plan for the study period. In most obesity dietary plans, there would be some flexibility, but—and this is the biggest ask of owners—in this study, they need to forego any treats."

Dr. Winston adds that the SLIM study is translational, meaning that knowledge gained from basic biology and this clinical trial may improve health outcomes in dogs but also has the benefit to improve human health. The SLIM study is also a project of the Comparative Hepatobiliary and Intestinal Research Program (CHIRP), a VMC research initiative that Dr. Winston helped to found which focuses on multidisciplinary projects in the areas of gastrointestinal, hepatobiliary and pancreatic diseases in dogs and cats.
"It's exciting to begin enrolling dogs," she says, "and I think owners really appreciate having us here to support them."
The SLIM study is sponsored by the America Kennel Club Canine Health Foundation. If you are interested in having your dog participate in the study and to see if your dog may be eligible, or for further questions about the study, please contact Drs. Hannah Klein or Jenessa Winston at chirp-slim-cvm@osu.edu.