An Indiana photographer spends up to 10 hours working on the elaborate and individualized scenes for the babies she photographs, even longer making their costumes, many of which she sews by hand--completely for free. But, she said all of her hard work has a purpose: To spread awareness of the lives of babies born with disabilities and medical conditions.
Angela Forker, founder of Precious Baby Photography, has been a professional photographer for about three and a half years, but she just began "The Precious Baby Project" in February after she had the opportunity to photograph a very special baby.
Forker told CBS News a couple at her church found out while pregnant with their baby girl Madalyn who she had "really serious medical problems." They had the baby in December and she survived for 15 days. Forker had the privilege of photographing the infant before she died.
After she took photos of Madalyn, Forker said she "was praying, 'God, how can you use this photography to make a difference in people's lives'" and the idea for "'The Precious Baby Project' dropped in her heart."
Since then, Forker has photographed 23 babies with disabilities and medical conditions. But, instead of trying to cover up their disabilities, she incorporates them into her work.
"They have this tube coming out of their nose, they have this bandage across their cheek. I call them their accessories. I feature their accessories. This child has tubes, has wires and look how beautiful they are," said Forker.
For example, one of her works features a baby named Elijah, who has a craniofacial disorder called Crouzon syndrome. He has to wear a helmet, so she incorporated it into photographs titled "The Sky's the Limit," where it becomes an astronaut's helmet and he's connected to a rocket ship.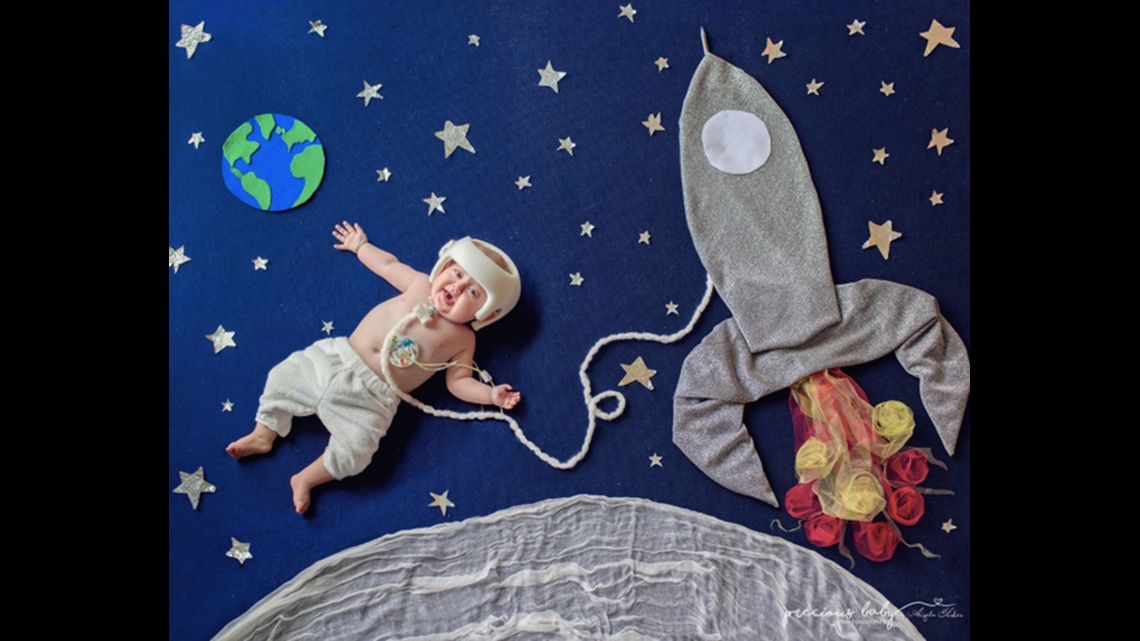 While Forker has photographed babies and children in the made-to-order scenes she calls "BabyImaginArt," for years, she had never embarked on a photo project before for children with disabilities and medical conditions.
"So many of these parents have never had a professional portrait taken of their child," said Forker. "Photographers are sort of at a loss of what to do with them…I just want these babies to know anything is possible."
Forker said her "most difficult session" was for a baby named Ellis Rose, who was only given 6-12 months more to live. The photographer dressed the baby up as a "Forget-Me-Not Fairy," explaining that while she may not live a long life she will never be forgotten by those who love her.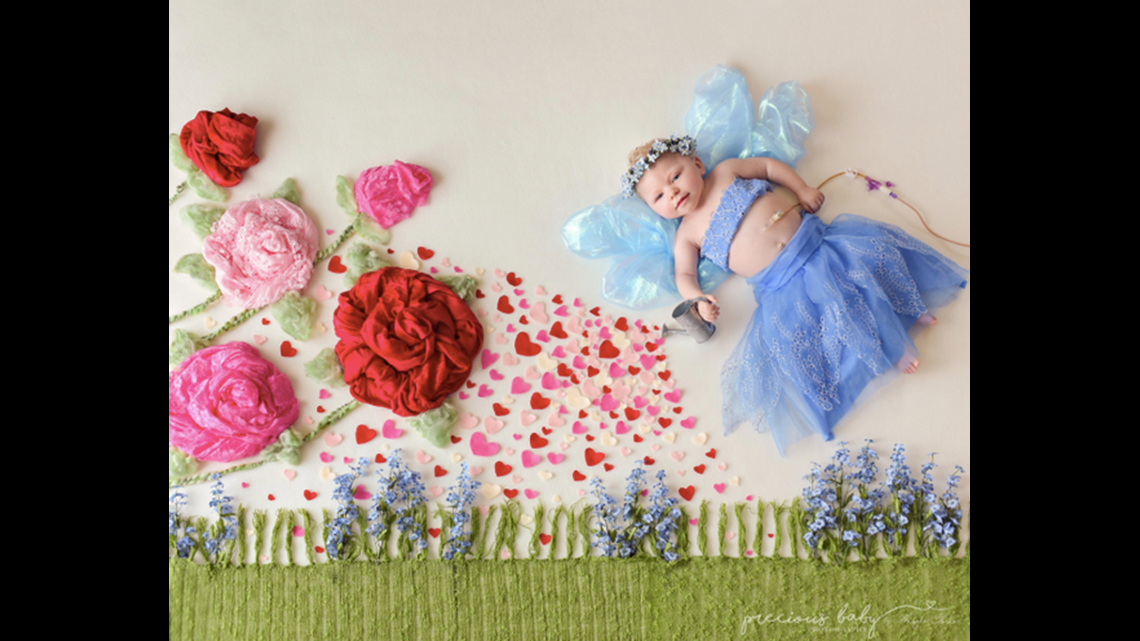 Forker said she finds her photography subjects mainly through reaching out via her Facebook page -- and many have found her. One family drove four hours to her home in New Haven, Indiana, another offered to fly her out to California to photograph their child.
She explained that while she makes nothing from her project -- she takes the photos of the babies at no cost to the parents -- seeing the positivity her photos bring the babies and families makes it all worth it.
"It's just so rewarding and so fulfilling just seeing the good its done for these families," Forker said. "I have families writing to me and thanking me for the pictures, other photographers are so inspired. It's just a ripple effect. I want to do this as long can."