FAIRFIELD COUNTY, Ohio — They say as the crow flies is the shortest distance between two points.
On Hidden Acres Legacy Farm in Pickerington is where Laura Coholich, her husband, their four children and a handful of goats call home.
"And about 35 chickens," Coholich joked.
Years ago, she says she knew how sought after the land would be.
"And we realized pretty quickly that if we didn't buy the rest of the farm that we would end up with 50 houses next door to us," she said.
They own 68 acres on what used to be family owned land. Of that, 48 acres is under conservation. Now, she's worried a possibility that has been 30 years in the making could soon happen.
"And I don't think that a four lane highway is the way to go," she said.
Fairfield County Engineer Jeremiah Upp says the idea first came out in the 1990s with a connector from U.S. Route 33 to Interstate 70 to help alleviate traffic on state Route 256. The idea grew in 2013 when Pickerington saw an increase in development. Because of the price tag, however, and a lack of a financial catalyst, Upp says the idea was put on hold.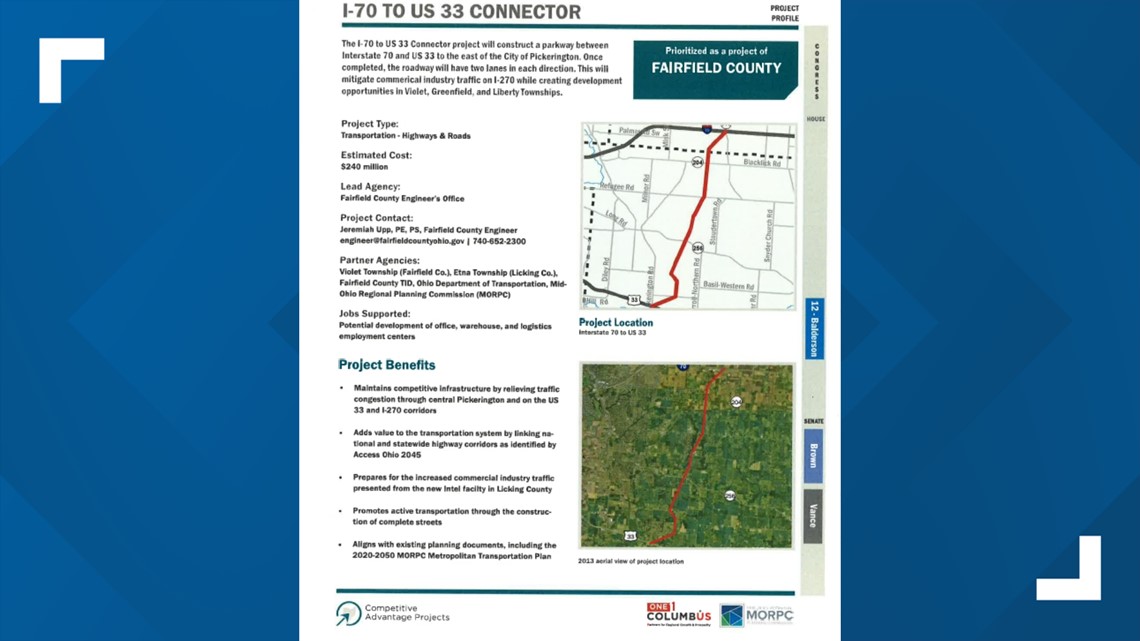 "And then came along Intel," Upp said.
When Intel entered the picture so did, once again, the discussion; constructing a $240 million parkway east of Pickerington that would mitigate commercial industry traffic on I-270 while creating development opportunities in Pickerington and surrounding townships.
"Is this a good idea," 10TV's Bryant Somerville asked Upp.
"We don't know yet," he responded.
Upp says no engineering studies, or real estate assessments or environmental studies have been done. An original diagram that he says was presented to the Mid Ohio Regional Planning Commission as a basic idea for the alignment, he wouldn't even call a possibility, saying if the connector was built at all, it would probably be much further to the east.
"All that stuff would have to be set into motion and be a certain amount of it complete in order to start determining where the alignment would be," Upp said.
"If we had the money, would we do it," Somerville asked Upp.
"I believe we would have to complete the study to show the need for it," he said. "And, if that need was shown than we would, yes."
Upp says county commissioners are being proactive seeing the development in the pipeline, while knowing they need to do the best job for residents. He says by pushing it off, it might invite more unwanted, inevitable change down the road.
Coholich says she thinks county leaders are smart to be thinking for the future, but other than the tax burden for residents and schools, she's also worried about the impact on nature.
"While we can build it, should we," she said. "It's not that they can't do it and it's not that we don't need it, but are we all so concerned with convenience that we're willing to give up lifestyle, community, nature? Are we willing to give all that up?"
It's the shortest distance, she says, as the crow flies, between convenience and catastrophe.