ORIENT, Ohio — Residents at Fox Lair Mobile Home Park in Pickaway County are working save what's left of their homes after a tornado ripped through the area on Monday.
Many residents said they don't have insurance or the funds to manage the repairs, but they are all thankful that everyone survived.
Thomas Mason, who lives in the community, said he was running for his life as he saw the tornado move through the mobile home park, right outside his door.
"The way it tried to suck me out the door, I thought that was it," Mason said. "It picked me whole porch up, and shifted to the whole back of the house, tore it all the way down."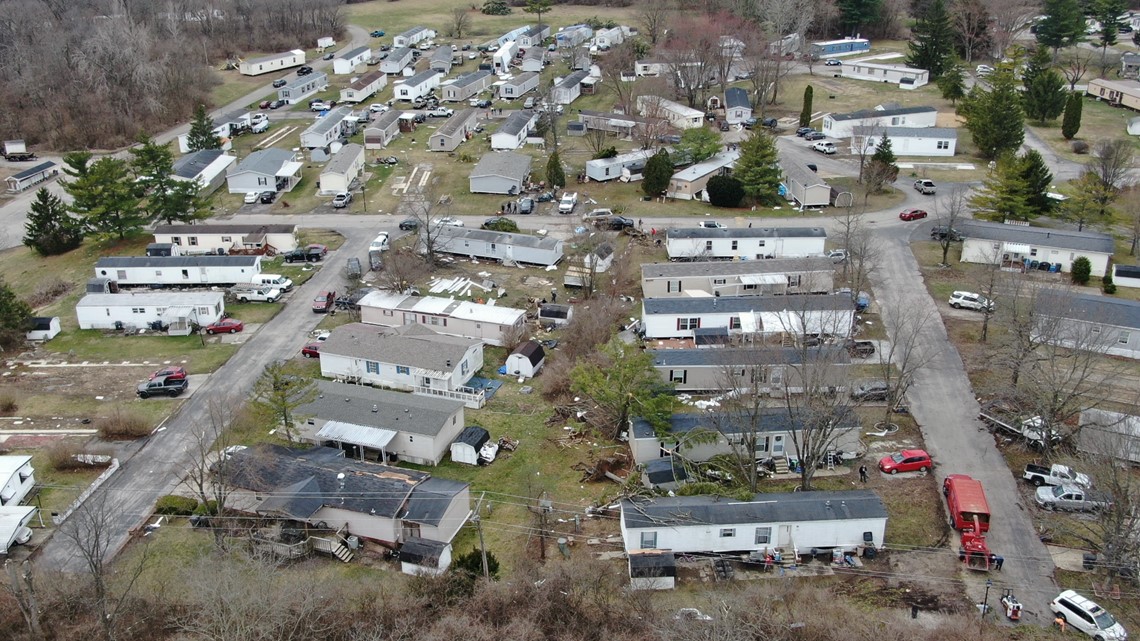 Mason said he grabbed his dog, fighting to close the door.
"At that point it was trying to suck me and her out the door," Mason said.
With his roof and porch destroyed, Mason said he's left picking up the pieces, but without insurance, he doesn't know where to go from here.
"It's gonna be a nightmare, I'm hoping FEMA or something like that will help me out, cause I don't know how I'm going to repair the roof, I really don't," Mason said.
Mason believes with some work, his home should be livable, but his neighbors' homes a few streets down are a total loss, like Justin Stafford's home.
"It moved off the foundation, it's further that way off than it is down here, but this is where it used to sit," Stafford said.
Stafford said he was racing home to get to his kids when the tornado started approaching.
"I couldn't get here fast enough, that was my biggest problem," says Stafford.
The tornado picked up and moved his home, crushing his bathroom, with two of his boys just feet away.
"[My older son] heard a lot of noise and debris flying around and when he heard it, he heard his younger brother scream and holler for him," Stafford said.
As the residents continue clean-up, Stafford said they will have to find a new home, but it's a small price to pay in the grand scheme of things.
The residents said the tornado came through so quickly, there was little they could do in taking cover. However, some expressed the desire for a storm shelter.
According to the Ohio Committee for Severe Weather Awareness, you should not remain in your mobile home during a tornado. It says even mobile homes equipped with tie-down systems cannot withstand the force or winds of a tornado. It is recommended to leave your home and seek shelter in a safe room or building with a basement.
Co-property owner Mike Dukle said it is not required by law for a storm shelter onsite, but he would consider putting one in.
"I mean you never say no to certain things from this standpoint, but this is not something that happens every day. You never know, I mean it could happen to your house, it could happen to my house. You just don't know what it is and you look at it, and we're probably very fortunate that we have the small amount of damage in a sense that we have," Dunkle said.
Dunkel said they are trying to provide aid to as many people as possible, especially helping those who may be displaced.