COLUMBUS, Ohio — The state will require people in seven Ohio counties wear masks while in public, Gov. Mike DeWine announced Tuesday.
The Ohio Department of Health will issue an order, effective 6 p.m. Wednesday, that will mandate the wearing of face coverings in public in all counties designated "Red Level 3 Public Health Emergency" in the state's alert system used to identify high-risk counties for COVID-19.
Masks will be mandatory in the following counties:
Butler
Cuyahoga
Franklin
Hamilton
Huron
Montgomery
Trumbull
DeWine says the order will stay in effect as long as the counties are in a red level or if they increase to the "Purple Alert Level 4."
With the mask mandates, people will need to wear a mask:
When they are in any indoor location that is not a residence
When they are outdoors and unable to consistently maintain a distance of six feet or more from individuals who are not members of their household
When they are waiting for, riding, driving or operating public transportation, a taxi, a private care service, or a ride-sharing vehicle
This order does not apply to children under the age of 10.
DeWine unveiled a new system last week for measuring the dangers of the coronavirus in the state of Ohio, meant to identify hot spots for the disease by county.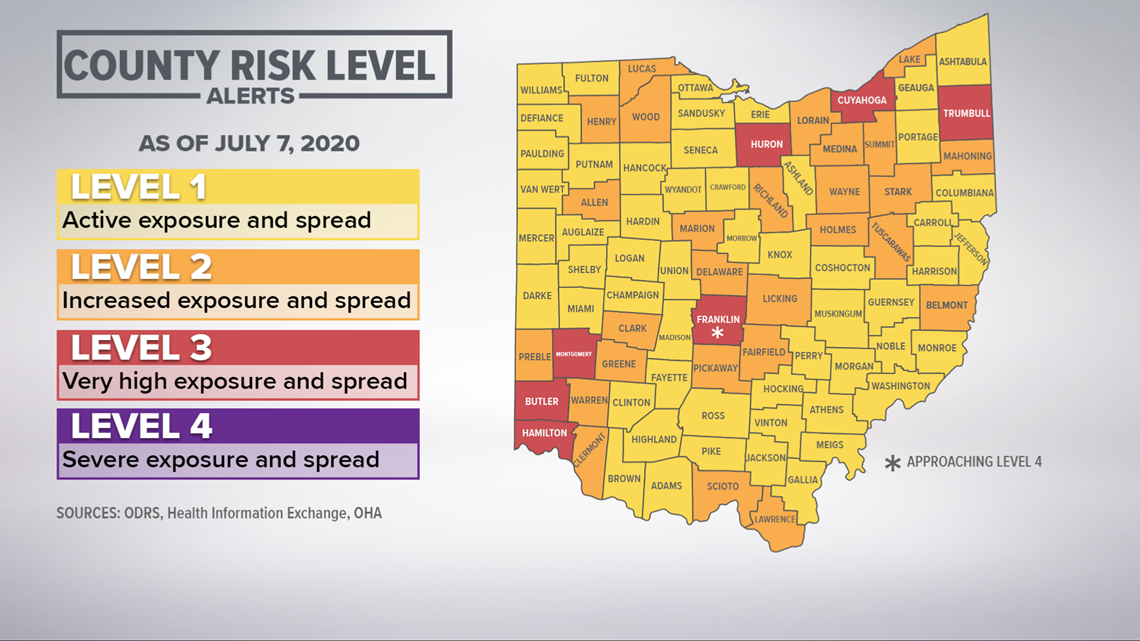 On a scale of Level 1 to Level 4, Franklin County is at a Level 3 meaning it displays "very high" exposure and spread and people should limit activities as much as possible.
CORONAVIRUS: WHAT YOU NEED TO KNOW
For more information on Ohio's response to COVID-19, visit coronavirus.ohio.gov or call 1-833-4-ASK-ODH.