COLUMBUS, Ohio — According to Franklin County Job and Family Services, there are about 700 licensed child-care centers in Franklin County. Of those, 500 have received a star ranking and 200 have not.
Without a star rating by July, licensed daycare or home care facilities that receive public funding will be cut off.
"I would hate to see those child care providers not be able to accept children and are doing a good job. And just because they didn't get that star — not be able to provide that care but the state mandates that star," said Franklin County Commissioner Marilyn Brown.
Franklin County is the only county in Ohio to offer free training to get more child care centers star certified. It's spent $3 million on the program.
Ohio mandated that all licensed child-care providers receive a star rating in order to ensure parents that these facilities meet the highest standards in terms of safety and quality of education.
Child care providers are ranked from one star to five stars. The higher the star ranking, the better the quality of education, which takes into account teachers with higher levels of education and student/teacher ratios.
This Franklin County map shows the locations of child care providers who are not star ranked.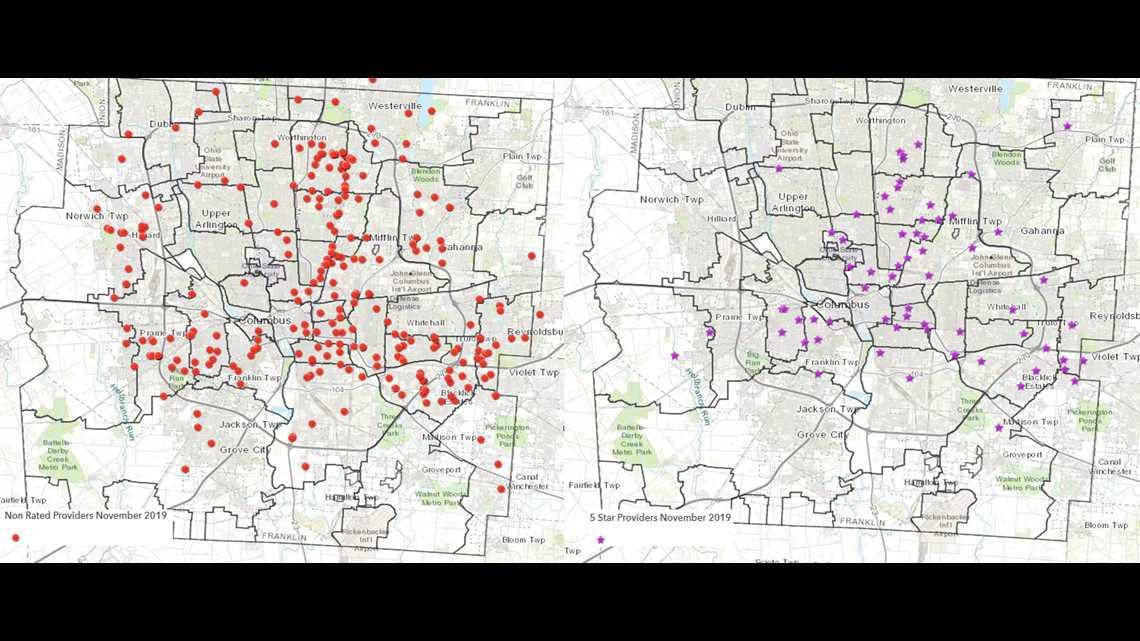 According to Ohio Department of Job and Family Services, "(Step Up to Quality's system) recognizes programs that exceed minimum health and safety standards and promote children's learning and development... The independent study of SUTQ conducted by COMPASS Evaluation and Research, Inc. indicates the program is making a real, positive difference for Ohio's youngest citizens."
According to the authors of the study, "there is evidence that sites with higher star ratings (3-star or higher) are associated with better child outcomes."
You can search for child-care facilities with star ratings here.
For more information on how to qualify for a star rating, you can call 614-502-7535 or email SUTQ@education.ohio.gov.