COLUMBUS, Ohio — It seems everywhere you look in central Ohio, you'll find one.
"I hit the pothole," Emily Roney said. "[I] heard a real loud noise and immediately was like 'uuuughhh'."
Roney was on her way home from a job interview when on Interstate 270 south, it happened. Her day, as well as two of her tires and her gas cap, took a massive hit.
"It's gonna be about $500," she said of the damage costs.
But that money might not be coming out of her pocket.
"Potholes are really one of those things that just purely are not preventable," ODOT's Brooke Ebersole said.
Ebersole says the same crews plowing snow are the same crews working tirelessly trying to save your tires.
"Potholes we consider a high priority item and we'll try to get to it as time allows within a reasonable amount of time," she said.
Ebersole says if you really want to point the finger of blame, point to mother nature.
When moisture on the road freezes during cold temperatures, it absorbs into the pavement. Then, when weather gets warmer, it is pushed back onto the pavement, creating deterioration.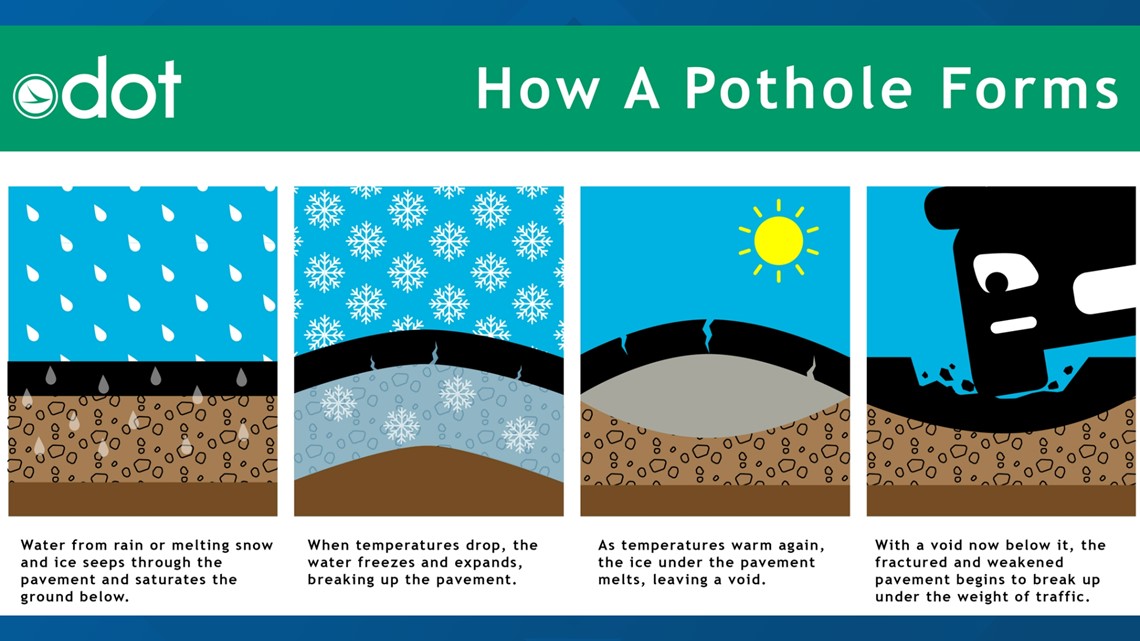 An ODOT website is where you can enter pothole information, which is sent to the nearest ODOT garage. If your car is damaged, you can then pursue the Ohio Court of Claims for reimbursement.
Since 2021, there have been 463 claims where ODOT has paid out $274,774.62. Already in 2023, five claims have been filed and $125 has been paid out.
As far as complaints received for potholes, ODOT says more than 4,800 have come in over the last two years. And, already in 2023, 37 complaints have been received.
"If you see potholes out there, definitely report them," Roney said.
Roney knows, first hand (and two tires) how aggravating it can be, but she also knows the squeaky wheel gets the patch work.
"I'm hoping that ODOT fixes the problem and when there are reports of there being potholes around the city, they're fixed as soon as possible," she said.
ODOT is responsible for state and US routes outside municipalities and all interstates except the Ohio Turnpike.