COLUMBUS, Ohio -- Chaos erupted in downtown Columbus Thursday night and it spilled over into the early morning hours of Friday.
Hundreds of protesters who gathered in solidarity to show support after the death of George Floyd in Minneapolis a few days ago brought handmade signs and bullhorns to the area of N. High St. and Broad St.
Dozens of Columbus police officers quickly created a perimeter around that intersection.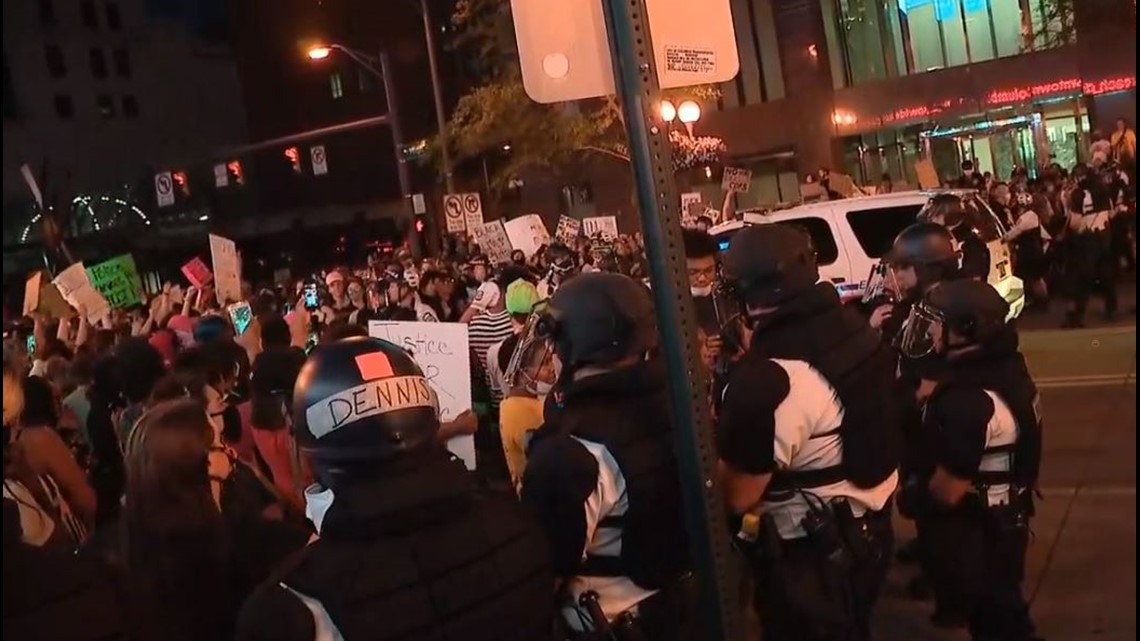 Around 9 p.m. after some protesters began to throw bottles, police warned the crowd multiple times before dispersing pepper spray into the crowd.
Protesters then began to throw eggs, fireworks, smoke bombs, jugs of water and shoes while officers try to maintain that perimeter and controlling the crowd.
Police were able to push back protesters from Broad Street and N. High St. to the intersection of N. High St. and State St. where protesters began to break the windows of local businesses, bus stops and even the windows and front doors of the Ohio Statehouse.
From there, protesters moved down to N. High St. and Town St. where they began breaking into businesses and looting from a local convenience store.
Dozens of police officers were involved in this incident including those on the bicycle unit, the mounted unit and SWAT. Officers, wearing their riot gear, began using several crowd control techniques, including flash-bang grenades and pepper spray.
As of early Friday morning, Columbus police had arrested multiple protesters.
Columbus Police Sgt. James Fuqua said the resources that were used to deal with the protest downtown kept officers from responding to other critical incidents including 177 high priority calls for service.
Fuqua said there were peaceful protests on the south side of the city and on Long St.