Columbus police say vandals appear to have climbed on an arched memorial at Camp Chase Confederate Cemetery and toppled the statue atop the monument to the ground.
The soldier's head and hat were knocked off. Police say the vandals took the head, but left the hat.
The statue, made of zinc, had overlooked the tombstones of 2,000 confederate soldiers since it was erected in 1902.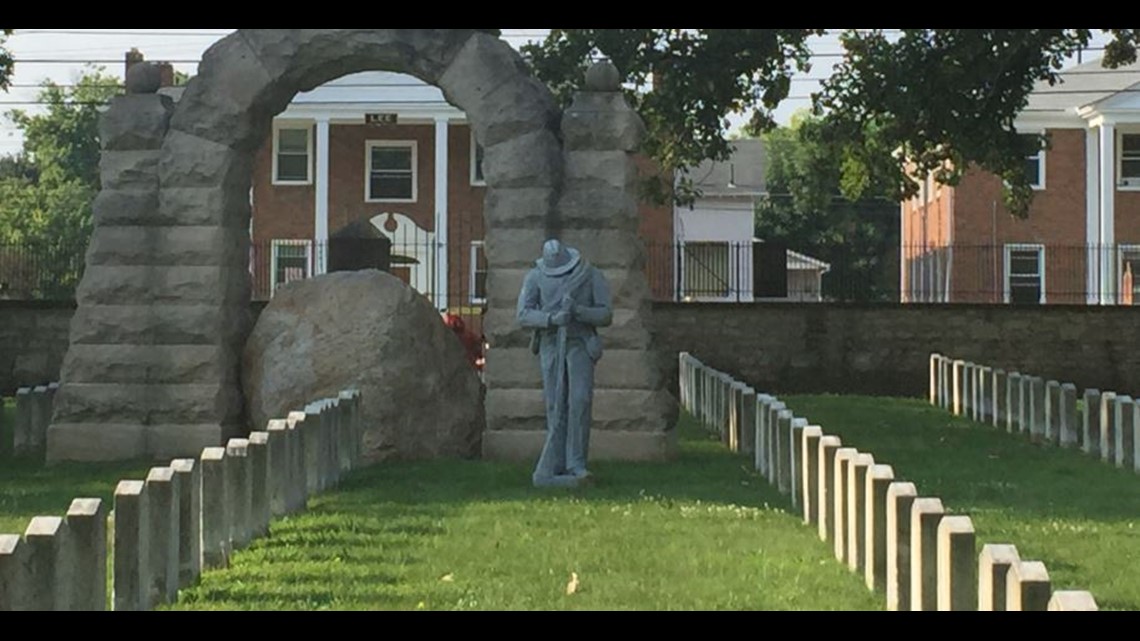 Police say the vandalism occurred sometime between midnight and 6:30 a.m. Tuesday. Officers found the vandalism while checking the cemetery. There are no security cameras at the site.
Police had been monitoring the cemetery since the violent white-nationalist rally in Charlottesville, Virginia, where a protester was killed Aug. 12.
The facility was named after Salmon P. Chase, Treasury Secretary under President Abraham Lincoln, and former governor of Ohio. The first inmates at Camp Chase were chiefly political and military prisoners from Kentucky and Western Virginia allegedly loyal to the Confederacy. By 1863 Camp Chase held 8,000 men, the peak of the prison population.
The Camp Chase site, including the Confederate Cemetery, was listed on the National Register of Historic Places in 1973.
There are two monuments in Camp Chase Confederate Cemetery. The first depicts a bronze figure of a Confederate Civil War soldier standing atop a granite arch, his rifle held vertically in front of him, with both hands resting on the top of the barrel.
The second monument is a three-foot-tall boulder underneath the stone arch. Installed in 1897, the inscription reads: "2,260 Confederate Soldiers of the war 1861-1865 buried in this enclosure."
Columbus Mayor Andrew Ginther responded to the incident, calling it "unacceptable":
"I understand that markers of the Confederacy bring pain to those fighting persistent racism in our community and across our country, but the destruction of property -- and the desecration of any grave site -- is unacceptable regardless who was interred. We must remain focused on productive, not destructive, action to bring about the change we seek and to further the fight for equality."
Ginther also recently weighed in on the debate over Confederate statues as a whole. A statement the mayor released said:
"I support the removal of monuments celebrating the Confederacy, but I would urge people to remember that the disturbing and tragic events that unfolded in Charlottesville were not about statues, but about persistent racism in our country. "
The Veterans Administration released the following statement:
"Destruction and defacement of federal property is a serious crime, and VA is working with law enforcement officials to identify those responsible. VA is committed to maintaining our cemeteries as national shrines, and that includes repairing this statue, which was erected in 1902 as part of a peace and reconciliation effort led by wounded Union solider William Knauss."