COLUMBUS, Ohio — A Pickaway County man was hospitalized after a zebra bit his arm Sunday evening in Circleville.
In the incident report, one deputy said he arrived on the scene and was directed to a field where the victim was lying on the ground.
While the deputy was attempting to use his vehicle to block the victim, a large male zebra charged at the driver's side door and was acting very hostile.
Another responding deputy was told this male zebra was acting aggressive because it protecting five or six female zebras that were in the field.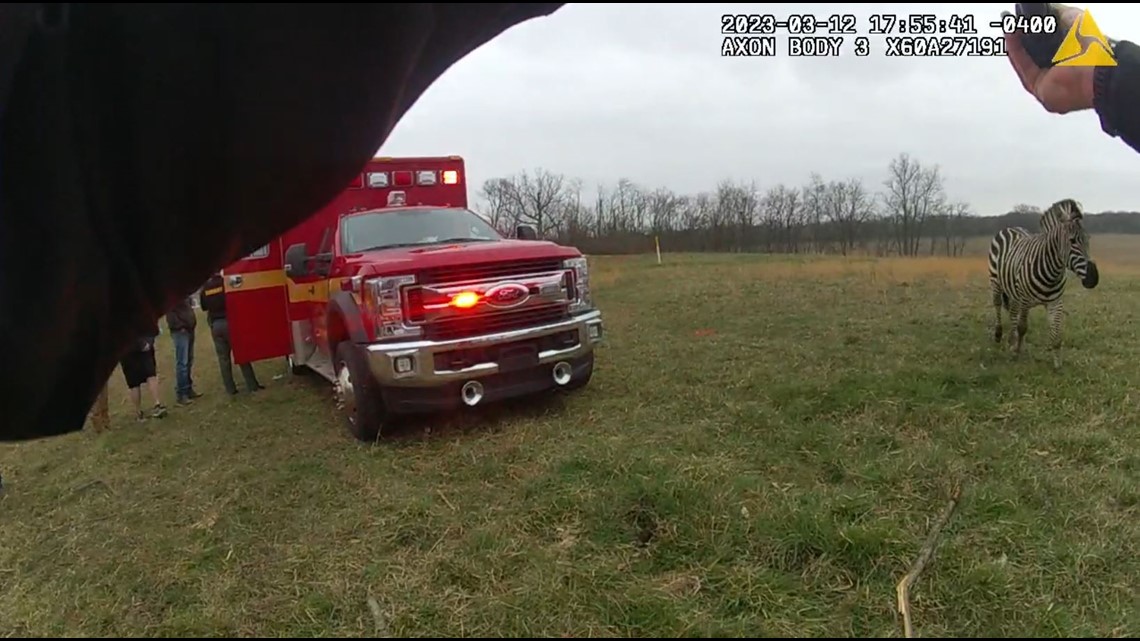 The deputy said he was able to use his air horn and sirens to scare the zebra enough to exit the cruiser.
After administering a tourniquet and helping the victim get to an ambulance nearby, the deputy said the zebra returned.
At this time, deputies were advised by the family they could shoot the zebra if he came any closer.
Moments later, the deputy said he heard another deputy yell at the zebra several times and a shot rang out. The deputy turned and saw the zebra on the ground.
Body cam footage released by the sheriff's office shows the zebra approaching deputies when one fires a shotgun, striking it in the head and killing it.
The victim was taken to Grant Medical Center in Columbus. His condition is unknown at this time.
According to the Ohio Department of Agriculture, zebras are not considered dangerous wild animals. They are allowed to be owned in Ohio but local governments may have restrictions.
Editor's Note: This article was updated after the sheriff confirmed that part of the man's arm was not bitten off by the zebra, as the incident report stated. The sheriff's office initially believed his arm was severed based on statements made by the victim in the 911 call.