Car warranties. Medical devices. Debt consolidation.
The common bond they share: they are often the carrot dangled during robocalls.
Those persistent, automated calls to our cell phones and landlines are as ubiquitous as they are annoying in American culture.
A nationwide investigation by TEGNA stations across the country – including WBNS-TV's 10 Investigates unit – found that robocalls are a national nuisance that plague our phone lines and have cost American consumers billions of dollars.
What's more –reining them in and tracking down those responsible is sometimes difficult for law enforcement as many of the robocalling operations originate overseas, according to interviews TEGNA stations gathered with the states' attorneys general and the Federal Trade Commission.
As part of the investigation, 10 Investigates and 15 other TEGNA stations across the country purchased new cell phones earlier this year.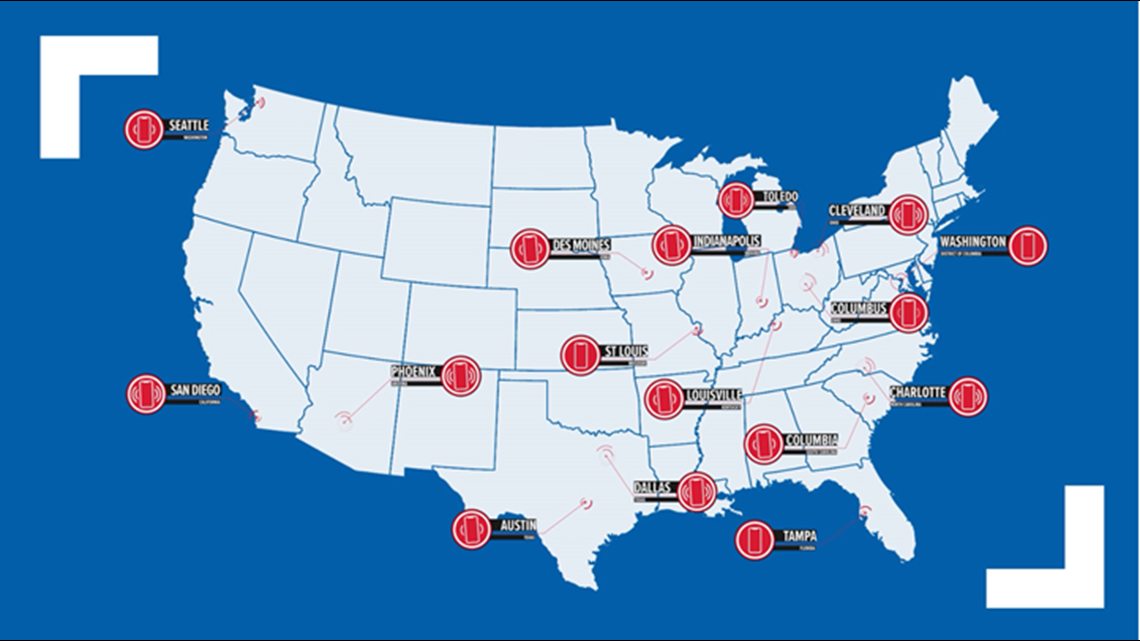 The calls started coming into the new cell phones we purchased in the hours, days and weeks after activating the phones.
And in some cases, the phones started receiving robocalls without ever calling or texting anyone.
It's possible some of the numbers could've been recycled, which may explain the frequency of calls even on new phones.
But the illustration of call frequency carries with it consequences -- Americans lost an estimated $19.7 billion dollars to phone scammers in 2020 alone, according to Truecaller Insights, a group that studies robocall trends.
The good news - new tactics, legislation and regulations are being introduced to abate them.
But the billions of robocalls and consumer complaints still far outpace the relatively smaller number of law enforcement investigations aimed at stopping them, 10 Investigates and TEGNA stations found.
According to YouMail, a website that tracks robocalling data and trends, the U.S. received 58 billion calls in 2019.
While the calls did fall during the start of the coronavirus pandemic in 2020, they have risen again into 2021 – peaking at nearly 5 billion calls in March of 2021.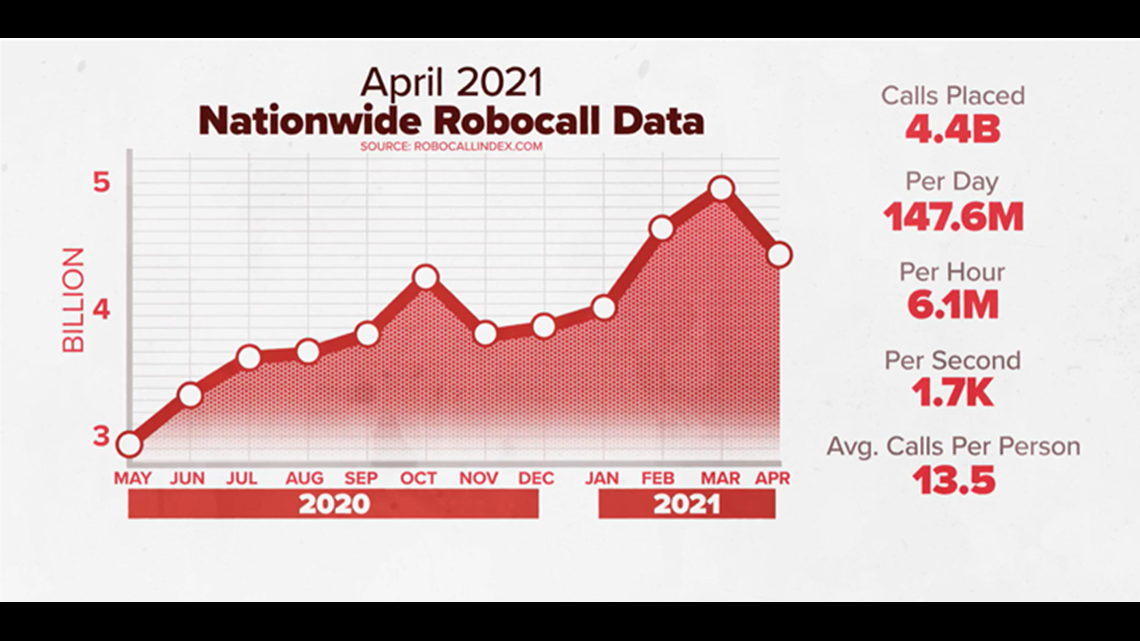 According to data reviewed by 10 Investigates, Ohioans received 186 million robocalls in March of 2021 alone and 157 million in April, according to YouMail's robocall data.
The graphic below also illustrates the types of robocalls that Americans typically receive. Scams make up the largest percentage, according to YouMail's robocall index data.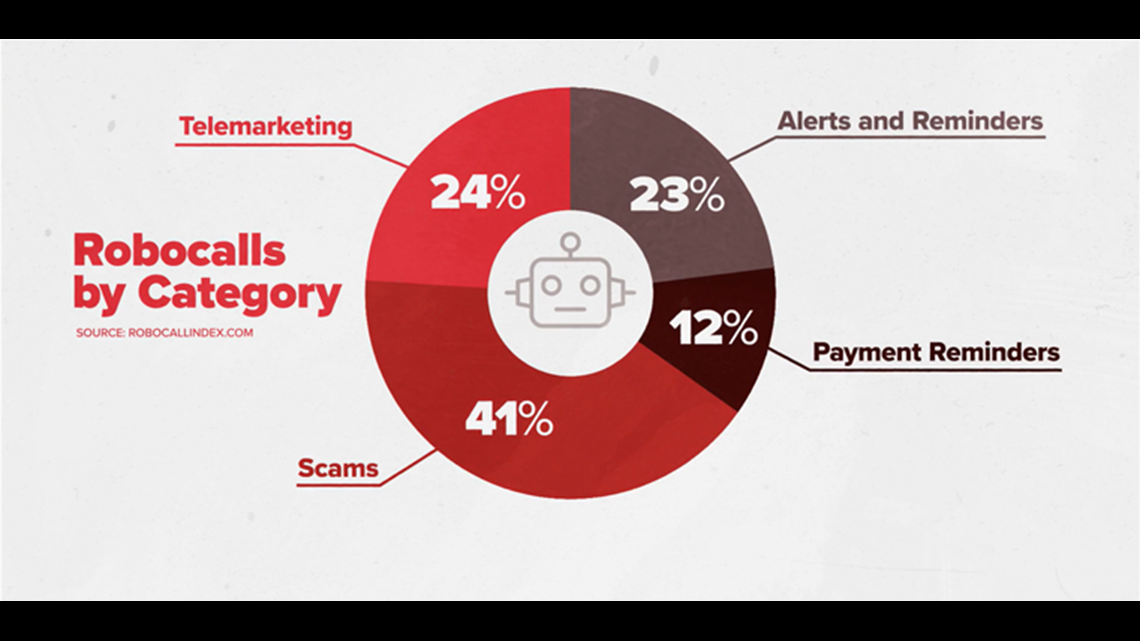 Robocall victim fights back
Peter Maizitis, of North Royalton, Ohio, has spent years collecting robocalls.
"You know that one movie – we're mad as hell and we're not going to take it anymore? It's like that. I would drop my knife and fork and put in another complaint," Maizitis said.
Maizitis has filed more than 50 complaints within the past year with the Ohio Attorney General's Office, which developed its own robocall unit last March. His fight against them is personal.
In the early 2000s, Peter's mother fell victim to mail-in scams.
In 2004, the Cleveland Plain-Dealer newspaper wrote a story about how Peter worked to claw back some of the $20,000 his mother lost when writing checks for mail-in sweepstakes or other what she perceived to be good causes. His mother was growing older at the time and – according to Maizitis -couldn't say no to anyone who wrote in asking for donations.
As Peter recalled in a recent interview, it began to weigh on him personally that his mother had been victimized by companies looking to make quick cash.
Maizitis told 10 Investigates that he worked to claw back some money and one of the men was later prosecuted by the Ohio Attorney General's Office.
The scenario involving his mother left him feeling: "violated. It's like someone breaking into your house. They're violating your privacy. They are getting into some of these people's financials."
It's part of the reason every time Maizitis gets a robocall, he reports it to the Ohio Attorney General's office and the Federal Trade Commission "Do Not Call" reporting tool.
Since the advent of the robocall unit in March of 2020, the Ohio Attorney General's Office has received more than 48,000 complaints about robocalls.
The challenge for governments investigating robocalls
In an interview with 10 Investigates, Ohio Attorney General Dave Yost says his office currently has at least 40 active investigations into robocalls.
We asked Yost to explain to people who might view the numbers and be critical of his office's efforts or may wonder – why so few investigations compared to the calls?
As Yost explained, chasing every call would be a losing strategy.
It prompted Chief Investigative Reporter Bennett Haeberle to ask if it felt like a game of whack-a-mole?
Yost said: "We are trying a different game than Whack-a-Mole. We're going after the holes that moles hide in. And our hope is that – and this going to take a couple of years to bear fruit, but by going after phone providers – the unscrupulous phone providers the majors don't play that game – but they're fringe players, fringe financial players that are enable this shadowy business to go on and we're putting everything we've got to try to stop it."
Last fall, Yost and the Federal Trade Commission announced a settlement with a group of Canadian men the agencies accused of "offering bogus credit card … reduction services."
The settlement barred the four men from doing telemarketing in the U.S. and forced them to turn over $2.1 million in fines. Messages left through Facebook for two of the men went unreturned. Their D.C.-area lawyer also declined to be interviewed when contacted by 10 Investigates.
But both Yost and the FTC acknowledge enforcement actions can be challenging – because many robocalls operations originate overseas.
"When someone is located outside the United States, we don't have as many tools in our arsenal, because you know, we aren't, we don't have international law enforcement authority…" said Will Maxson, the assistant director in the FTC's division of marketing practices.
In an interview with WUSA-TV in Washington D.C., Maxson spoke about the influx of robocalls and why they are sometimes difficult to crack down on from a law enforcement perspective.
His division enforces the "Do Not Call" and robocall infractions.
If the robocalls can be stopped altogether remains a lofty goal and somewhat unrealistic – according to Maxson and those who work in the private industry aimed at curbing them.
"Certainly the complaints suggest that it's gotten worse since the start of the pandemic. There was a significant drop-off in the number of complaints that we had in the first several months of the pandemic. And every month since then, it's essentially been creeping back up."
The reason for the recent uptick: even the pandemic slowed employment and access to calling centers – meaning COVID-19 put callers out of work as well when everyone was sheltering in place during the earliest months of the outbreak.
Once countries – including the U.S. - started to re-open, robocalls were on the rise.
According to YouMail's data, Ohio remains at #9 in the top 10 states receiving the most robocalls. Ohio trails neighboring state Pennsylvania and other largely populated states like Illinois, Florida, California and Texas.
Computer programmer Michael Self told our sister station, WXIA-TV in Atlanta, that part of the reason robocalls have become so pervasive in this country is that the setup has become so easy to replicate.
With just a credit card, a laptop and some online research, a relatively internet savvy person can have a robocalling operation up and running in a matter of hours. Self had experience as a computer programmer working on political robocall operations in the 1980s.
He told WXIA: "If you just get a point, zero one percent rate of people that start to take that message seriously and of those, if just 1 percent of those progressed to the next step, it might be one in a million, but if you get a couple of those a day... So what if you made 3, 4, 5, 6 million calls and you got four or five, six on the line that, you know, you take for a couple hundred or a thousand dollars or whatever you did. You've scored pretty big and the phone bill for that is hundreds of dollars."
Robocaller sent to 10 Investigates
Aaron Foss is the CEO of Nomorobo, a technology company with an app designed to curb robocalls from coming to your phone.
Part of Foss's technology involves studying robocalling patterns. His company purchased 350,000 tainted phone numbers and collects the information the numbers receive in what he calls their "honeypot."
As part of our investigation, Foss agreed to redirect robocallers to the cell phone 10 Investigates purchased in February.
Within minutes, the calls started coming in. Almost every robocaller declined to be interviewed when Chief Investigative Reporter Bennett Haeberle identified himself.
But one did – a man who said he worked for a debt collection service in California. We are not naming the company or the caller, but the man told us he didn't feel like he was contributing to the nuisance of robocalls since "most" of the people on his call list had federal student loans.
The caller said he understands why people are annoyed and acknowledged he gets robocalls too.
FCC's new rule to cut down on spoofing
In mid-April, the Federal Communications Commission announced it had launched a robocall mitigation database to help track which phone networks had implemented "STIR/SHAKEN" technology or some other type of robocall mitigation that is meant to help curb "spoofing" – where telemarketers mask or hide the origin of the number or where the call is coming from.
The FCC set up the Robocall Mitigation Database to help better track this.
Filings for this by the providers are due by June 30 with the plan of full implementation by September of 2021.
Here's how the FCC describes the "STIR/SHAKEN" technology and its purpose:
"This technology is critical to protecting Americans from scams using spoofed robocalls because it erodes the ability of callers to illegally spoof a caller ID, which scammers use to trick Americans into answering their phones when they shouldn't. Caller ID authentication technology also allows consumers and law enforcement alike to more readily identify the source of illegal robocalls and reduce their frequency and impact. The STIR/SHAKEN framework, an industry-standard caller ID authentication technology, is a set of technical standards and protocols that allow for the authentication and verification of caller ID information for calls carried over Internet Protocol (IP) networks.
"STIR/SHAKEN is a framework of interconnected standards. STIR/SHAKEN are acronyms for the Secure Telephone Identity Revisited (STIR) and Signature-based Handling of Asserted Information Using toKENs (SHAKEN) standards. This means that calls traveling through interconnected phone networks would have their caller ID "signed" as legitimate by originating carriers and validated by other carriers before reaching consumers. STIR/SHAKEN digitally validates the handoff of phone calls passing through the complex web of networks, allowing the phone company of the consumer receiving the call to verify that a call is in fact from the number displayed on Caller ID."
A 10 Investigates' review of the robocall mitigation database shows right now only 73 of the 483 providers on the database have reported that they've either implemented STIR/SHAKEN or some other type of robocall mitigation plan.
Ohio legislation pending in statehouse
In Ohio, state senator Theresa Gavarone has introduced legislation that would make it a felony for a robocaller to attempt to defraud a resident.
"I've heard from people who say they've received a call from their own number. People call from their own area code with intent to deceive you, to defraud you," Gavarone told our sister station WTOL in a recent interview.
Under her legislation, each offense is $1,500. It's a fourth degree felony if the resident is elderly, disabled, or a member of the military.
"I got a call from someone not too long ago to say that my Apple order didn't go through right. I'm thinking, 'what?' So I called Apple and they are like, 'no, that's a scam.," she said.
Online legislation records show Senate Bill 54 has cleared a Senate committee and now heads to the full Ohio Senate.
So, what can you do to "Stop the Calls?"
Yost says his office has at least 40 active investigations but those make a couple of years to bear fruit.
Here are some tips to avoid falling victim to the scams:
Tip 2: Don't answer robocalls. It could set yourself up for more unwanted calls.
Tip 3: Download a robocall blocking app.
Tip 4: Write down who called, what time, the phone number and details about what entity they are representing
Tip 5: Turn them into the authorities
If you need help keeping track of unwanted or suspicious robocalls, just access the form below. You can use this guide to help chronicle the calls you may end up turning into the Ohio Attorney General's Office and the Federal Trade Commission.