COLUMBUS, Ohio – More than 50 private ambulances and medical transport vehicles in the Columbus area have been operating with unrepaired recalls during the coronavirus pandemic, a months-long investigation by 10 Investigates has uncovered.
The vehicles -- which are typically used to transport patients to and from hospitals and nursing homes -- have been operating with these potentially dangerous defects that affected things like driver and passenger=side airbags.
In many instances, the recall notices warned the unrepaired defects could increase the risk of crashes and injuries for those inside.
As part of our investigation, we reviewed vehicle licensing records provided to 10 Investigates by the state division of EMS.
When we ran the vehicle identification numbers through the National Highway Transportation Safety Administration's recall website, we discovered that at least 54 private ambulances and medical transport vehicles in Franklin County had unrepaired recalls.
In many cases, the defects have gone unrepaired for years and nearly every operator we contacted told 10 Investigates they were unaware of the recalls but promised to fix them.
"It's important because all recalls are serious. All recalls need to be repaired. Recalls only happen for two reasons – one, there's a safety defect; two, there's a violation of a federal safety regulation," said Jason Levine with the Center for Auto Safety in Washington D.C.
10 Investigates shared with Levine our findings. As an attorney and auto safety advocate, Levine said there's "no excuse" for medical transport vehicles to have unrepaired defects.
Over the course of a month, we gathered video of 13 different MedCare ambulances in Columbus with unrepaired recalls.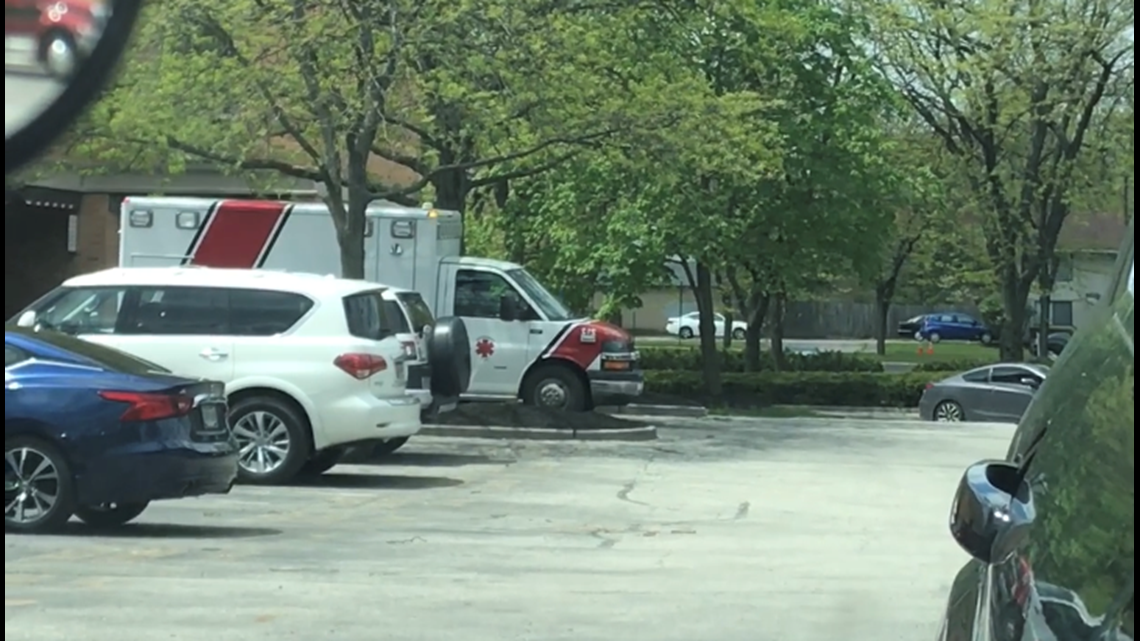 Nearly all were part of a massive General Motors recall in 2014 that affected Chevy Express vans. The issue at hand, in the event of a crash below the airbag deployment threshold, an unbelted front passenger who may hit the instrument panel could be at an increased risk of injury.
Tom Allenstein, president of MedFlight, declined to be interviewed on-camera for this report but said his company just took over operational control of MedCare in March. He thanked 10 Investigates for making his company aware of the recalls and expressed frustrations that they were not aware of them prior to 10 Investigates informing them.
"We are still actively conducting our research and developing a plan to address the recalls in the most expeditious manner that we can," Allenstein wrote in an email to 10 Investigates' Bennett Haeberle. "I want to thank you for bringing this to our attention. Since taking over operational control of MedCare, this is one issue we did not know existed. Now that we do know, we will begin rectifying it as quickly as we can. Our goal, as always, is to provide the safest transport possible for our patients and our crews."
In a follow-up phone call this week, Allenstein told 10 Investigates they were working to quickly get the vehicles repaired.
10 Investigates contacted Allenstein again after finding some of his vehicles were still operating with unrepaired recalls in the days after we first notified the company of the problem on May 12. Allenstein said they were working on a plan but that it would logistically difficult to remove all vehicles from operation at once.
As part of reporting this story – and prior to the story airing -- 10 Investigates supplied spreadsheets to several private ambulance operators to show them the vehicles in their fleet that had unrepaired recalls.
Rene Hoffer, a business manager for Amerikare in Columbus, told 10 Investigates by phone this week that they pulled six minivans from their rotation after being contacted by 10 Investigates. Hoffer said she too was unaware of the unrepaired recalls and that they were working to have the vehicles repaired.
This month, 10 Investigates spotted a Dodge Ram minivan operated by Amerikare that had an unrepaired recall. The vehicle was seen dropping off a wheelchair-bound patient at a Worthington long-term care facility.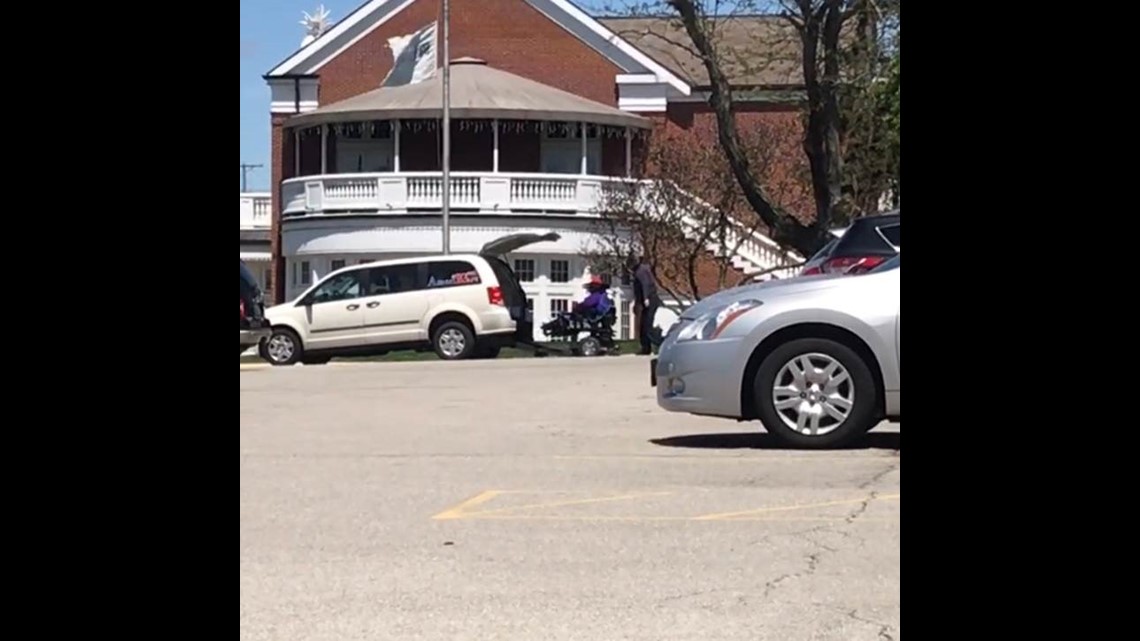 When pressed about the fact some of the recalled vehicles had been transporting wheelchair-bound patients, Hoffer said: "Yes sir, I understand that. Like I said, we've taken all the vehicles out of rotation that have recalls on them and we are not using those vehicles. I did not know that there were recalls so there was nothing that I could personally do."
Several other companies contacted by 10 Investigates had one or two vehicles with unrepaired defects. They too said they were unaware of the recalls but promised to address them. Three other transport companies, when contacted by 10 Investigates, hung up on this reporter.
Some of the other vehicles we found had unfixed defects included a 2012 Dodge Caravan with an unrepaired recall dating back to 2017 and a larger passenger van on Columbus' east side with a recall issued in April of 2000 – more than 20 years ago.
"That makes it even more discouraging when you think about you've got a fleet where you are in the business of providing, reliable emergency transport, recalls come out, maybe you don't get it on the first, day or week or month but years – there's really no excuse," Levine told 10 Investigates.
Levine added that manufacturer recall notices are approved by the federal government and that the repairs can be made for free.
If you have a question about whether your vehicle has a recall on it, you can check the National Highway Safety Administration's Website at: https://www.nhtsa.gov/recalls.
In an email to 10 Investigates, a spokeswoman for the state division of EMS said that her department does not have the authority to enforce that these private ambulance operators or transport companies fix their recalls – that would be up to the private companies.
"The Ohio Division of EMS does not have the authority to require private medical transportation agencies to address recall repairs to their vehicles," spokeswoman China Dodley wrote in an emailed response to 10 Investigates' questions. "Recall notices are sent to operators of those impacted vehicles. Upon annual renewal, EMS does a visual inspection of the exterior of the vehicle looking for specific things such as tire tread, broken mirrors, and properly working lights. Licensees are required to maintain vehicle maintenance history and must have the vehicle inspected at least once a year by a certified mechanic. Also, licensees must inform EMS of vehicles taken in and out of service."
In a follow-up email, Dodley said that "The Division of EMS is not aware of any enforcement or regulatory entity regarding recalls for private medical transport. There would need to be a change in the law for the Division of EMS to play a role in enforcement."
Currently, state law in Ohio does not require that publicly owned or operated ambulances – like those run by the city or county governments – be licensed by the state division of EMS – just private ambulances. The exemption in state law does not apply to publicly run ambulettes, Dodley said.