COLUMBUS, Ohio — A month after a toxic train derailed in East Palestine, the EPA says it will now require Norfolk Southern to test for dioxins – a problematic pollutant that is created when vinyl chloride combusts.
Residents have complained about a variety of ailments including rashes, headaches and sore throats. A public meeting is planned for Thursday night in East Palestine. Representatives from state and federal agencies responding to the disaster are expected to attend. So are representatives from Norfolk Southern – who de-committed from attending a previous meeting
In a letter sent Thursday to Ohio's U.S. Senators J.D. Vance and Sherrod Brown, both EPA administrator Michael Regan and Ohio's EPA director Anne Vogel "out of abundance of caution EPA will continue to sample for indicator chemicals and will also require Norfolk Southern to begin sampling directly for dioxins."
The letter also states that the EPA's monitoring of chemicals thus far provided a "low probability for the release of dioxin" but added that the testing will occur in response to residents' concerns.
The EPA has said that the municipal water is safe to drink and that ongoing air monitoring.
Residents in East Palestine here have continued to express concerns about the potential long-term impacts to their health and the environment.
"I am raising three granddaughters they've had rashes they've been sick," said Greg Mascher, an East Palestine resident.
East Palestine residents met Thursday with famed environmental activist Erin Brockovich , who have been critical of the response and environmental cleanup efforts.
"I am sorry something is not right here; agency failures and a community of really great people that deserve answers and not just leave them here sitting and guessing. Getting this information takes time," Erin Brockovich said.
Brockovich, trial attorney Mikal Watts and environmentalist scientist Bob Bowcock were playing host to a separate community meeting Thursday. They've been critical of the efforts by the Ohio EPA, EPA and Norfolk Sothern's contractors to treat the soil, and monitor the air and water.
Last week, researchers from Texas A&M and Carnegie Mellon universities tweeted that they had analyzed EPA air samples from East Palestine, finding that 9 of the 50 chemicals the EPA reported are higher than "normal," adding that if the levels continued it could be a health concern.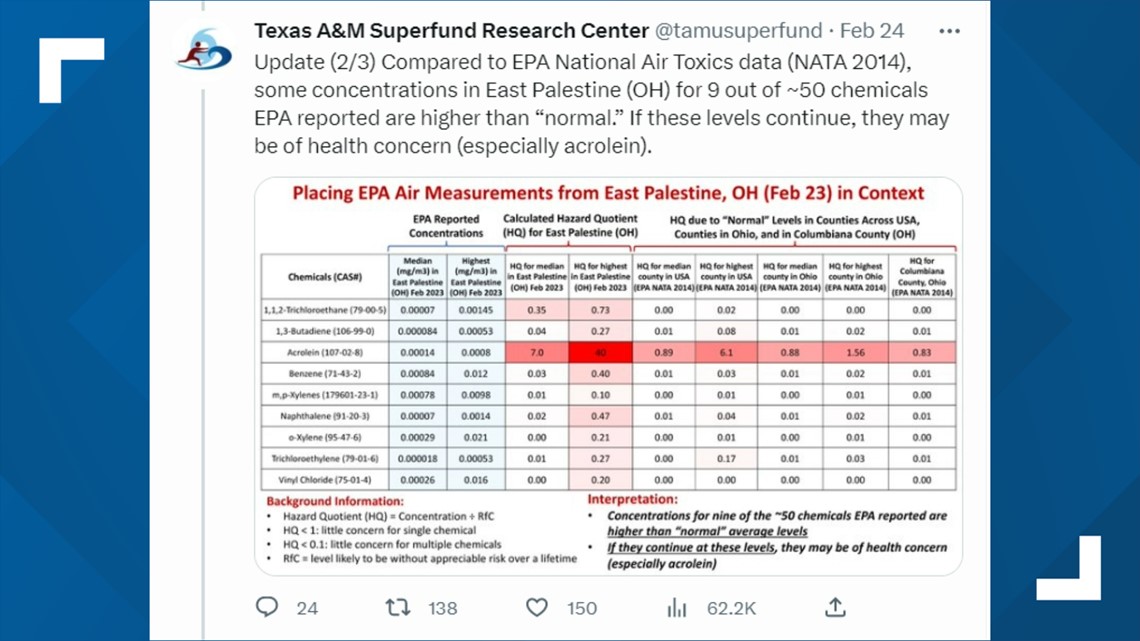 NTSB raises concerns over melting metal on pressure release devices
The NTSB also released this updated reported Thursday – with photos -- showing how fire melted the aluminum housing covers on some of the tank cars involved in the derailment. You can read that here.
An excerpt from their report released Thursday involved this notation:
"The five derailed railcars carrying vinyl chloride were DOT-105J300W tank cars. Based on damage assessment inspections of these tank cars, the NTSB is concerned that aluminum protective housing covers on some tank cars melted or were consumed when pressure relief devices (PRDs) vented burning gas while functioning as designed to relieve tank pressure. Preliminary examination suggests that melted aluminum may have dripped into some PRDs, possibly degrading their performance."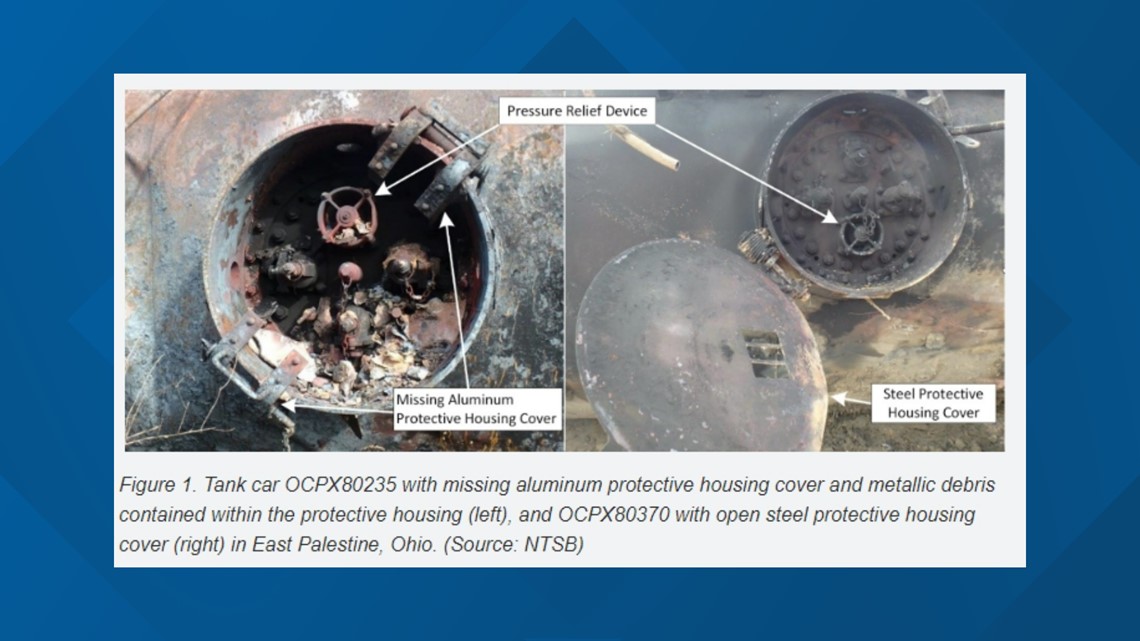 Their concern: the melting metal could've impacted how those pressure release valves performed after the derailment.
They now want the rail industry to closer look at its fleet.