COLUMBUS, Ohio — ln late July - shortly after 1:30 a.m. – a teenager girl inside the intake offices of Franklin County Children Services is upset that she has nowhere to go.
As a teen in Ohio's foster care system, she tells a Whitehall police officer she has been sleeping in the office for nearly a week.
Police were called there after the girl threatened to hurt herself and others in the building.
"I don't want to be here. I don't want to go the hospital either," the girl says through tears.
Minutes later, a Franklin County Children Services supervisor tells the Whitehall officer the teenager girl has been there "quite a few days" and has "taken over this room."
It was not an isolated incident.
A months-long investigation by 10 Investigates has found that hundreds of children in Ohio's foster care system have ended up sleeping – sometimes living – in county office buildings when foster placements cannot be found.
These in-between placement periods can last for hours or several days.
Child advocates are calling it a crisis.
10 Investigates spent months analyzing police runs, body camera videos, juvenile court records and interviewing who we could about this issue – including law enforcement who are often called to respond when children are in crisis or run away from the county children services offices.
"Unfortunately, you see that some of these kids are there for an extended period of time," said Brooke Cano, a Whitehall officer who has responded to numerous calls for service involving foster children at the FCCS Whitehall offices within the past year.
What 10 Investigates has uncovered, advocates say, illustrates a statewide problem for Ohio's most vulnerable children.
What's more - Ohio does not track how often children are left sleeping in offices.
"We do not have public records related to the frequency of temporary arrangements in SACWIS, the state's children services case management system," ODJFS spokesman Bill Teets told 10 Investigates in an email.
At best, the state could only provide estimates.
According to the Ohio Department of Job and Family Services – which oversees county-run children services agencies in the state – 400 children spent at least one night sleeping in a county office in the last year, according to a report provided to 10 Investigates by ODJFS.
The number of children who actually stayed in an office is likely even higher, the report notes, adding that at least 503 children spent the night in county offices between July 2021 to June 2022. That figure only represents foster children in 33 counties.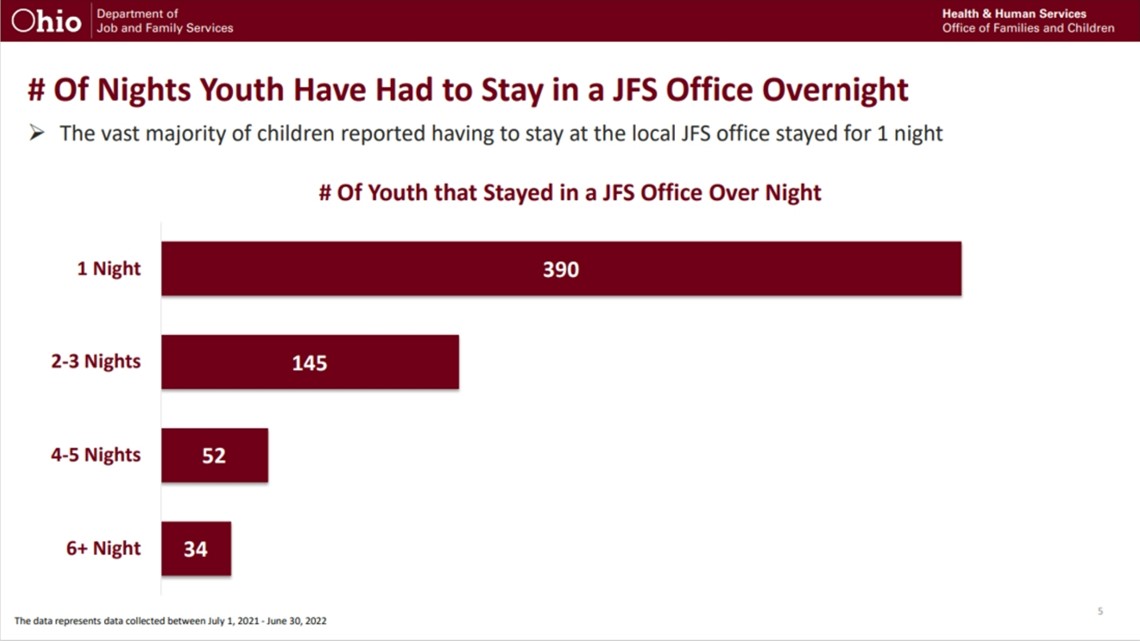 Franklin County Children Services told 10 Investigates that in the past 16 months 115 children have slept in the offices, adding that the figure may include children who were counted more than once – especially if they left for a foster placement and then returned back to the office because it didn't work out.
And while roughly 400 children spent at least one night in a county office last year, the same report notes that the average stay was two nights – and that at least 34 children in the past year spent at six nights or more sleeping in a county office.
Records reviewed by 10 Investigates illustrate this is a recurring problem that might place children and those around them at risk.
At the Franklin County Children Services intake office in Whitehall, 10 Investigates reviewed hours of body camera video and found at least 28 calls for service dating back to June of last year for incidents involving children at FCCS.
Many of the calls were for children in crisis - who needed to be transported to Nationwide Children's Hospital – or for calls for children who had run away from the offices.
The Franklin County Sheriff's Office has deputies on site, but because the building sits in the city of Whitehall, police officers from that department are often dispatched to deal with issues there.
Frustrations can be heard on some of the body camera videos.
During one incident last fall, a Whitehall officer places a girl who had run from her parents in handcuffs and returns her to the FCCS parking lot. While speaking to the girl's parents, a Whitehall officer comments: "there are sworn deputies in there who let children walk away and then they call us to go get them and bring them back. And that's what we do – we bring them back."
On another occasion, a Franklin County deputy tells an FCCS supervisor that "we can't keep calling (Whitehall police) to come out here" and that someone from FCCS needs to sit with and monitor a teenage boy in foster care who was being unruly and making threats.
The FCCS supervisor says: "We have no staff… We have no one. I can't say that enough."
On multiple occasions, we found children have been reported missing after walking or running away from the FCCS office.
Another Whitehall police report from last fall notes that a child in FCCS care broke a window. Police left after an FCCS employee said that the officers' presence might be agitating the teen even more.
Last July, Whitehall Officer Brooke Cano transported a teenager girl to the hospital after she was upset and was threatening to hurt herself and others.
An FCCS supervisor told Cano the girl had previously tried to cut herself with gravel in the days before officers were called.
She also tells Cano that the girl had been kicked out of her previous placement after making threats to hurt herself and others.
The same girl is referenced in three reports from Whitehall police between July and November 2022.
In early December, 10 Investigates spotted a teenage girl matching her description standing outside the FCCS office wrapped in a blanket.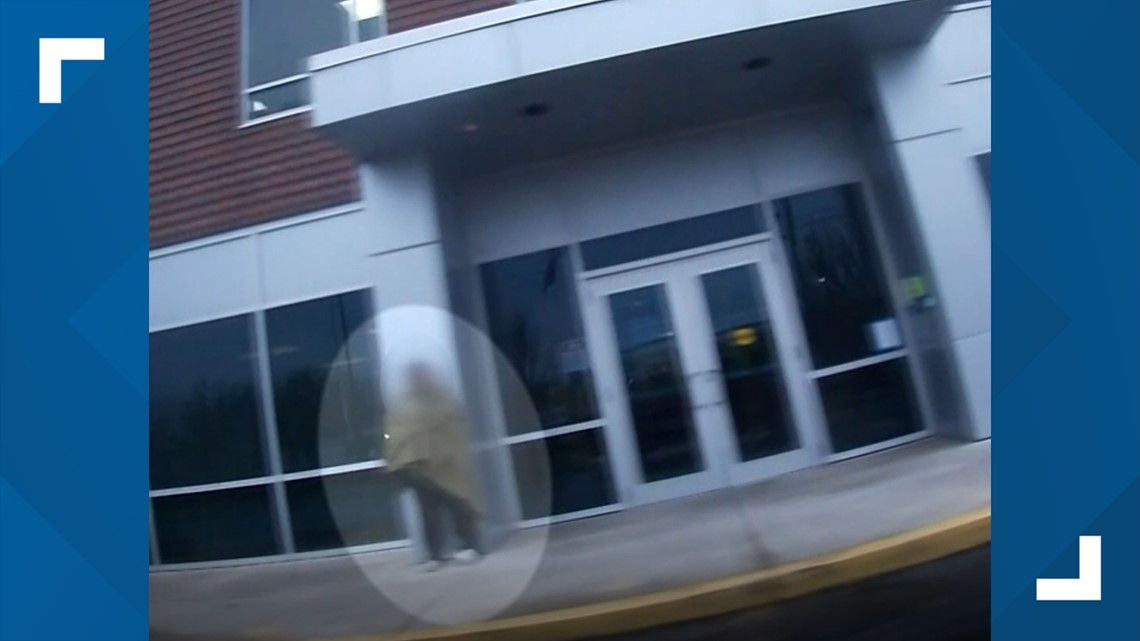 10 Investigates also reviewed two "use of force" reports from the Franklin County Sheriff's Office within the past year where deputies had to restrain children in the building who were being unruly. One of them was 11 years old.
The report notes he became upset, threatened FCCS staff and that a deputy restrained him in a chair. The deputy eventually let go and the calmed down and returned to a room "where he remained for the rest of the night," the report states.
In justifying the use of force, a major with the Franklin County Sheriff's Office notes that "this is indicative of a larger problem. There is no way of quickly securing children who act in this manner. This type of event is becoming common and places everyone involved at risk."
10 Investigates has filed an open records request asking for copies of the security footage from FCCS for these two incidents. We have not received it yet.
Both ODJFS and FCCS declined multiple interview requests from 10 Investigates to answer questions about this issue of children sleeping in offices.
We wanted to know what's being done to address this problem and if additional resources are necessary?
Spokespeople for FCCS and ODJFS said it is a good reminder about the need for more foster parents.
In an interview with 10 Investigates, Officer Brooke Cano with Whitehall police said she has a passion for helping children who are staying at the FCCS offices.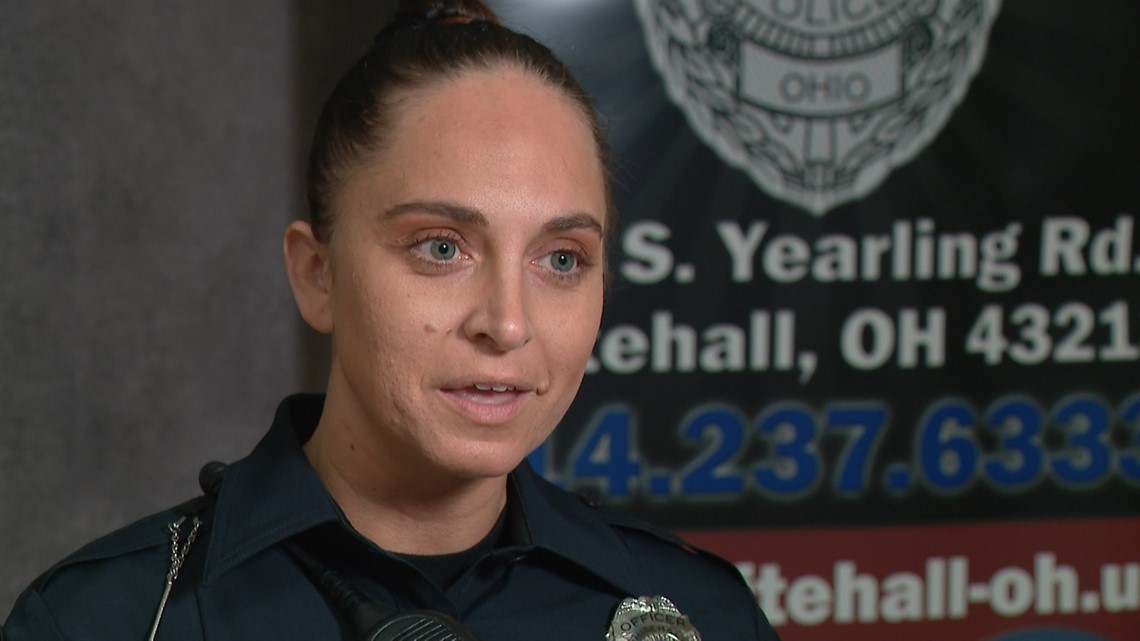 "So while it might not be ideal for a child to be placed in an office or sleep on a couch - we as adults sometimes do it daily. I think most of the time for the kids though, it's making sure that they're safe. And I know FCCS really tries to ensure that they are safe and opens that door for that safety. So why it might not be ideal and probably could use - you know - more ideas for funding and stuff like that… We are removing these kids from difficult situations and hard situations or unsafe ones," Cano said.
Cano said she has taken additional classes to learn how to de-escalate children who are in-between placements and are in need of help.
When transporting the kids for evaluations at Nationwide Children's Hospital, Cano often plays the teens' favorite music, which she says serves to find a common bond with them.
A review of body camera footages shows two different teens calmed down after their conversations with Cano.
"You know, like I said, they don't have a choice to be there. And it's not fair to them just to treat them like they're just, you know, (have a) mandatory prison sentence. So, giving them the respect and the care and the love that they don't get daily usually helps them out a lot," Cano said.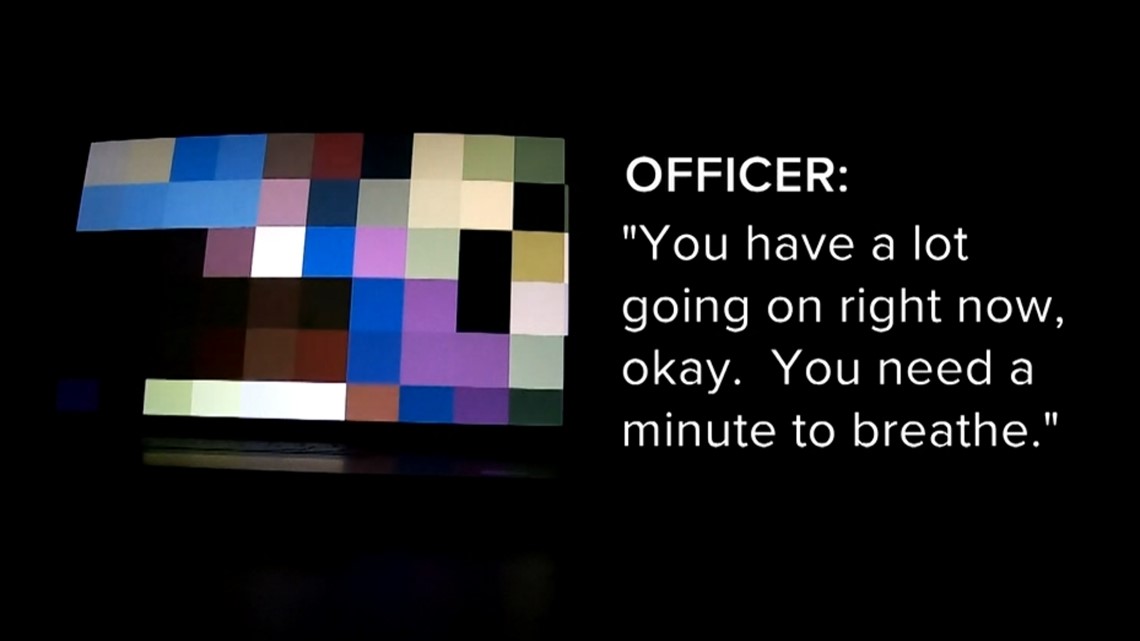 10 Investigates took our findings to Children's Defense Fund Ohio – a non-profit agency that advocates for children and their safety.
Kim Eckhart with the organization agreed to watch body camera footage that we reviewed. She said this is not a problem that can't be ignored.
"We would rather it not be happening, but the solution is not to ignore it," Eckhart said.
Children's Defense Fund Ohio is now calling on the state to require counties to keep better track of how often children are left sleeping in offices. The organization also wants additional state funding and resources to be provided to the county children services agencies to make these in-between placement periods more accommodating.
"It is untenable that the default sanctioned solution that we have all sort of agreed upon is that just staying in offices is okay. It's not okay. It's not okay. And we can do something about this," Eckhart told 10 Investigates.
10 Investigates also spoke with Rep. Susan Manchester, R- Waynesfield, who said there may be a need to address this in the upcoming state budget discussions. When asked about the at least 400 children who spent at least one night in an office last fiscal year, she said:
"Obviously, that's a devastating number. No child should have to spend the night in an office building. And I think really what this highlights is that statewide we are experiencing a huge shortage of foster caregivers," Rep. Manchester told 10 Investigates.