COLUMBUS, Ohio — While many don't think much of personal care products kept in plain view like shampoo, lotion, makeup and nail polish, researchers found their presence can lead to a real danger for young children.
A study from researchers at the Center for Injury Research and Policy at Nationwide Children's Hospital found that 64,686 children under five were treated for emergencies related to personal care products from 2002 through 2016.
That's the equivalent to one child every two hours.
The study was published in Clinical Pediatrics Monday and says 75.7% of injuries occurred when the child swallowed the product and 19.3% when the product made contact with the child's skin or eyes. The ingestions or exposures most often led to poisonings or chemical burns.
Rebecca McAdams, MA, MPH and study co-author is a senior research associate in the Center for Injury Research and Policy. She says these injuries can happen because children aren't able to read the product labels, but the product can look or smell like something they can consume.
"When the bottle turns out to be nail polish remover instead of juice, or lotion instead of yogurt, serious injuries can occur," McAdams said.
Researchers say nail care products, mainly nail polish remover, made up the greatest amount of injuries at 28.3%. Hair care products came in second at 27% and skin care products followed at 25%.
McAdams says kids may try to imitate their parents by using these products and can succeed since the containers are usually easy to open.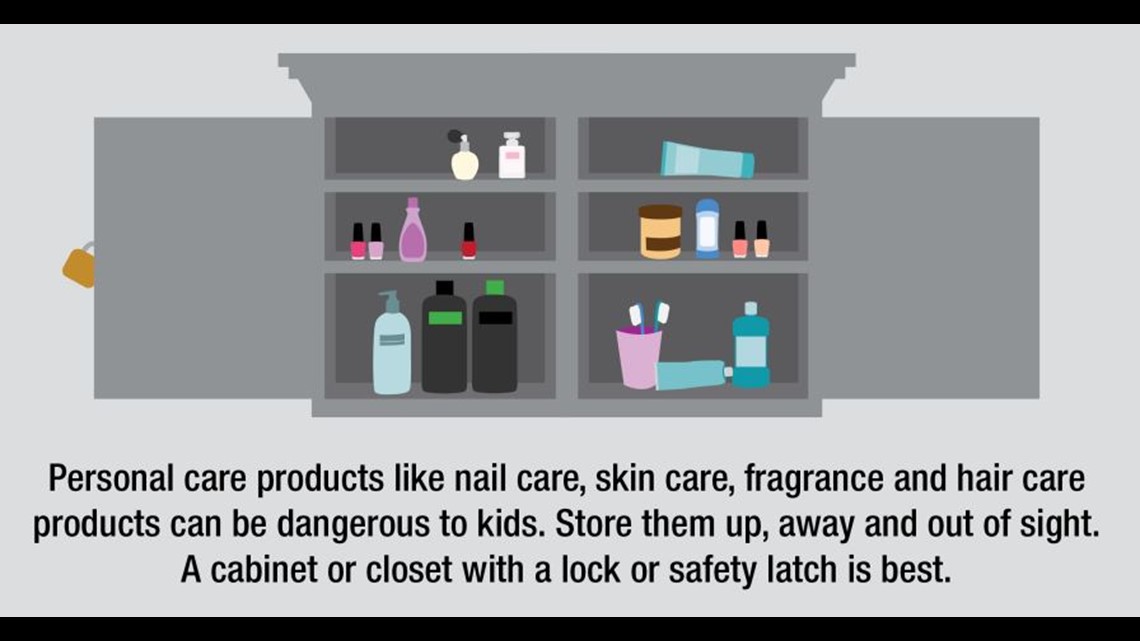 "Because these products are currently not required to have child-resistant packaging, it is important for parents to put them away immediately after use and store them safely — up, away, and out of sight — preferably in a cabinet or closet with a lock or a latch. These simple steps can prevent many injuries and trips to the emergency department," she said.
Researches recommend these tips to keep kids safe:
Up, away and out of sight. Store all personal care products safely: up, away and out of sight - in a cabinet that can be locked or latched is best. Never leave personal care products out unattended and put them away immediately after use.
Store safely now. It is never too soon to start practicing safe storage. Almost 60% of the injuries in this study were to children younger than 2 years of age.
Original containers. Keep all personal care products in their original containers.
Know how to get help. Save the national Poison Help Line (1-800-222-1222) in your cell phone and post it near your home phones.