COLUMBUS, Ohio — WARNING: Some of the images in the video are graphic and may be disturbing for some viewers.
For nearly a year, 28-year-old Pereal Wallace has been living in her own personal nightmare. A trip to the Dominican Republic for cosmetic surgery in April 2021 changed her life forever.
She traveled there for lower priced liposuction and breast augmentation. The trip not only left her disfigured, but it nearly left her dead.
"When they unbandaged me, I just screamed," said Wallace. "I couldn't believe what I was seeing. It looked like a child took a scalpel and just cut me up."
By the time Wallace arrived back home to Columbus, she was in agonizing pain. Her primary care doctor told her she needed to get to the emergency room immediately.
Wallace shared her medical records with 10TV. They show she was admitted to Mt. Carmel East Hospital with what doctors described as a raging infection.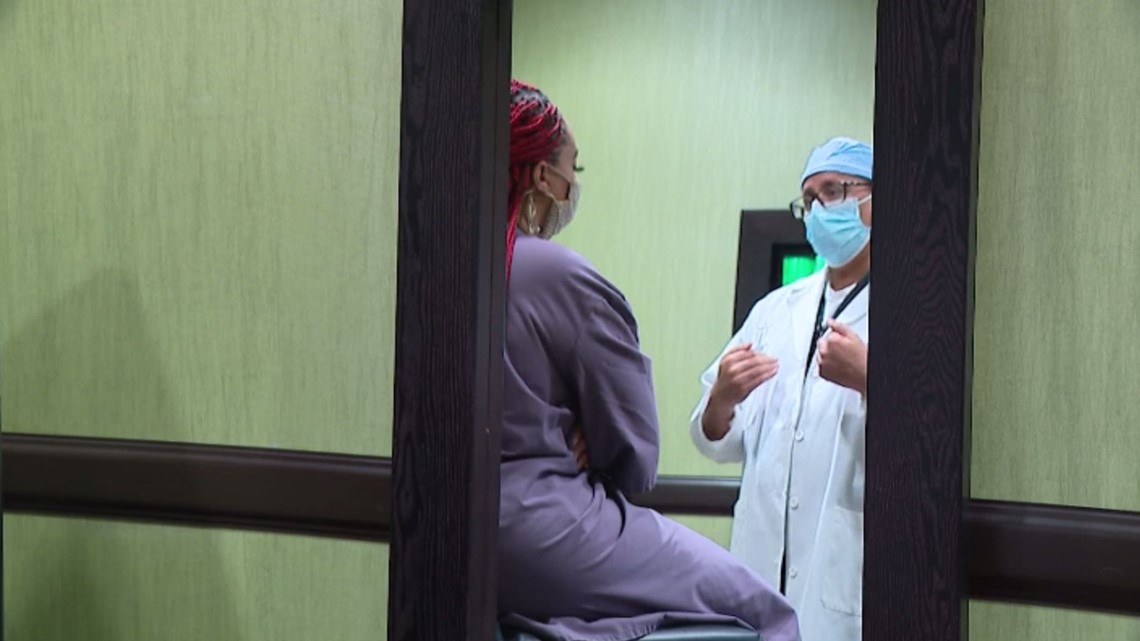 "The doctors told me the infection was most likely caused by unsterile medical equipment," Wallace said.
She spent two weeks in the hospital. All the time blaming herself for what was happening to her.
"I was so angry at myself," Wallace said. "I felt like it was my own fault because if I would have done more research, you know, this wouldn't have happened."
Wallace knew other women who had procedures done by the same doctor in the Dominican Republic and they had great results. She expected the same outcome.
"It's a reasonable thing to do because you put your trust in doctors," says Dr. Bivik Shah, a board-certified plastic surgeon in Columbus. "Don't blame yourself. It's impossible to tell who's good or not."
Dr. Shah said what happened to Wallace is heartbreaking but sadly, he says, it's more prevalent than you might think.
"I have had five people that I've taken care of, and we routinely get phone calls, I would say at least one of two a month, of somebody who has gone somewhere else outside the country and had a major problem," says Dr. Shah.
Dr. Shah operates two medical facilities in central Ohio. He started his practice, Columbus Institute of Plastic Surgery, in 2000. He agrees that traveling abroad for medical procedures can save you money, but says the risk is much greater. He says doctors outside the United States don't have the same regulations and safety protocols to adhere to.
There's no state medical board to hold them accountable and there's no legal recourse for patients when something goes wrong.
"I think instinctively people trust doctors to a certain level at least," says Dr. Shah. "So, when they see a low price and a doctor that will do it, there's trust that there is no way they're going to hurt me."
But Wallace did get hurt.
"How could she butcher my body that way and then not take any accountability?" Wallace said.
10TV tried to get an answer to that very question. We called the office of the doctor in the Dominican Republic where Wallace got her surgeries.
The woman who answered the call identified herself as the doctor's coordinator. She confirmed that Wallace was a former patient but refused to answer any questions about her procedures or what went wrong. She also refused to let us speak to the doctor.
According to the Centers for Disease Control and Prevention, the Dominican Republic may be the most dangerous place to travel abroad for cosmetic surgery. Researchers discovered higher rates of post-surgery infections, complications and even death among patients who traveled there for procedures.
"It's so easy to forget that plastic surgery is real surgery, that you can have serious complications, you can die from it," said Dr. Shah. "Money is important, but it can never be more important."
Dr. Shah does not recommend going out of the United States for surgery, in fact, he advises against it.
But he does add that if you choose to, it's extremely important to do your research. Check the doctor's credentials, check for any stories on the internet about them, look for complaints, anything that would give you information on their qualifications.
Wallace is learning to love herself again. She is healing both physically and emotionally.
"I pretty much lost my mind for a while. I was depressed. I tried to commit suicide. I ended up in a psychiatric hospital," she said.
Wallace said she is not the same person she was before this incident. But she is a survivor.
"I decided that I wanted to fight for myself because I deserve that," she said. "I deserve to live. I deserve to be happy."