Those aged 16 and 17 must have parental consent for any vaccine and must be accompanied by a parent or legal guardian to receive a vaccine. These individuals are eligible to receive the Pfizer vaccine, the only COVID-19 vaccine authorized for use with people under age 18.
Before your COVID-19 vaccination appointment, health officials recommend that people eat, drink water, and get plenty of rest the night before. Mild side effects may occur after vaccination.
COVID-19 Vaccine Recources from ODH:
COVID-19 Mass Vaccination Clinics
The State of Ohio is sponsoring 18 mass vaccination clinics. Any Ohioan who is eligible to receive the vaccine can schedule an appointment at: gettheshot.coronavirus.ohio.gov.
Additional details and opening dates can be found here.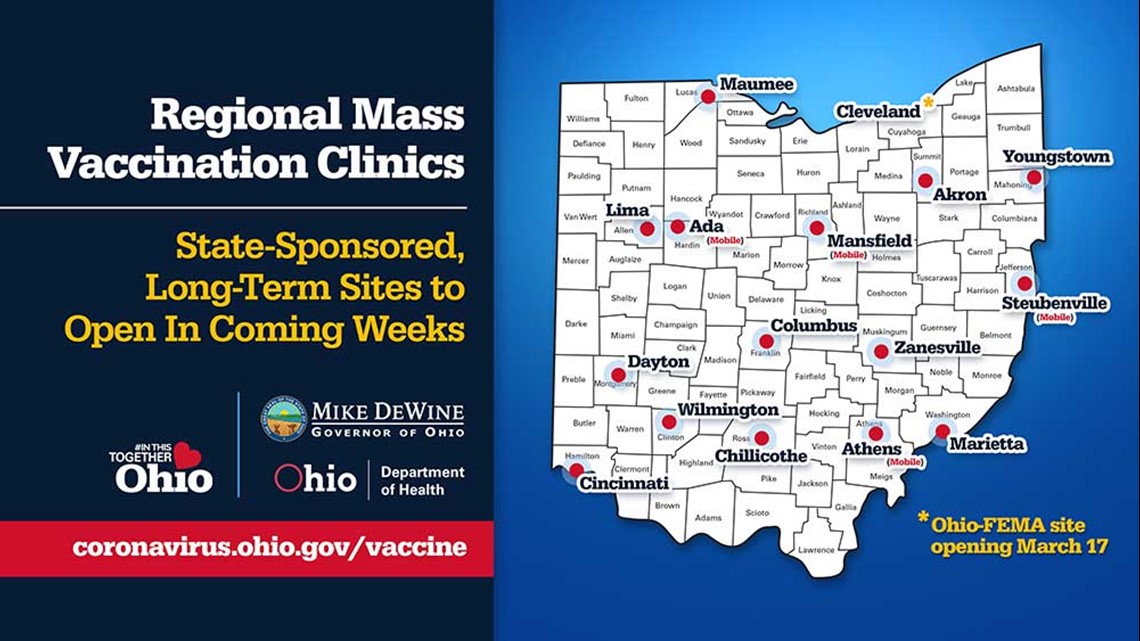 COVID-19 Vaccine FAQs
Information provided by Ohio Department of Health
Are COVID-19 vaccines effective?
Yes. Evidence shows that COVID-19 vaccines are safe and work to prevent COVID-19. Of the first two vaccines to be granted FDA emergency use authorization, the Pfizer-BioNTech vaccine was 95% effective and the Moderna vaccine was 94% effective in phase 3 clinical trials with more than 70,000 participants between the two studies. Although the COVID-19 vaccines have been developed recently, the technology used in mRNA vaccines, like those developed by Pfizer-BioNTech and Moderna, has been studied for decades.
When will the other distribution phases begin?
As vaccine supply increases, Ohio will continue to vaccinate Ohioans who choose to receive the vaccine. The speed at which Ohio will move through the phases depends on the number of vaccines available.
Will my children be able to receive the COVID-19 vaccine?
The Pfizer-BioNTech vaccine is currently recommended for patients age 16 and up, and the Moderna vaccine is currently recommended for patients age 18 and up. As more information becomes available on children and COVID-19 vaccines from the FDA, CDC, and vaccine manufacturers, it will be made available at coronavirus.ohio.gov/vaccine.
Will Ohio make COVID-19 vaccination mandatory?
No. The vaccine will be available, as supplies allow, to all Ohioans who choose to receive the vaccine.
Who is paying for the COVID-19 vaccine?
If you choose to get a COVID-19 vaccine, you will not have to pay. Vaccine doses purchased with taxpayer dollars will be given to Ohioans who choose to receive them at no out-of-pocket cost. Vaccine providers will be able to charge an administration fee for giving the shot to someone. Providers can get this fee reimbursed by the patient's public or private insurance company or, for uninsured patients, by the federal Health Resources & Services Administration's Provider Relief Fund.
If I already had COVID-19 and recovered, do I still need to get vaccinated with the COVID-19 vaccine when it is available?
Yes, COVID-19 vaccination should be offered to you regardless of whether or not you already had COVID-19. You should not be required to have an antibody test before you are vaccinated. However, anyone currently infected with COVID-19 should wait to get vaccinated until after their illness has resolved and after they have met the criteria to discontinue isolation. The timing for each vaccination phase is limited, so if you have been released from the isolation period, and are in an eligible audience, you should consider getting a COVID-19 vaccine as vaccination clinics become available to you.
What is the difference between an emergency use authorization (EUA) and an approval from the FDA?
An Emergency Use Authorization (EUA) authorizes the use of an unapproved medical product, or unapproved use of an approved medical product, for use during a public health emergency if the benefits of its use outweigh any known or potential risks. Both Pfizer-BioNTech and Moderna's COVID-19 vaccines have been granted EUA following rigorous review. In the past, EUAs have been issued for products, devices, and drugs related to Ebola, H1N1, Zika, and others. The EUAs are valid until the pandemic is over, the FDA revokes the EUAs, or the products are approved for traditional licensure by the FDA. The FDA closely monitors each vaccine for safety after the EUA is issued. Drug manufacturers are encouraged to obtain traditional FDA licensed vaccine approval as soon as possible.