Many of us are just beginning to settle into a new normal amid the developing coronavirus situation and a (still unknown) period of social isolation.
Parents of children everywhere are creating schedules, lesson plans and activities, to keep their kids busy and engaged - with help and guidance from their children's school and teachers.
But parents with young children who aren't yet in school, or who attend daycare or preschool, may not have access to structured tools or online classes - and they're now scrambling to find educational ways to fill their toddler's day.
Beachwood native Allysa Axelband Hassid, who lives in New York City with her husband Daniel and daughter Jolene, 2, is a little ahead of the game. This has been her new normal for almost 3 weeks now, since she decided to socially isolate before official restrictions. She is considered high risk for COVID-19 because of her asthma and frequent bouts of bronchitis and pneumonia.
"I was just really nervous it could turn into something worse...so I stopped taking [Jolene] to classes and museums, and stopped taking public transportation," she told 3News.
After spending a few weeks in social isolation with no set schedule, Hassid created a google document early this week with an easy to read schedule of available virtual classes and educational activities targeted to the two-year-old-set.
She posted the link to the document on her public Instagram page, and it's since been shared by other moms across the country - including several social media influencers with huge followings.
"After two weeks sort-of completely off schedule, I started to go a little stir crazy. I knew I needed to do something to create a more structured day. I started to collect resources and make Jolene feel like she could have things to recognize and an agenda. I wanted to resume some of our normal activities in a new way."
The document features streaming class options ranging from story time to kids yoga - and true to her Cleveland roots, also includes a daily livestream from local children's musician Jesse Jukebox.
"I wanted to have a rough sketch so you can decide given your child's mood at that time, what's good for them. If she's in a hyper mood, maybe we'll do the dance party. If she's in a more mellow mood, maybe we'll watch the fish," she told us.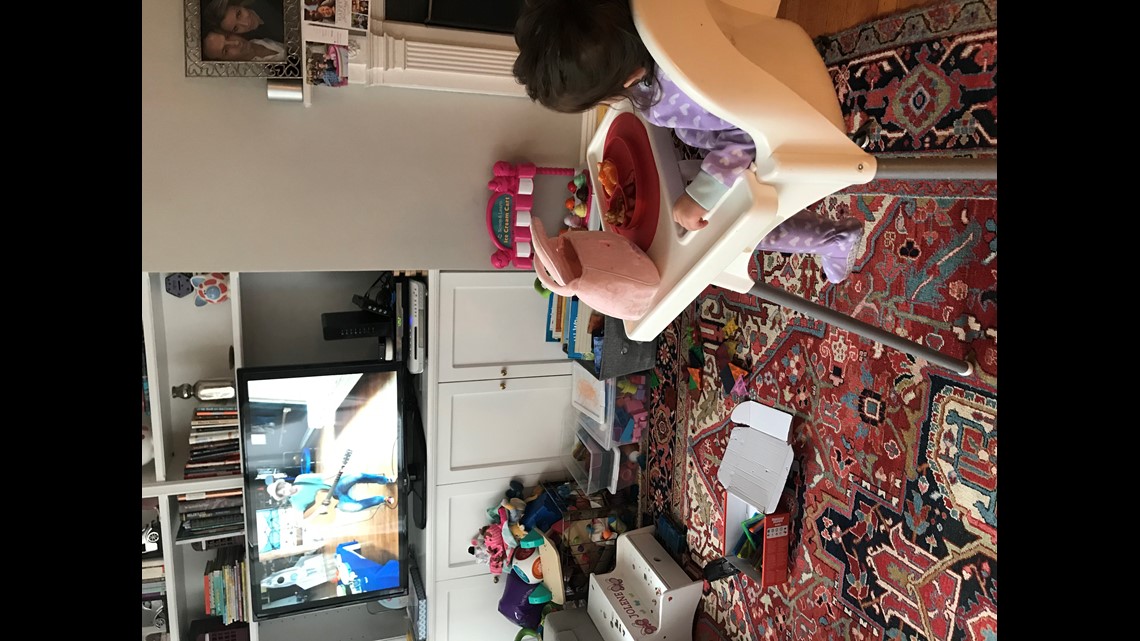 Hassid, holds masters degrees in both general education and special education and taught for 14 years before becoming a stay at home mom when her daughter was born. She said she looked for options that would be useful and meaningful.
"There are a lot of resources out there, so I'm trying to be more selective, things that I've seen that have been good, so it's not another show that she's watching," she said.
Hassid said these classes are also helping her manage the stress of filling the day.
"I don't want to have to plan actual activities the entire day. I have to make the most of my space - I also have my husband working at home, so it's not like we can [always do activities] that take up all this space, we have to find that balance."
She said she's happy to see that other moms are already responding to her efforts.
"It's really comforting to know there's a whole group of people who are uniting to stay home to keep others healthy but still trying to keep their kids engaged. It feels like more of a community when you're brainstorming together."
She says she plans to keep updating the document with new options, as long as it's needed, and hopes the attention and reach of the document can help another cause close to her heart.
"As a parent, and Teach For America alum, now more than ever, I feel compelled to make sure all kids are being served. As an active member of TFA NYC Associate Board, it would mean so much to me if you could express your gratitude for this resource by supporting kids through my fundraising page."
Hassid says she's now considering working one-on-one with parents who are interested in additional help. "I may turn to consulting parents about daily schedules and "lesson plans," and finding the joy during this chaotic time."
For now, you can follow along and can connect directly on her Instagram page.
Click here to see our special coronavirus section.