COLUMBUS, Ohio — A total of 10 people were shot at two different locations in the Short North early Saturday morning and one suspect was arrested, according to Columbus Police Chief Elaine Bryant.
Bryant, Mayor Andrew Ginther and other city leaders held a press conference Monday afternoon to discuss the violence in the Short North, as well as two other Columbus area shootings that left two people dead.
Around 2:30 a.m. on Saturday, officers received reports of shots fired in the 600 block of North High Street near The Guild House restaurant.
At the same time, two officers were conducting patrols with food truck license inspectors in the 800 block of North High Street when they encountered a large group of people fighting on the street. The officers, who used pepper spray on at least one person, attempted to stop the fighting when gunshots were fired nearby.
Body camera footage from officer Carl Harmon and officer John Velas shows them running toward the sounds of the gunfire and shortly after, firing shots at the suspects. Chief Bryant said multiple shots were fired before officers discharged their weapons.
Officers approached and arrested 20-year-old Jalen Bradley, who Chief Bryant said was taken to a hospital in critical condition, but later upgraded to "stable."
The body camera footage shows an officer kick a gun away from Bradley.
The 10 people who were shot, including Bradley, are expected to survive.
It's unclear how many individuals were shot at each scene and if the scenes are connected. All of the shooting victims are between 18 and 27 years old. Multiple people who were shot walked into hospitals on their own. Bryant said 11 firearms were recovered from both scenes.
A total of three officers discharged their weapons, according to Sgt. Joseph Albert. One of the officers did not have a body camera because they were working special duty and they aren't required to wear a body camera, according to Albert.
The Ohio Bureau of Criminal Investigation is conducting an investigation into the officer-involved shooting portion of the incident in addition to documenting the overall crime scene. A spokesperson for Ohio BCI said two people were injured as a result of the shooting involving police officers.
The Short North Alliance issued a statement, condemning the violence that occurred in the area and calling gun violence an epidemic.
"Gun violence is a pervasive epidemic, one that continues to require action and collaboration from all of us who are invested in making our city a safe place. It is unacceptable that our society continues to experience such acts of violence, and we are saddened that we experienced this last night in the Short North. As a result of the new precinct boundaries that went into effect a week ago, there was on-duty officer presence and coverage in the Short North along with the Short North Crime Interdiction team, who all quickly intervened. Thankfully these major safety-focused initiatives in the Short North were there to impact the situation when needed," the statement read.
10TV's Ashley Bornancin spoke with one Short North resident who had a bullet go through his apartment window.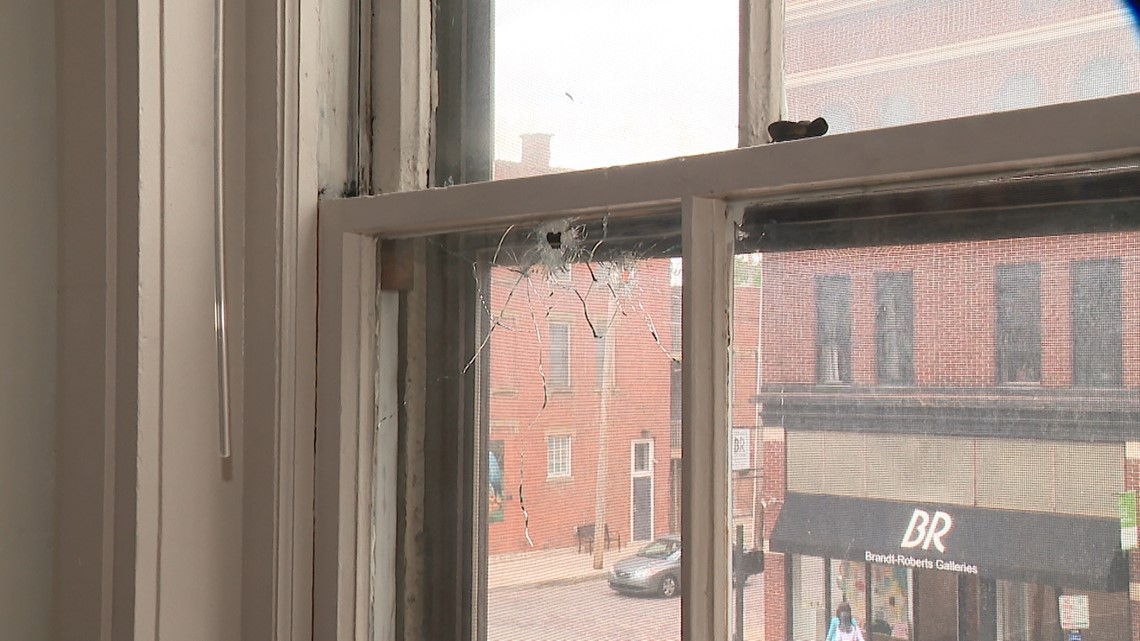 Ryan Sapienza said he has lived in his apartment for two years and hears gunshots at least once a month.

"I woke up around 2 - 3 in the morning from a lot of gunshots - like a lot of gunshots. I kinda peeked out the window and saw people scattering," said Sapienza. "Last night, that's as much as I knew."
His apartment window is not the only structure hit. Multiple businesses in Short North were struck and glass was shattered leaving many to close their doors for the day.
Businesses in Short North closed Saturday after shooting
"The police were here very fast," Sapienza said. "I guess it can happen anywhere."
The shootings in the Short North happened within hours of two separate fatal shootings in Columbus, both of which police said were domestic.
The first shooting happened in the South Linden neighborhood around 3:30 a.m., which left one person dead and three others injured. The suspect, Keith Pleasant, died from a self-inflicted gunshot wound at Grant Medical Center.
The second shooting happened in the 500 block of East Whittier Street around 4:40 a.m. where officers found 36-year-old David Davis suffering from a gunshot wound. He later died at Grant. The suspect, Isaac Clark, was taken into custody Sunday and charged with murder.
Both shootings are under investigation.