COLUMBUS, Ohio — A Columbus Division of Police officer was injured after their cruiser was struck by a stolen vehicle with two teenagers inside.
At 7:15 a.m. Tuesday, Sgt. David Scarpitti says officers were called to the 3600 block of Karl Road in north Columbus for a report of an armed robbery at a business. When officers arrived, the suspects were gone from the scene.
Deputies with the Franklin County Sheriff's Office and Clinton Township police located the suspect vehicle, which police say was a Kia, two hours later.
As a Columbus police cruiser was coming into the area of Walford Street and Elmore Avenue near Cleveland Avenue, the suspect vehicle struck the cruiser at a high rate of speed. It's unknown how fast the suspect vehicle was traveling before the crash, but Scarpitti added that the speed limit in the area is 25 mph.
The officer in the cruiser was pinned in the vehicle and had to be cut out. He was taken to a hospital for treatment and his condition was described as "stable."
Scarpitti says both suspects were able to get out of their vehicles and were treated at the scene. The teens attempted to run away on foot but were arrested without further incident.
The police cruiser and the Kia suffered heavy damage from the crash. Police say a firearm was recovered at the scene.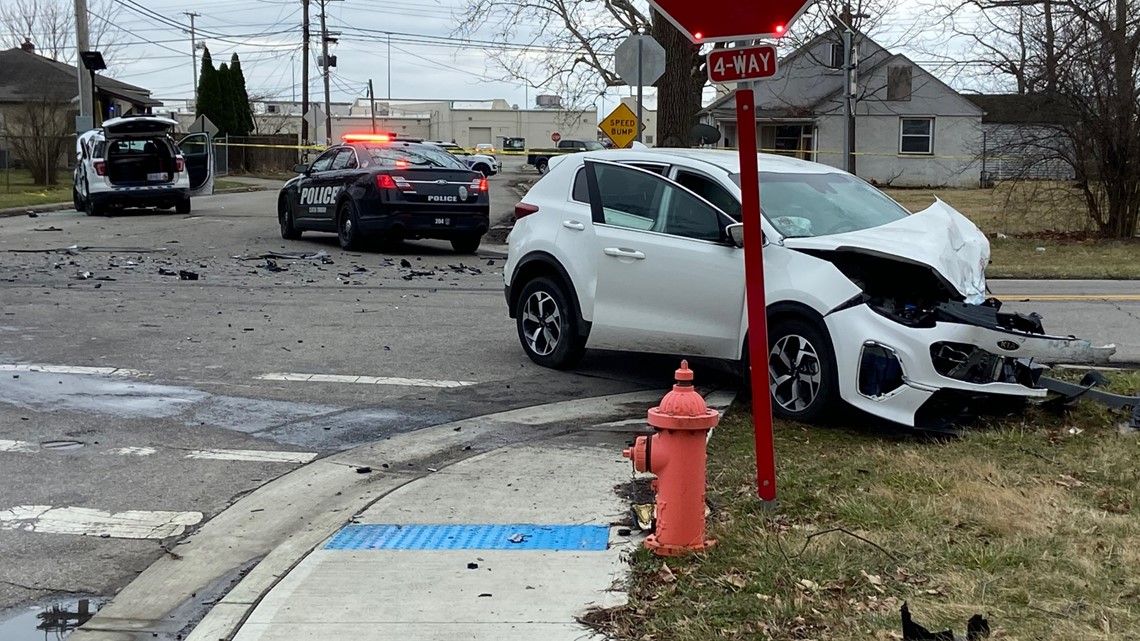 Sources say the 15-year-old driver had his ankle monitor taken off last week and was arrested three times in January for his involvement in stolen cars.
According to court records, a 15-year-old arrested in the incident faces robbery and theft charges.
No charges have been filed out of the crash.