WORTHINGTON, Ohio — A man seen in several photos and video wearing a yellow reflective safety vest was wanted by several central Ohio law enforcement agencies.
On Friday, the U.S. Marshals Service says the man, 46-year-old Steven Worline, and his alleged accomplice, 47-year-old Nicole Peterson were arrested in Pensacola, Florida.
Leslie Peltier says she captured video Worline on her front porch. In it, he can be seen looking into the windows and trying to open the front door of her Clintonville home.
The Blink home security camera sent her an alert on her phone.
"(My husband and I) were driving, and I'm like, 'There's a construction worker on our porch, that's interesting,'" Peltier said. "Even if he's with the construction company, he was looking in our windows, he was trying our doorknob, and I'm like — yeah, something's not right about this situation."
Peltier said she and her husband decided to do a "drive-by" of their house. She says the man was still there, but by the time she and her husband parked in a nearby alley, the man was gone.
"To pass your house and see somebody standing on your front porch, I'm like, 'Why are we not stopping? Why are we not confronting," she said. "But I trusted my husband with his military background and his policing background, that something in his gut was like, don't approach this guy.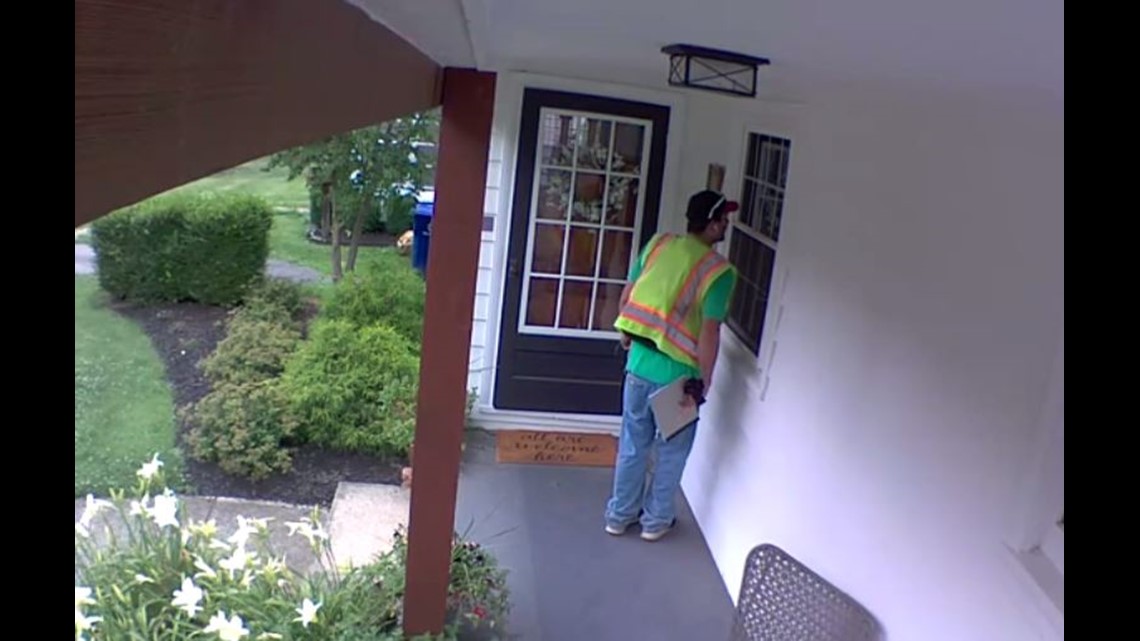 "And then, once we saw the more serious alleged crimes, I turned to him, and I said, 'I owe you an apology because I'm really glad you didn't approach this guy, even with your background.' You just never know."
Those more serious crimes involve a burglary in Worthington.
Detective Justin Anthony said an alert neighbor in the area heard a sound and then saw a man in a safety vest running toward a getaway car — a white Kia 4-door sedan. That neighbor snapped a picture, which turned out to be invaluable for police.
"In my opinion, it's a Pulitzer Prize-winning photo. It's an amazing photo that definitely helped us with our investigation," Det. Anthony said. "The gentleman wearing his traffic safety vest, his jeans, all that stuff, the license plate in the background, and then the overall vehicle description, just these good eyewitnesses that are able to, in the moment, capture that, it's huge. It's made our investigation and it's going to make another investigation that's going on."
Det. Anthony said the plates on that car turned out to be stolen, but chasing that lead led him right to the suspect — Worline.
Worline is on parole and has a criminal history dating back to at least 2010.
He, along with his alleged accomplice, Nicole Peterson, had active warrants for their arrest out of Worthington, Dublin and Morrow County.
They are wanted in Dublin for on charges of receiving stolen property, although police would not share any more details on that alleged crime.
The most serious crime happened in Morrow County.
Back on July 8, detectives say Worline, again wearing a safety vest but also a fake goatee, robbed a bank, asking the teller for cash while showing a gun in his waistband. They believe Peterson was the getaway driver that day.
Detectives say they have their own video evidence, making them confident Worline is the man in the bank surveillance photo.
Knowing that Worline is suspected in such a serious crime makes Peltier glad she never encountered him in person. She said she is grateful that her neighbors in her community and elsewhere have been so vigilant. Many shared videos and photos of the suspects, along with information about their alleged crimes.
"Facebook played a huge role in us putting everything together, getting in contact with all the correct police departments, the sheriff's departments. We were able to provide our video footage, and hopefully — I believe it did — it helped," she said. "I don't believe lightning strikes twice, at least I hope not, but it will feel better once I know or I hear that they're off the street."
Det. Anthony also gives a lot of credit to the community and said this case serves as a reminder of how important the police-public partnership really is.
"This is the epitome of the community helping. Without that one photograph, we would have nothing," he said. "So it really goes to show that we really need the community support and the community's help to solve a lot of these crimes."
The U.S. Marshals Service says Worline and Peterson took a Greyhound bus to Florida and were apprehended at a Walmart.
An extradition hearing is set to be scheduled.