COLUMBUS, Ohio — 10TV is asking central Ohioans to step up and help their neighbors stay cool this summer with the Beat the Heat fan drive in partnership with 97.1 The Fan and LifeCare Alliance.
Many of LifeCare's clients cannot afford air conditioning and they have medical conditions that are exacerbated by extremely warm temperatures.
The 2023 fan drive begins June 16 and runs through Aug. 18.
Purchase a fan.
Drop it off at the nearest Franklin County, Madison County or Marion County fire station.
You can also drop fans off at the LifeCare Alliance facility at 670 Harmon Avenue (open Monday through Friday from 8 a.m. to 4:30 p.m.)
Fans can also be purchased on the LifeCare Alliance's Amazon Wish List at: https://a.co/35dW2tR. The fan will be delivered to the LifeCare Alliance distribution facility on Harmon Avenue.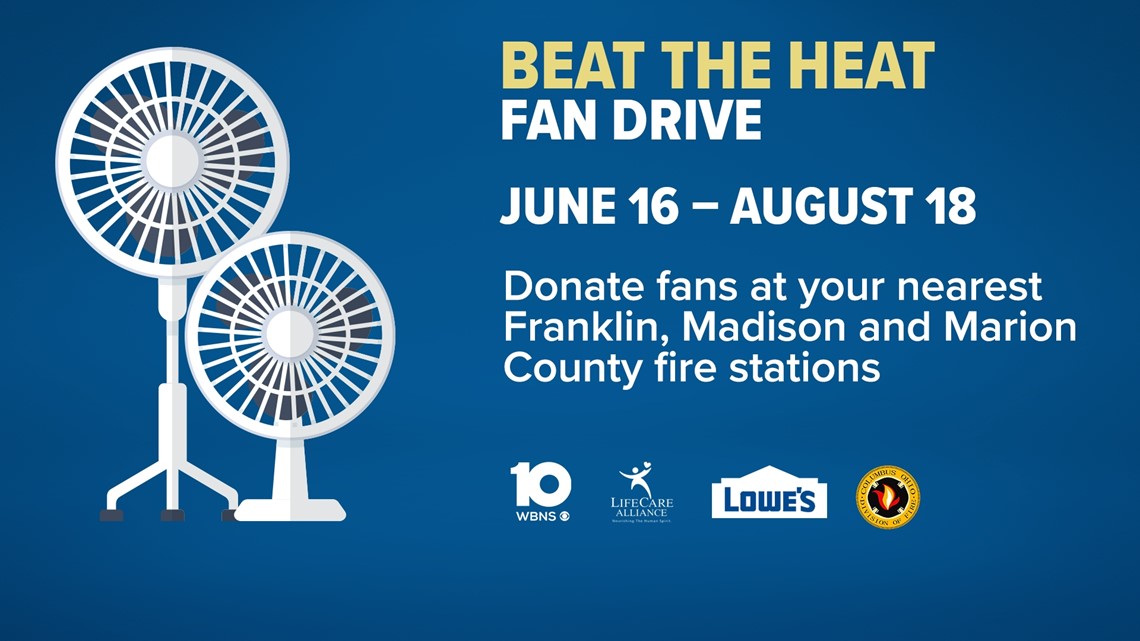 LifeCare Alliance distributed more than 1,250 fans last year and it is anticipated the need for fans will be as high again this year, if not greater.
Station 1 & 9: 300 N. Fourth St, Columbus 43215
Station 2: 150 E. Fulton St, Columbus 43215
Station 3: 222 Greenlawn Ave, Columbus 43215
Station 4: 3030 Winchester Pike, Columbus 43232
Station 5: 211 McNaughten Rd, Columbus 43213
Station 6: 5750 Maple Canyon Ave, Columbus 43229
Station 7: 1425 Indianola Ave, Columbus 43201
Station 8: 1240 E. Long St, Columbus 43203
Station 10: 1096 W. Broad St, Columbus 43222
Station 11: 2200 W. Case Rd, Columbus 43235
Station 12: 3200 Sullivant Ave, Columbus 43204
Station 13: 309 E. Arcadia Ave, Columbus 43202
Station 14: 1514 Parsons Ave Columbus, 43207
Station 15: 1800 E. Livingston Ave, Columbus 43205
Station 16: 1465 Oakland Park Ave, Columbus 43224
Station 17: 2300 W. Broad St, Columbus 43204
Station 18: 1630 Cleveland Ave, Columbus 43211
Station 19: 3601 N. High St, Columbus 43214
Station 20: 2646 E. Fifth Ave, Columbus 43219
Station 21: 3294 E. Main St, Columbus 43213
Station 22: 3069 Parsons Ave, Columbus 43207
Station 23: 4451 E. Livingston Ave, Columbus 43227
Station 24: 1585 Morse Rd, Columbus 43229
Station 25: 739 W. 3rd Ave, Columbus 43212
Station 26: 5333 Fisher Rd, Columbus 43228
Station 27: 7560 Smoky Row Rd, Columbus 43235
Station 28: 3240 McCutcheon Rd, Columbus 43230
Station 29: 5151 Little Turtle Way W, Westerville 43081
Station 30: 3555 Fishinger Blvd, Hilliard 43026
Station 31: 5303 Alkire Rd, Columbus 43228
Station 32: 3675 Gender Rd, Canal Winchester 43110
Station 33: 440 Lazelle Rd, Columbus 43235
Station 34: 5201 Wilcox Rd, Dublin 43016
Station 35: 711 N. Waggoner Rd, Blacklick 43004
Jefferson Twp: 6767 Havens Corners Rd, Blacklick 43004
Grandview Heights (51): 1016 Grandview Ave, Columbus 43212
Whitehall: 390 South Yearling, Columbus 43213
Clinton Twp (61): 3820 Cleveland Ave, Columbus 43224
Upper Arlington (71): 2095 Arlington Avenue, Columbus 43221
Upper Arlington (72): 3861 Reed Rd, Columbus 43220
Norwich Twp (81): 5181 Northwest Pkwy, Hilliard 43026
Norwich Twp (83): 4283 Davidson Rd, Hilliard 43026
Washington Twp (91): 6255 Shier-Rings, Dublin 43016
Washington Twp (92): 4497 Hard Rd, Dublin 43016
Washington Twp (93): 5825 Brand Rd, Dublin 43017
Washington Twp (94): 5750 Blazer Pkwy, Dublin 43017
Worthington (100): 6500 North High St, Worthington 43085
Westerville (111): 400 W Main St, Westerville 43081
Westerville/Blendon Twp (112): 727 E. Schrock Rd, Westerville - Hempstead 43081
New Albany/Plain Twp (121): 9500 Johnstown Rd, New Albany 43054
Mifflin Twp (131): 475 Rocky Fork, Gahanna 43230
Mifflin Twp (133): 501 Beecher Road, Gahanna 43230
Truro Twp (161): 6900 E. Main St., Reynoldsburg 43068
Truro Twp (162): 6305 E Livingston Ave, Reynoldsburg 43068
Reynoldsburg/Violet Twp: 2365 Taylor Park Dr, Reynoldsburg 43068
Hamilton Twp (171): 1460 Obetz Rd, Columbus 43207
Hamilton Twp (172): 6410 Lockbourne, Columbus 43137
Madison Twp (181): 4567 Firehouse Lane, Groveport 43125
Madison Twp (182): 6600 Gender Rd, Canal Winchester 43110
Madison Twp (183): 3228 Noe Bixby Road, Columbus 43232
Franklin Twp (192): 4100 Sullivant Ave ,Columbus 43228
Franklin Twp (193): 2193 Frank Rd, Columbus 43223
Grove City/Jackson Twp (202): 3650 Hoover Rd, Grove City 43123
Grove City/Pleasant Twp (231): Pleasant Twp 5373 Norton Rd, Grove City 43123
Prairie Township: 451 Hubbard Rd, Galloway 43119
New Rome/Prairie Twp (241): 123 Inah Ave, Columbus 43228