Come August, many families leave the house for camping in the woods or on a beach. But those leery of leaving behind the air conditioning need not forego the natural experience. A newly opened campground in Maine might have just the thing.
Sandy Pines Campground in Kennebunkport has been open less than two months, but its 12 professionally decorated, luxury tents are pretty solidly booked through mid-October, according to a spokeswoman. Those come in addition to the campground's 320 acres of campsites, lodges and RV hookups.
Each tent measures 450 square feet and comes with heating, air conditioning and a mini-fridge. Travelers also can choose from individualized quirky amenities, like mid-century furniture in one tent and a painting set in another. Rates start at $149 a night before taxes.
Would-be campers should note that dogs are not allowed in the luxury tents, although pets are welcome elsewhere in the park. The glam tents also don't permit individual barbecuing, but they do offer delivery of a fully cooked lobster dinner right to your tent flap.
Glamorous camping, or glamping, has taken off in recent years as the travel industry tries to come up with novel attractions for well-heeled travelers who prefer experiences to things.
"When you have the money, you want to splurge," said Milton Pedraza, CEO of the Luxury Institute. "Yes, you'll go out and hike, but you're going to want to have those luxuries when you come back and when you wake up."
The Oxford English Dictionary, which added "glamping" in December, defines it as an activity with "accommodation and facilities more luxurious than those associated with traditional camping."
But the experiences range widely between having a slightly more comfortable sleeping floor and ordering lobster delivered to the tent. Pedraza predicts the less-than-rugged segment of glamping, rather than full-on luxury, will grow the fastest in the coming year. Young families in particular might appreciate camping facilities that are set up with basic amenities, he said.
"They're pretty spectacular," camper Katie Latulip told CBS affiliate WGME. "The fact that they're all equipped with all the amenities that a camper would need to essentially just show up and you know, have a great weekend, is pretty phenomenal."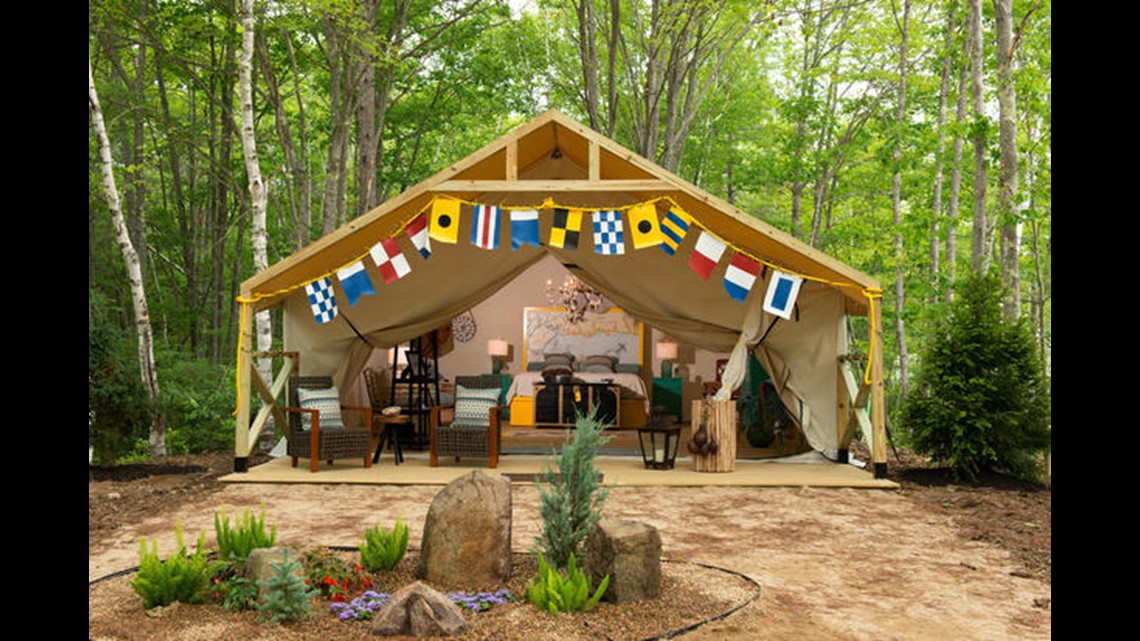 Sandy Pines originally intended to rent two of the tents and sell the other 10, but after "overwhelming interest in the glamping experience," it's renting all 12 of them, a co-founder of of the site told Boston.com. For those interested in a more permanent camping experience, the campground also offers mini-cabins for sale, which measure about 650 square feet and sell from $71,000 to $98,000.
The concept of traveling in luxury, of course, is nearly as old as luxury itself. A famous example from medieval Europe is the Field of the Cloth of Gold, a summit in Northern France in 1520 between Henry VIII of England and Francis I of France and their respective retinues. They gathered, ostensibly, to celebrate peace between the two countries, but in reality to see which monarch could throw the more impressive party.
An actual wrestling contest during the summit ended with King Henry as the winner, according to Vice, but the question of who was the more successful glamper remains shrouded in the mists of history.
© 2017 CBS Interactive Inc.. All Rights Reserved.