COLUMBUS, Ohio — Ohioans are now prohibited from selling, planting or growing a Callery pear in the state due to its invasive qualities, according to the Ohio Department of Natural Resources.
The plant was declared invasive last year and the ban in Ohio officially went into effect in January of 2023.
The Callery plant, also known as Bradford pear, is an ornamental species first introduced to North America in the early 1900s for agricultural use. It became widely popular in landscaping and is well-known for its blooming white flowers that can be spotted in early spring.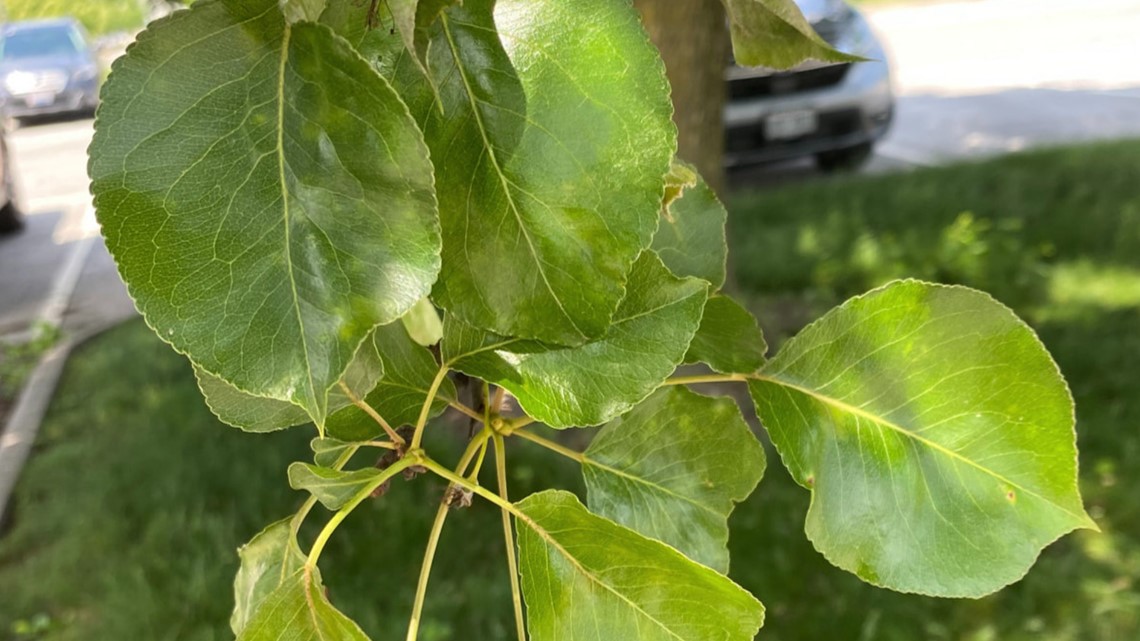 The leaves are dark green and have a shiny, smooth surface. Each of the white flowers on the tree is clustered with five petals and blooms often have an unpleasant smell. The brown pears on the tree appear in the fall and are described as being tiny, an ODNR release says.
"Callery pear often dominates young, regenerating forest areas and inhibits the growth and establishment of native plant species," Chief of the ODNR Division of Forestry Dan Balser said. "Halting the further sale and intentional propagation of Callery pear will help reduce the further introduction of this environmentally harmful tree species."
Birds often eat the small pears, spreading the seeds and allowing possible regrowth.
According to ODNR, the tree was believed to be unable to reproduce by seed and bred to be sterile. However, many cultivars can cross-pollinate with each other and produce viable fruit.
Alternative options for those who like the characteristics of the Callery Pear include:
serviceberry (Amelanchier spp.)
eastern redbud (Cercis canadensis)
chokecherry (Prunus virginiana)
American plum (Prunus americana)
flowering dogwood (Cornus florida)
eastern hophornbeam (Ostrya virginiana)
American hornbeam (Carpinus caroliniana)
yellowwood (Cladrastis kentukea)
hawthorn (Crataegus spp.)
blackgum (Nyssa sylvatica)
For ODNR's full list of invasive plants, visit their website.