Every child deserves a toy at Christmas. But, unfortunately, not every family can provide that Christmas Cheer.
That's why WBNS-10TV is teaming up with the Salvation Army of Central Ohio, Safe Harbor Retirement Group, Danbury Senior Living, City Barbecue, and the Columbus Blue Jackets for the Big 10TV Toy Drive.
The Big 10TV Toy Drive supports the Salvation Army's Christmas Cheer program, a true holiday experience for families that may need a little help this time of year. The toy drive gives that program a big boost by offering central Ohio residents and local businesses a chance to provide the toys the Salvation Army will give away in its Christmas Cheer program in mid-December.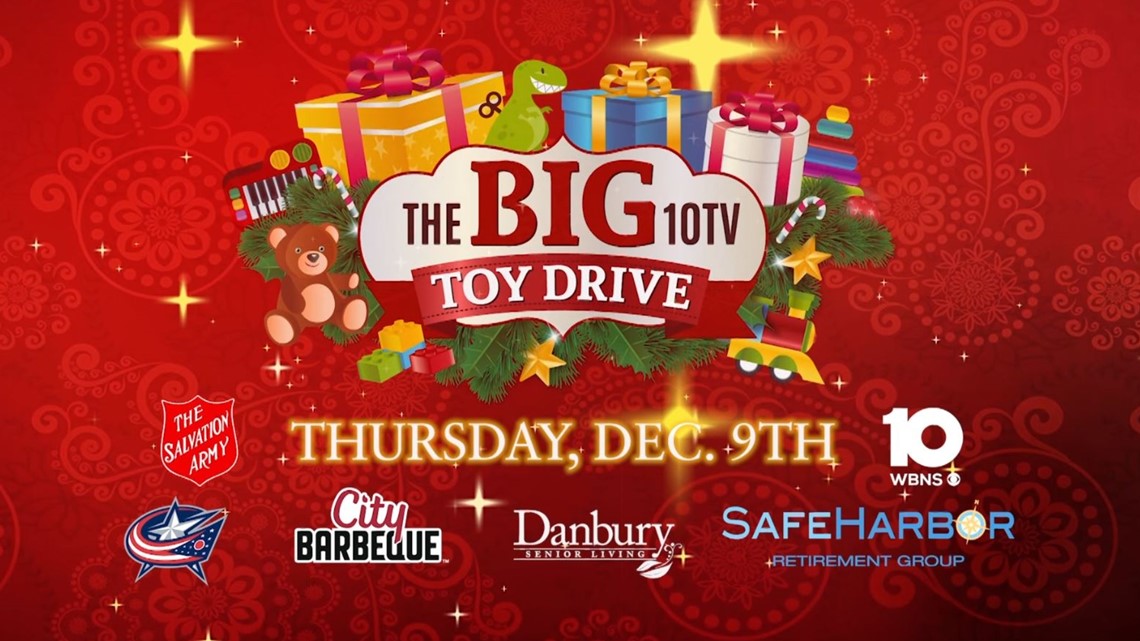 For the weeks leading up to our one-day collection, those who want to help can drop off new, unwrapped toys at nine City Barbecue locations, the OhioHealth Chiller Ice Rinks, Blue Line stores and Safe Harbor and Danbury Senior Living locations.
Or, drive by the 10TV studios at 770 Twin Rivers Drive from 7 a.m. to 6:30 p.m. on Thursday, December 9, when our holiday elves will be on hand to collect toys.
Columbus Blue Jackets fans can drop off toys at the December 9th game at Nationwide Arena.
Collection Locations
Nationwide Arena
Polaris Fashion Place (toys can be left with the valet)
Chiller Easton: 3600 Chiller Lane
Chiller Dublin: 7001 Dublin Park Rd.
Chiller Ice Works: 401 E. Wilson Bridge Rd.
Chiller North: 8144 Highland Dr.
Ice Haus: Nationwide Arena
City Barbecue restaurants
Gahanna: 108 S. Stygler Rd.
Grove City: 2261 Stringtown Rd.
Newark: 1195 W Church St.
Polaris: 1501 Gemini Place
Powell: 3758 W. Powell Rd.
Reynoldsburg: 5979 E. Main St.
Upper Arlington: 2111 W. Henderson Rd.
Westerville: 600 S. State St.
New Albany: 6280 E. Dublin-Granville Rd.
Safe Harbor Retirement Group
6099 Frantz Road, Dublin 43017
4449 Easton Way, Suite 200, Columbus 43219
2870 Snouffer Rd., Columbus OH 43235
730 N. Spring Rd., Westerville OH 43082
Main location: 966 E. Main St., Columbus OH 43205
Chapel: 760 Worthington Woods Blvd., Columbus OH 43085